China is about to celebrate the 100 year anniversary of the founding of the Chinese Communist Party. They are feeling their oats. What comes next from them however will be a huge challenge for every democracy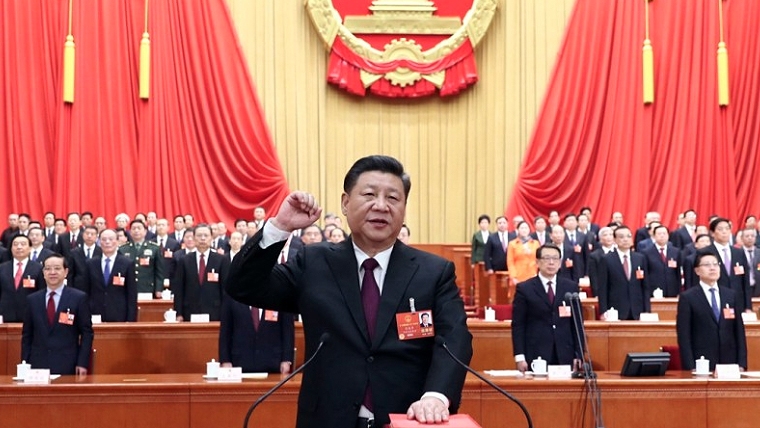 China is working up to a celebration frenzy, culminating in a very large party on July 23.
That is the 100th anniversary of the founding of the Chinese Communist Party (CCP).
The CCP had an exciting beginning at a founding meeting in a house in the French Quarter of Shanghai - until the French police broke it up. It completed its establishment Congress on a tourist boat on South Lake in Jiaxing, Zhejiang province.
At the time in 1921, China's life was dominated by subverting European powers, feuding warlords, was deeply mired in poverty, and powerless on the international stage.
Since then, it has gone through a century of turbulence and has come out on the other side as a rising superpower. It certainly has achievements to celebrate.
In 2021, it has a permanent seat on the UN Security Council, a nuclear arsenal and the world's second-largest economy.
And it is a unified, tightly controlled political economy that is claiming its way of solving social problems should be a model for the rest of the world. But despite its obvious success, most of the rest of the world looks at it sceptically. And this frustrates Beijing.
So we will see a concerted campaign to associate China's huge achievements with their Communist Party and the way it has adapted to dealing with its problems.
To be fair, the Party laid out some ambitious social goals years ago.
In 2012, the same year Xi Jinping was selected as party secretary, the party began heavily promoting the "centenary goal" of achieving a "moderately well-off society" by 2021.
Related goals included eliminating poverty, building China's own space station and becoming an "internet power."
Chairman Xi has often connected this centenary goal to the "Chinese dream," his signature slogan referring to achieving a modern, powerful and prosperous nation.
The pressure has been on to tick off these goals by July 2021. And many of them can be rightly celebrated.
This 100 year anniversary has provided a hard goal, focusing the minds of the Party leadership over the past decade.
There has been a very big push over the past few years to alleviate poverty, including substantial investment in China's regions away from the coast, as well as relocating some populations and forcibly putting others, including Uyghurs, to work. 'Progress' in this work allowed Xi Jinping to declare in February the end of extreme poverty in China.
Earlier this month, China successfully launched a key part of its new space station into orbit and successfully landed a rover on Mars.
And its internet and fintech sectors are among the largest and most profitable in the world.
Undeniable successes are everywhere. But China's GDP per capita remains far below that of developed countries and hovers just under the global average of around NZ$15,000 per year. Access to high-quality health care and education is still out of reach for many in China. And for many Chinese people, especially ethnic and religious minorities, a succession of ideological crackdowns carried out by Xi and his hard-line supporters has also cast a shadow over their futures.
Their rapid development pace has had environmental consequences not only for the wider population, but consequences worldwide. These range from air and ocean pollution, degradation of global fisheries, and distortions to many other economies, even the largest.
Politically, a muscular Beijing has repelled many neighbours, not the least its promotion of its dodgy "nine dashed line" ocean claims, and its ham-fisted reach into the Chinese diaspora to prosecute its interests. Sympathy and confidence in the Chinese leadership internationally is low and falling. Countries other than autocracies feel increasingly threatened by this muscular approach. But autocracy is on the rise worldwide, allowing Beijing to promote its reach. It has all the hallmarks of an adolescent and unsophisticated phase in China's political life.
New Zealand has been significantly affected by the rise of China. Not only have we reaped great rewards from its growth as an export market (not to mention a beneficiary of its inexpensive imports), China has worked hard to impose, influence and control our politics. This is not to say other large powers (from Australia, to the EU to the UK and the USA) aren't doing that too, but China's activities here are not seen as 'legitimate' influencing, rather as coercion.
It has got shameless. It is being reported that National and Labour quietly agreed last year that two Chinese MPs would retire at the same time because of growing security concerns about their relationship with the Chinese Government. National MP Jian Yang announced his retirement on July 10 and Labour MP Raymond Huo on July 21. Ho was quite open about his work with and for Beijing. Yang, being an ex spy, was more covert about it.
As Politik notes, those moves seem to be part of a cooling of the political relationship between New Zealand and China. Foreign Minister Nanaia Mahuta has recently made a savvy and nuanced warning that a confrontation over trade with China may be inevitable. New Zealand could find itself at the heart of a "storm" of anger from China, she warned, saying exporters needed to diversify to ensure they could survive deteriorating relations with Beijing.
There are also reports Prime Minister Jacinda Ardern has made similar private warnings "to at least one major agricultural exporter" - which is likely to have been Fonterra.
None of this will be front-of-mind in Beijing. Their focus will be all on celebrating success from now until July. Distractions or views undermining that 'success' will be brushed aside. And Beijing responding to New Zealand's issues will be seen there as beneath them; they are a 'great power', New Zealand can't really move their needle. We will either only be a minor problem politically, or an economic opportunity to deal with their food security issues which are not going away. New Zealand's leverage is its influence in multilateral groupings.
China is more powerful than ever in its history. Demographics will challenge it, but it won't be dealing with that challenge alone. But raising its per capita wealth will become the party work for the next century. It needs to build a vast social security safety net, and its two-track, dual-circulation policy framework is in place to attempt this next phase. The environmental and food security roadblocks will be substantial. A lot can go spectacularly wrong with an autocratic, one-man rule system in place, and they have form with mammoth public policy mistakes (Mao). This time, the implications would be global.
China will be inward focusing from now until July 23. Then its wolf warriors will be unleashed to ensure the rest of the world understands the 'benefits' of the lessons from Chairman Xi. Watch out Taiwan.
The CCP timeline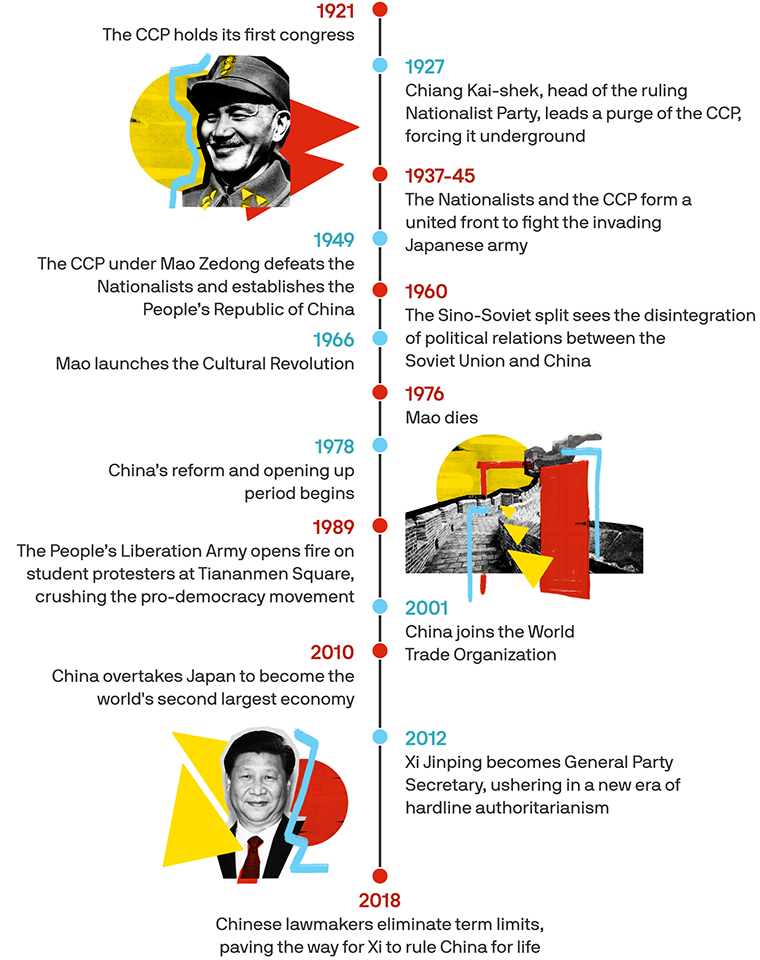 Timeline developed by Axios