ACT shoots up in poll at the expense of Labour and National; Seymour more popular than Collins, Luxon and Bridges combined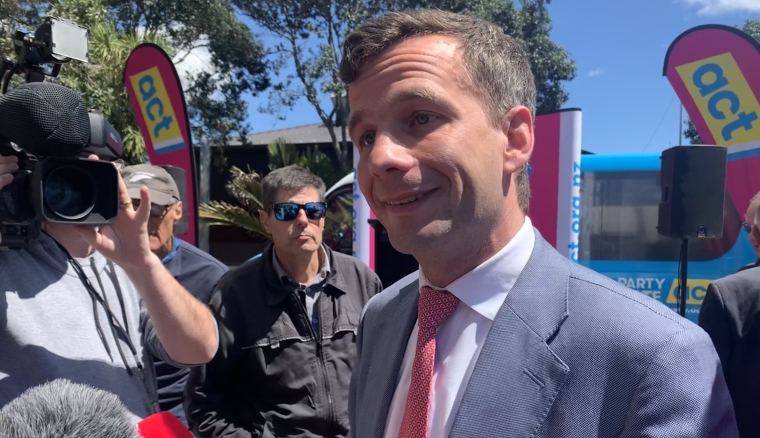 Support for ACT is surging at the expense of the country's major political parties, according to the latest 1 News-Colmar Brunton poll.
ACT is the preferred party for 14% of those surveyed - a 5-point increase from the last poll done in May. It would get a whopping 18 seats in parliament - eight more than at present. 
Support for both Labour and National is down 3 points to 43% and 26% respectively. 
Support for Labour has fallen to its lowest level since the onset of Covid-19. It would no longer have the support to govern alone and would need the backing of the Greens.
While Prime Minister Jacinda Ardern is comfortably ahead in the preferred prime minister ranks at 44%, ACT leader David Seymour is now more popular (at 11%) than National leader Judith Collins and National MPs Christopher Luxon and Simon Bridges put together.
Only 5% of respondents chose Collins as their preferred prime minister. Nonetheless, she told 1 News she isn't going anywhere and plans to remain leader through to the 2023 election. 
Here are the numbers:
Preferred party:
Labour: 43% (down 3 points)
National: 26% (down 3 points)
ACT: 14% (up 5 points)
Greens: 8% (no change)
NZ First: 3% (up 2 points)
Māori Party: 2% (no change)
New Conservatives: 1% (no change)
TOP: 1% (down 1 point)
Seats (61 needed to govern):
Labour: 55
Greens: 10
Māori Party: 3
National: 34
ACT: 18
Preferred prime minister:
Jacinda Ardern: 44% (down 4 points)
David Seymour: 11% (up 5 points)
Judith Collins: 5% (down 4 points)
Christopher Luxon: 3%
Simon Bridges: 2%
Colmar Brunton surveyed 1001 people for the poll between September 22 and 26. The last poll was done between May 22 and 26.