Outlook for 2009 grim in business confidence survey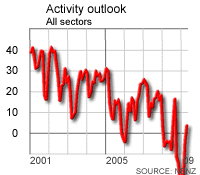 The next year is shaping up to be a gloomy one for New Zealand business with the National Bank Business Outlook Survey showing a record net 22% of respondents expecting their own business activity to get worse over 2009. This measure is seen as an indicator of future GDP growth and is closely watched by the Reserve Bank of New Zealand, which is widely expected to further cut the Official Cash Rate to 4% or lower by mid 2009. These grim figures will reinforce the pressure for further big cuts. The Reserve Bank's next opportunity to cut is January 29. Retailers are fearing for the worst, with a net 49% of respondents expecting their own business activity to get worse than current levels in 2009. This was 19% worse than the previous record low recorded in March 1991. One of the only "good pieces of news" to come from the December survey was that overall business confidence was a net 35% of respondents expecting the economy to get worse, from November's figure of 43%. "We are now seeing the consequences as we move beyond the financial crisis itself and into the real economic downturn across our major trading partners. Unlike previous downturns, no one is immune. Tourism numbers are falling and the same can be said for commodity prices," the National Bank said. The effects of the drop in the New Zealand dollar could be seen in the survey, with a net 9% expecting export activity to get better over the year, up from 6% in the November survey. "(W)e have a poor global environment, which is putting paid to the hope that a rejuvenated export sector will become the economy's saviour," the survey said.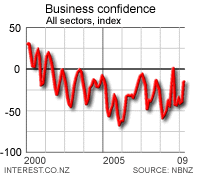 "In the meantime, we remain critically dependent upon fiscal policy." "Some are looking for the combination of tax cuts, lower mortgage rates and cheaper petrol prices to entice the consumer to spend our way out of the jam. Now that would be truly ironic given that it was over-exuberant consumption that got us into this position in the first place." Employment expectations fell to a new record low, with a net 22% expecting to have fewer staff in their own business in the year to come. A net 86% of respondents expected the unemployment rate to rise over the next year. Also at a new record lows were profit expectations (net 42.9% expecting lower profits) and investment intentions (net 13% expecting to invest less in their own business). A net 21% expected residential construction activity to slow down, from 29% in November. One other "good piece of news" was that inflation expectations fell from 3.75% in November to 3.15% in December.