Banks face Catch-22 situation as wine debts rise while income, land values fall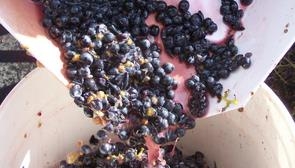 A climbing insolvency rate in the glamorous wine sector is expected over coming months, squeezing banks between calls for more support for the indebted industry and falling land values and winery revenues.
Paul Munro, a corporate finance partner at Deloitte, which recently released its fourth annual survey on the sector, estimates all small and medium sized wine producers are probably now struggling to manage their debt.
"(That's) because the banks are struggling to justify lending more because of the financial fundamentals of the industry in terms of where the returns are at," Munro told interest.co.nz.
Although all the major banks have exposure to the sector, Munro says Rabobank is the one with disproportionate exposure.
"Rabobank has been a very strong supporter of the industry," Munro says.
In the last few weeks at least three wineries - Cape Campbell Wines, Gravitas Wines and Awatere Vineyard Estates - have collapsed into receivership.
With Cape Campbell, for example, the receivership was voluntary with the directors asking their bank, the BNZ, to appoint receivers. PricewaterhouseCoopers was called in. The BNZ is owed about NZ$8.25 million, South Canterbury Finance NZ$300,000 and trade creditors and others about NZ$2.8 million.
Thanks to a drop off in international demand for wine due to recession and oversupply, Munro predicts more insolvencies over the next 12 months. He suggests there are a lot of wine companies breaching their banking covenants, but notes the banks faced a Catch-22 situation.
"The challenge for the banks if you do force the situation, if they appoint a receiver or go through a mortgagee sale process, is that there are several wineries or vineyards on the market at the moment that just aren't selling," says Munro.
"The interest isn't there from buyers and it's not there from banks in terms of funding buyers into those sorts of opportunities."
"(So) it's one thing to breach your covenants, but what is the bank going to do about it? That's the challenge the banking industry is having to work through."
 Deloitte's latest New Zealand wine industry benchmarking survey shows the debt to equity ratio at wineries with annual revenue of between NZ$1 million and NZ$5 million increased to 133% last year from 84% in 2008. That means they hold NZ$1.33 of external debt for each NZ$1 of owner's equity. Wineries in this bracket produced losses before tax equivalent to 6.7% of their total revenue.
And, Deloitte's survey notes, wineries in the NZ$1 million to NZ$5 million bracket have average interest cover, which is calculated as earnings before interest and tax dividend by the winery's interest expense, of 44%. This suggests current earnings are insufficient to cover interest payments.
Although debt levels have been increasing for a while, Deloitte notes they're now being compounded by falling land and vineyard values together with inventory impairment and writedowns. Data from the Ministry of Agriculture and Forestry shows cash available for Marlborough vineyard operators from their business after meeting living costs collapsed on average to NZ$35,700 per business in 2009 from NZ$334,700 in 2008.
Even the big boys aren't immune. Sharemarket listed Delegat's Group, one of the country's highest profile wine producer, stunned investors in late February by warning June 2010 year net profit would fall by up to 40% from last year's record NZ$30 million profit. This followed Jim Delegat, the company's managing director, telling shareholders as recently as December's annual meeting to expect annual profit in line with last year's.
Delegat pinned the blame for the profit warning on a range of issues including the strong kiwi dollar, weak grape prices, a NZ$1.7 million hit from the administration of a British retailer and likely writedowns in the valuation of vineyards and grape vines.
Meanwhile Oyster Bay Marlborough Vineyards, which is majority owned by Delegat's, recently received waivers to its bank covenants from Westpac after saying an expected loss for the 2010 financial year may breach them.
Munro says in hindsight it was probably fair to say banks and financiers got over excited in terms of lending money to the wine sector. But it had seemed a good idea given the industry was growing very strongly and capitalised on a lot of what New Zealand has to offer internationally such as premium brands, a clean, green image and high quality produce.
Figures from New Zealand Winegrowers show the value of exports reached NZ$992 million in 2009, up from just NZ$168.6 million in 2000. Over the same period the number of wineries almost doubled from 358 to 643 and the country's wine producing area more than trebled to 31,057 hectares from 10,197.
One way of helping reduce financial stresses in the sector could be through consolidation. As Munro notes, it's very fragmented with numerous small wineries. This creates challenges in terms of accessing export markets and achieving economies of scale meaning takeovers and mergers will make financial sense for many wineries.
Ben Russell, Rabobank's New Zealand general manager, says his bank remains fully engaged with and committed to the sector which it takes a long term view on.
"We will continue to work with clients and assess their needs on an individual basis and endeavour, wherever possible, to support them through difficult times," Russell said.
Munro says the consensus view from people he has talked to is this year should mark the low point for the industry. That said, recovery is contingent on demand picking up in the key export markets of Australia, Britain, the United States and Canada. And even where exports have kept flowing, one of the problems has been getting paid given some overseas distributors have gone bust.
"There's a general view that things aren't going to get a lot worse and that the industry is still pretty well positioned to recover but there's going to be some pain and financial hardship in the meantime," says Munro.
* This article was first published in our email for paid subscribers earlier today. See here for more details and to subscribe.