Residential building consents slump in August but earthquake boost expected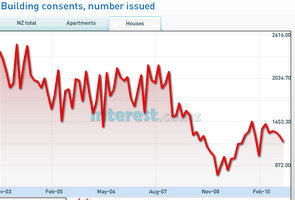 Residential building consents, excluding apartments, fell 8.9% in August on a seasonally adjusted basis to their lowest level since July last year.
Statistics New Zealand said 1,142 consents were issued during August, the lowest monthly level since 1,095 were issued in July last year.
When the volatile apartment sector is included,  the seasonally adjusted number of new housing units authorised fell 18% in August to 1,185, also the lowest level since July 2009. This follows a downwardly revised 2.4% (from 3.1%) rise in July, marking the first decline in three months.
"The shocking August result, combined with the downward revision to the July number, suggests that residential investment is tracking a lot lower than we had penciled in for the third-quarter," JP Morgan economist Helen Kevans said.
"Further, the tumble in permits can only partly be explained by the volatile apartments category, as permits ex-apartments fell a sharp 8.9% month-on-month."
Statistics New Zealand said without adjusting for seasonal effects, consents were issued in August for 1,229 new housing units, including apartments or 1,193 new housing units, excluding apartments.
The value of consents issued for residential buildings was NZ$473 million, up 7.6% from August 2009. In contrast, the value of non-residential buildings was NZ$296 million, down 23%.
"Looking at the longer-term trend, the number of new homes consented, excluding apartments, has been falling since March this year," business statistics manager Louise Holmes-Oliver said.
"This follows increases that began in April 2009, after the recent economic downturn."
Meanwhile, Kevans said permits could increase into the year-end, due to the impact of the September 4 earthquake in Canterbury.
"This suggests that residential investment should continue to recover in 2011 from a long running decline," said Kevans "Residential investment spiked 11% quarter on quarter in the second quarter, having risen only modestly in the previous two quarters. Slower net migration and higher interest rates will, however, cap the upside."
ASB economist Chris Tennent-Brown said from September onwards consent data would be significantly affected by the Canterbury earthquake. 
"We expect the earthquake will initially lead to a slight drop off in consent issuance in September while Canterbury faced disruption, and then the reconstruction phase should see a pick up in activity," Tennent-Brown said.  
He noted that in its September Monetary Policy Statement the Reserve Bank significantly lowered its growth expectations for the economy due to weak business investment forecasts and cautious households. 
"Today's building consent data are consistent with this view, and our own weak construction outlook.  We do not expect the Reserve Bank to resume the process of returning monetary conditions to normal levels until March 2011."
For the year to August, 16,460 permits were issued, or 15,523 excluding apartments. Total consents, though, are still well down from their June 2007 peak, when monthly consents pushed towards 2,700.