Budget 2011 - Financing, Transfers, Customs, IRD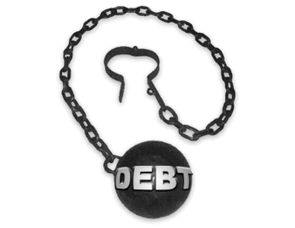 This table outlines the New Zealand Government's planned spending for collecting revenues and servicing debt in the 2011/12 budget year.
It also includes the cost of benefits delivered through the tax system.
Actual spending for the previous four years is on the left and includes, for the sake of comparison, the previous Labour Government's final spending in 2008.
The numbers are taken from the Vote Customs, Vote Revenue, and Vote Finance.
Links to the primary sources used, from Treasury's website, can be found at the bottom of the page.
Please note that some of the allocation titles have been shortened for the sake of space.
Figures for each allocation are in millions of NZ$.
| | | | | | | |
| --- | --- | --- | --- | --- | --- | --- |
| Actual 2007/08 | Actual 2008/09 | Actual 2009/10 | Forecast 2011/10 | Financing, Transfers, Customs, IRD: | Budget 2011/12 | % |
| NZ$m  | NZ$m  | NZ$m  | NZ$m |   | NZ$m  |   |
| 0.195 | 0.000 | 0.000 | 0.000 | AgResearch equity injection | 0.000 | 0.0% |
| 23.000 | 0.000 | 0.000 | 0.000 | Atihau-Whanganui Incorporation ex-gratia payment | 0.000 | 0.0% |
| 0.500 | 0.000 | 0.000 | 0.000 | Contribution to Atihau-Whanganui Incorporation negotiation costs | 0.000 | 0.0% |
| 0.000 | 1.425 | 0.437 | 0.000 | Crown deposit guarantee scheme | 0.000 | 0.0% |
| 0.000 | 0.849 | 0.141 | 0.000 | Crown wholesale guarantee facility | 0.000 | 0.0% |
| 0.000 | 0.000 | 7.400 | 0.000 | Hawke's Bay Airport equity injection | 0.000 | 0.0% |
| 8.000 | 4.500 | 0.000 | 0.000 | Industrial Research Limited equity injection | 0.000 | 0.0% |
| 0.000 | 0.000 | 1.800 | 0.000 | Invercargill Airport suspensory loan | 0.000 | 0.0% |
| 0.178 | 0.000 | 0.000 | 0.000 | Kaingaroa Forest road easements | 0.000 | 0.0% |
| 41.496 | 12.236 | 2.355 | 0.000 | Maui Gas contracts | 0.000 | 0.0% |
| 2,103.000 | 2,242.000 | 250.000 | 0.000 | NZ Superannuation Fund | 0.000 | 0.0% |
| 0.000 | 0.000 | 1,392.000 | 0.000 | Payments in respect of guarantees and indemnities | 0.000 | 0.0% |
| 0.000 | 15.268 | 0.000 | 0.000 | Port Nicholson Block Settlement Trust loan | 0.000 | 0.0% |
| 0.000 | 20.000 | 30.000 | 0.000 | Public Trust capital injection | 0.000 | 0.0% |
| 246.818 | 1,951.630 | 0.000 | 0.000 | Rail transport projects | 0.000 | 0.0% |
| 0.000 | 600.000 | 0.000 | 0.000 | RBNZ equity injection | 0.000 | 0.0% |
| 0.000 | 0.040 | 0.120 | 0.000 | Regulatory Responsibility Taskforce | 0.000 | 0.0% |
| 37.000 | 154.000 | 0.000 | 0.000 | Research and development tax credit | 0.000 | 0.0% |
| 0.000 | 0.000 | 4.000 | 0.000 | Rugby New Zealand 2011 Limited | 0.000 | 0.0% |
| 2.000 | 3.800 | 0.000 | 0.000 | Timberlands | 0.000 | 0.0% |
| 17.181 | 16.917 | 0.000 | 0.000 | Wellington Regional Council | 0.000 | 0.0% |
| 3.180 | 0.018 | 0.000 | 0.000 | Write-off of capital charge receivable | 0.000 | 0.0% |
| 0.000 | 0.000 | 0.171 | 0.148 | 2025 Productivity Taskforce | 0.000 | 0.0% |
| 0.000 | 0.000 | 0.360 | 0.552 | Mgmt of Crown lending and Crown bank accounts | 0.000 | 0.0% |
| 2.901 | 2.971 | 1.374 | 0.653 | Mgmt of liabilities, claims against the Crown | 0.000 | 0.0% |
| 0.000 | 0.000 | 2.755 | 2.481 | Economic and tax forecasting | 0.000 | 0.0% |
| 1.209 | 887.732 | 3.048 | 3.111 | Export Credit Office guarantees and indemnities | 0.000 | 0.0% |
| 0.000 | 0.000 | 3.238 | 1,873.930 | Crown guarantee schemes | 0.000 | 0.0% |
| 0.000 | 0.000 | 0.000 | 4.380 | Recovery from the Feb-11 Chc quake | 0.000 | 0.0% |
| 64.200 | 26.208 | 10.000 | 19.047 | Landcorp Protected Land Agreement | 0.000 | 0.0% |
| 0.000 | 0.000 | 0.000 | 65.125 | Asian Development Bank | 0.000 | 0.0% |
| 0.000 | 0.000 | 0.000 | 146.100 | Earthquake Commission | 0.000 | 0.0% |
| 0.000 | 0.000 | 0.000 | 1,000.770 | Supporting AMI | 0.000 | 0.0% |
| 0.007 | 0.007 | 0.010 | 0.010 | Adverse Event interest | 0.010 | 0.0% |
| 0.081 | 0.088 | 0.351 | 0.211 | Crown's obligations for geothermal wells | 0.151 | 0.0% |
| 0.031 | 0.040 | 0.230 | 0.047 | Crown residual liabilities | 0.230 | 0.0% |
| 0.000 | 0.000 | 0.500 | 0.000 | Geothermal wells fund | 0.500 | 0.0% |
| 0.022 | 0.013 | 0.500 | 0.500 | Unclaimed money | 0.500 | 0.0% |
| 1.611 | 0.384 | 0.504 | 10.320 | Mgmt of the New Zealand Superannuation Fund | 0.528 | 0.0% |
| 0.000 | 0.000 | 0.313 | 0.803 | Administration of investment of public money | 0.820 | 0.0% |
| 0.000 | 0.000 | 1.308 | 1.092 | Administration of derivative transactions | 1.008 | 0.0% |
| 0.000 | 0.866 | 2.798 | 4.582 | Admin of guarantees and indemnities given by the Crown | 1.820 | 0.0% |
| 0.000 | 37.000 | 6.500 | 1.720 | Taitokerau Forests | 1.900 | 0.0% |
| 0.745 | 1.289 | 2.000 | 2.000 | Environmental Restoration Account interest | 2.000 | 0.0% |
| 0.962 | 0.919 | 1.500 | 2.000 | Payroll subsidy | 2.000 | 0.0% |
| 11.242 | 5.984 | 4.100 | 2.800 | Child Tax Credit | 2.200 | 0.0% |
| 1.075 | 1.712 | 0.891 | 1.397 | Treasury capex | 2.218 | 0.0% |
| 0.000 | 0.000 | 4.852 | 4.808 | Infrastructure advice and co-ordination | 4.580 | 0.0% |
| 0.000 | 0.000 | 0.000 | 2.340 | Inquiries into productivity | 4.691 | 0.0% |
| 0.000 | 0.000 | 5.701 | 5.231 | Administration of Crown borrowing NZDMO | 5.276 | 0.0% |
| 0.000 | 0.000 | 0.000 | 0.000 | Extending the mixed ownership model | 5.900 | 0.1% |
| 0.401 | 4.049 | 7.000 | 7.000 | Income equalisation interest | 7.000 | 0.1% |
| 0.000 | 0.000 | 6.905 | 5.410 | Fiscal management and reporting | 9.572 | 0.1% |
| 12.144 | 14.953 | 15.700 | 15.300 | New Zealand House, London | 17.200 | 0.2% |
| 22.716 | 20.346 | 20.800 | 19.200 | Parental Tax Credit | 17.600 | 0.2% |
| 74.000 | 111.726 | 62.000 | 58.716 | National Provident Fund Schemes | 59.000 | 0.5% |
| 41.081 | 40.538 | 33.503 | 49.304 | Policy advice | 65.520 | 0.6% |
| 134.767 | 142.787 | 153.900 | 154.600 | Paid parental leave payments | 164.100 | 1.5% |
| 152.183 | 174.052 | 169.276 | 163.109 | Taxpayer audits | 179.785 | 1.6% |
| 123.995 | 129.588 | 145.196 | 158.498 | Customs | 209.811 | 1.9% |
| 0.691 | 274.000 | 270.000 | 148.000 | International financial institutions | 220.000 | 2.0% |
| 240.419 | 253.596 | 238.624 | 237.258 | Services to inform the public about entitlements and meeting obligations | 249.944 | 2.2% |
| 329.824 | 294.160 | 308.263 | 265.220 | Inland Revenue Department | 312.956 | 2.8% |
| 562.875 | 584.461 | 604.000 | 592.000 | In-Work tax credit | 567.000 | 5.0% |
| 1,100.730 | 1,280.970 | 1,045.000 | 1,039.000 | KiwiSaver | 656.000 | 5.8% |
| 1,063.840 | 979.235 | 682.742 | 653.898 | Government Superannuation Fund | 660.965 | 5.9% |
| 192.945 | 204.740 | 215.000 | 493.000 | Child Support payments | 672.000 | 6.0% |
| 956.065 | 2,439.040 | 1,511.490 | 1,107.000 | Bad Debt write-offs | 1,342.222 | 11.9% |
| 1,896.950 | 2,062.100 | 2,200.100 | 2,214.000 | Family Tax Credit | 2,178.200 | 19.3% |
| 2,057.750 | 2,095.930 | 2,288.840 | 3,031.738 | Debt servicing interest | 3,651.689 | 32.4% |
| --------  | --------  | --------  | --------  | ----------------------------------  | --------  |   |
| 11,530.00 | 17,094.20 | 11,719.60 | 13,568.40 |  Totals | $11,276.90 | 100.0% |
You can get back to the main page that summarises all government spending here >>
Sources:
Customs: http://treasury.govt.nz/budget/2011/estimates/est11cust.pdf
Finance: http://treasury.govt.nz/budget/2011/estimates/est11finan.pdf
Revenue: http://treasury.govt.nz/budget/2011/estimates/est11reven.pdf