Departing Commonwealth Bank of Australia CEO Ralph Norris thanks board, staff and shareholders at AGM but not customers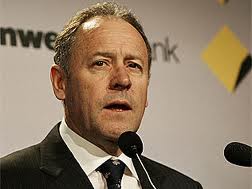 New Zealander Ralph Norris, praised by his chairman for an "unswerving focus" on customer satisfaction, didn't mention Commonwealth Bank of Australia's customers as he dished out thanks in his speech at his farewell annual general meeting.
Norris, who steps down at the end of the month after six years at the helm of CBA which is the parent bank of ASB, will be replaced by fellow New Zealander Ian Narev, currently head of CBA's business and private banking unit. Norris is a former CEO of both ASB and Air New Zealand.
Speaking at CBA's annual meeting yesterday, Norris thanked the bank's board for its "wise counsel," its 52,000 staff for their "enthusiasm and commitment", and shareholders for "support and encouragement," but didn't mention CBA's customers.
Norris said it had been "an honour and a privilege" to lead what he described as Australia's finest financial institution. CBA chairman David Turner said Norris was leaving after six years of "exceptional achievement" in both financial and cultural performance.
A year ago Norris was vilified, and CBA touted as the bank that stopped a nation, after it increased home loan interest rates by 45 basis points following a Reserve Bank of Australia 25 basis points cash rate hike on Melbourne Cup day. This ultimately contributed to Norris taking an A$7.5 million annual pay cut to A$8.6 million as CBA fell from second to fourth in customer satisfaction ratings. The incentive part of Norris' pay was tied to improvements in customer satisfaction.
In his speech at the annual meeting CBA chairman David Turner noted the bank's annual dividends per share rose by 10% to A$3.20, with CBA paying out a total of A$5 billion in dividends. Of this, Turner said 80% went directly or indirectly to Australian residents. ASB paid NZ$280 million in annual dividends to CBA, up from NZ$160 million the previous year.
CBA's return on equity rose 80 basis points to 19.5% with ASB's rising 190 basis points to 17.2% from 15.3%.