ASB CEO Barbara Chapman sees some demand for credit, says CBA happy with ASB's 17.2% return on equity
By Gareth Vaughan
ASB boss Barbara Chapman says the bank wouldn't have hiked its fixed-term mortgage rates last Wednesday if it had known a Standard & Poor's downgrade of the United States' sovereign credit rating, and subseqent turmoil in the world's financial markets, was imminent.
ASB broke from the pack by hiking its one to five year fixed-term home loan rates on August 3 by between five and 40 basis points following an increase in wholesale rates as most economists predicted the Reserve Bank was odds on to increase the Official Cash Rate by 50 basis points to 3% on September 15. Five days later, after wholesale rate falls on the heels of global turbulence, ASB cut all its fixed rates by between 25 and 35 basis points, giving back more than it had taken in all bar its 18 month rate.
Chapman, who took the reins as ASB's CEO and managing director on April 26, said hindsight had proven the hike premature.
"We jumped probably two days too soon," she told interest.co.nz.
"The analysis that we had suggested that rates were going to rise and so we thought now is the time to do it," Chapman said. "Then there was some significant difficulty and volatility globally so we just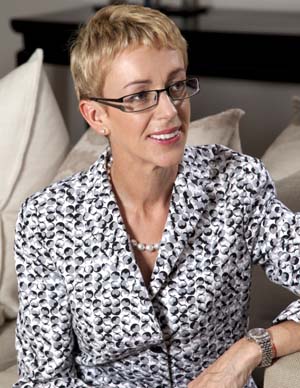 responded to the market volatility. What that was, was really just us responding to the market conditions as we saw them on the way up and on the way down."
"Hindsight's a wonderful thing. We wouldn't have gone up had we known what was going to happen. I think the outlook's going to remain quite challenging. And I think there's going to be a fair amount of uncertainty and different views on this kind of thing," Chapman added.
She was speaking after ASB released its financial results for the year to June 30. The bank's cash net profit after tax rose by NZ$150 million to NZ$504 million from NZ$354 million the previous year. The rise came as impairment expenses fell 42% to NZ$72 million and ASB's net interest margin rose by 0.4% to 2.08% as the number of ASB's total home loan customers on floating, or variable, rate mortgages (as opposed to fixed-term mortgages) rose to 59% from 37% a year earlier. See full results story here.
Fixed to floating mortgage drift expected to continue
Chapman said she expected the shift by customers from fixed to floating rates to continue. Banks do better out of floating, or variable, mortgages because the margin between the variable rate and short end of the yield curve, such as three month bank bills, is higher than the margin between swap rates and fixed rate mortgages.
"I would have thought prior to last week that the structural shift might be easing and people might be looking more to fixed rate mortgages as signals emerge around interest rates rising going forward," Chapman said. "I put a pause on that now. I think we've got a little bit of time that we need to wait and see what's going on globally before we really understand what the domestic response is going to be around interest rates."
"For now I think there's going to be a continued look at floating rates pending what's likely to come through rising interest rates going forward when they materialise which looks further out now," Chapman added.
The latest Reserve Bank figures show that, as of June, NZ$94.637 billion, or 56%, of the country's total NZ$169.118 billion worth of home loans were on floating rates having gone through 50% as recently as March for the first time since Reserve Bank records began in 1998.
Return on equity up 1.9% but 'can be lifted further'
ASB's parent, Commonwealth Bank of Australia (CBA) where one New Zealander is set to replace another as CEO when Ian Narev succeeds Ralph Norris in November, reported a 12% rise in annual cash net profit after tax to A$6.835 billion. CBA revealed a 19.5% return on equity (RoE), up from 18.7% last year. Chapman said ASB's RoE was 17.2%, up from 15.3%. In 2007 it was 21.3% and peaked at 25.4% in 2003.
"You can see from these numbers New Zealand going through a recession and coming out the other end and the impact on our returns," Chapman said. "I think we can improve on that (17.2%). But it's not a bad number given the market conditions in New Zealand and I know that the shareholder is comfortable with our performance."
Chapman's comments come just days after Reserve Bank Governor Alan Bollard warned bank shareholders not to expect profits in the future at the same levels they've enjoyed over the past decade due to regulatory changes and ongoing deleveraging by customers.
ASB paid NZ$280 million in dividends during the year to June, up from NZ$160 million in the year to June 2010 and NZ$180 million in 2009. In 2008, 2007 and 2006, respectively, it paid CBA dividends of NZ$610 million, NZ$825 million and NZ$860 million.
'Pockets' of credit demand
Meanwhile, after a year where lending contracted 1.2% to NZ$53.2 billion, Chapman said ASB had been seeing some demand for credit.
"What our business was seeing up till last Friday was some confidence return into the business and commercial markets, we were seeing opportunities and inquiry around that type of lending," Chapman said. "I guess as confidence was returning people were thinking about investing back into their businesses rather than deleveraging."
"We have also seen interest coming out of the rural sector. Obviously the high commodity prices, good dairy payouts, generally good economic conditions across the board for lots of different parts of our rural business, had seen more inquiry. (And) certainly in the first home buyers market, we're seeing more inquiry. I would temper that now with business and rural given what has happened in the last week. It's too soon for us to call just where that ends up."
She expected credit growth in coming months to be "patchy." The bank's economists predict systems credit growth of a little over 3% for the year to June 2012.
Rise in expenses tipped to slow
Chapman attributed ASB's 10% rise in annual operating expenses to NZ$733 million to the addition of about 200 staff, the opening of nine new branches and "a lot of strategic investment" in technology.
"It was a period of quite high investment. We do still want to invest quite heavily but I would see a much more modest increase in expenses this time next year."
Interest.co.nz reported in May that the addition of 346 additional staff, and greater use of contractors, were behind a NZ$44 million, or 16%,  year-on-year increase in ASB's salary and "other staff expenses". bill.
Meanwhile, Chapman confirmed ASB had taken a NZ$20 million provision related to the Christchurch earthquakes and said ASB staff weren't seeing "enormous signs of financial stress" in Christchurch. She expects house price and rent inflation in areas of Christchurch outside the red zones as owners of condemned homes compete for new ones.
This article was first published in our email for paid subscribers this morning. See here for more details and to subscribe.