Govt policies targeting housing costs, electricity prices and council rates central to non-tradable inflation outlook; Is it finally becoming the Reserve Bank's mate?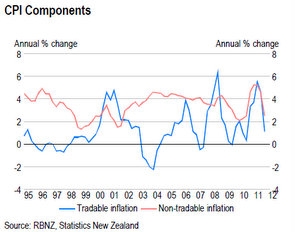 By Alex Tarrant
Monetary policy needs mates, Ruth Richardson once said, and the government may finally be turning into the Reserve Bank's best friend.
Ministers are making noises that they will deliver on promises to help the Reserve Bank keep interest rates lower by stepping up the fight against the central bank's biggest bugbear -- non-tradable inflation.
This represents the price rises for goods and services where prices are not set on global markets or not facing competition from imports. This type of inflation has been running more twice as fast as tradeable inflation, where prices for goods such as oil, travel, electronic goods and cars have often been kept down by a high currency.
Policy options to make new housing more affordable, a renewed attempt to control local government rate rises, and (if you believe the government's argument) greater pricing competition in the electricity sector, mean the government could really help the Reserve Bank control inflation, dampening the need for Official Cash Rate hikes to levels seen during the previous decade.
Prices in those three non-tradable categories rose in the 5-9% range through the mid-2000s, putting pressure on the Reserve Bank to hike the OCR to its record high 8.25% for a year from the second half of late 2007 through to July 2008 in its attempts to keep inflation in check.
It is the Reserve Bank's task to try and keep inflation, as measured by the Consumers Price Index (CPI), within a target band of 1-3% per annum over the medium term. However this was hindered over the last decade as one of the two components of the headline CPI, non-tradable inflation, outstripped its tradable counterpart.
Non-tradable inflation includes housing construction, electricity prices and local government rates. Non-tradeable and tradable inflation together make up headline CPI inflation.
Reserve Bank governor Alan Bollard's tussle with non-tradable inflation was well publicised during the mid-late 2000s as electricity prices, local council rates, and the cost of building new homes outstipped the headline CPI measure.
As an example of the divergence between non-tradable and tradable inflation, headline annual CPI inflation averaged 2.8% over the decade to the December 2011 quarter. Over that time, annual tradable inflation averaged just 1.6% while non-tradable inflation averaged 3.7%.
A 2010 research paper by Michael Kirker of the Reserve Bank's economics department found that non-tradable inflation made a much larger contribution to core inflation than its tradable counterpart. On top of this, nearly two thirds of the annual variance in core inflation was due to movements in non-tradable prices.
Economists and policy-makers argue that if non-tradable inflation had not put so much pressure on the general level of the CPI, the Reserve Bank may have been able to keep interest rates lower than they otherwise were.
For that to happen, central and local government needed to come to the party by getting fiscal policy under control, and by implementing policies aimed at reducing price pressures in the non-tradable sectors of the economy.
'We'll be your mate'
The National party campaigned the last two elections on policies it said would help the Reserve Bank keep interest rates lower than they were last decade, promising to control its own spending, bring the housing market back in check, and introduce more competition to electricity pricing.
Prime Minister John Key and Finance Minister Bill English have both repeated Bolger-era Finance Minister Ruth Richardson's line that "monetary policy needs mates," meaning the government needed to play its part in the fight against inflation.
Local government
On the rates side, the attention of local government Minister Rodney Hide between 2008-2011 was turned to amalgamating Auckland's councils into the Super City structure, which, it was argued, would mean lower rates rises in the country's biggest city.
The local government mantle has been picked up by Nick Smith, who is fronting a proposed radical reform of the local government sector in an attempt to reduce the scope of local government activities and limit their ability to push up rates, according to Jane Clifton's report in this week's Listener magazine.
Moves may include more council amalgamations, and even abolishing regional councils. Legislation would introduce incentives for rates restraint and penalties for rates increases above a certain level, Clifton writes.
Smith began 2012 in Parliament laying into the rates rises seen over the last decade, saying in Question Time on Febuary 8 that local council rates had increased by an average 6.8% per annum in the decade since the Local Government Act 2002 was passed into law. That compared to average rates rises of 3.9% per annum the previous decade, he said.
Rates in the decade since the Local Government Act was passed had risen more than any other component in the Consumers Price Index over that time, Smith said. (Ironically, in the video below of Smith making these comments, sitting next to him in Parliament was former Auckland mayor John Banks.)
Housing costs
A housing boom during the 2000s meant New Zealand house prices shot up to some of the most unaffordable in Western world.
Cheap credit, tax incentives for housing investment, and growing housing and skills shortages have all been blamed for the rise in prices which prompted the Reserve Bank to hike the Official Cash Rate towards 8.25% in attempts to try and cool the housing market, and dampen the wealth effects that came from the rising values of New Zealand property.
And while the CPI does not factor in changes in the prices of existing houses, it does measure housing costs, including the cost of building a new home. Over the last decade the cost of the purchase of new housing rose on average by about 5% per annum.
The government claims tax changes in the 2010 Budget to disincentivise housing investment, by not allowing for depreciation to be claimed on buildings with an expected life span over 50 years, have gone some way to reduce Kiwis' love affair with property investment.
But housing shortages, particularly in Auckland, have seen prices begin to rise again after they came off their peaks through 2008 and 2009. Shortages of skilled labour for housing construction, reduced access to development finance, and tight city limits, mean not enough new homes are being built to keep up with demand, putting upward pressure on house prices and rents. 
The government last term set up the Productivity Commission, ordering as its first task a look into ways to improve housing affordability in New Zealand. The Commission released its draft report late last year, which argued the release of more land on city fringes (and, most importantly, Auckland's fringes) would be the most effective way to ease upward pressure on housing costs.
Auckland housing costs
Finance Minister Bill English last week told interest.co.nz that the government was welcoming the discussion on Auckland housing costs.
"There is, for the first time, a bit of discussion in Auckland about some of the ideas that have dominated their planning processes for the last 20 years," English told interest.co.nz following the release of Treasury's Budget Policy Statement last week.
"They've got to think through the economic and equity impacts [of opening up the fringes], and when it's your largest city, this is a significant economic decision. We're not trying to say that's a magic answer, but in terms of improving the external balances, we've got to break it down into those things where we can actually make decisions," English said.
Meanwhile, the Department of Building and Housing is pushing Building and Construction Minister Maurice Williamson to consider policies making it easier to build medium density housing to deal with Auckland's shortage and affordability problems. See more here.
Energy costs
The third big contributor to non-tradable inflation, household energy costs, is in the government's sights as part of its partial sell-down of four state-owned energy companies over the coming five years. This CPI subgroup had price rises averaging just over 6% per annum over the last decade.
The government's argument is that easier access to capital, private sector disciplines, and new forms of electricity generation will enable greater price competition among electricity providers, which will take pressure off prices.
Will the noise turn into action?
While the government is making the right noises about controlling non-tradable inflation, it remains to be seen whether actions taken will bring this component of the CPI closer in line with its tradable counterpart.
While the headline annual CPI rate fell to 1.8% in the December quarter, and the Reserve Bank says that core inflation sits around 2%, non-tradable inflation still remains higher than tradable inflation at 2.5% vs 1.1%.
Government policies are likely to be the deciding factor as to whether non-tradable inflation takes off again back towards the 4% mark it hovered around through the previous 10 years.
Pressures stemming from the rebuilding of Christchurch through the latter parts of 2012 and into 2013 are forecast to weigh on inflation, particularly construction costs. Government actions relating to other non-tradable prices are likely to be central to how high the Reserve Bank hikes interest rates as the economy, and pricing pressures, get going again.
Here is the Reserve Bank's December quarter Monetary Policy Statement forecasts for the two types of inflation (red line for non-tradable inflation and blue line  for tradable) and for overall inflation (grey bars).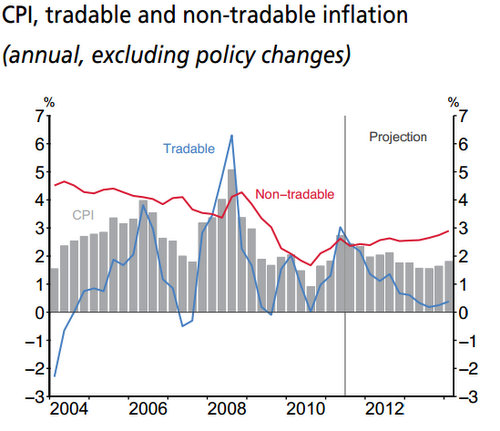 This article was first published in our email for paid subscribers this morning. See here for more details and to subscribe.