It's a fair question to ask whether Treasury heads should roll over their Crown retail deposit guarantee scheme management, Labour's David Parker says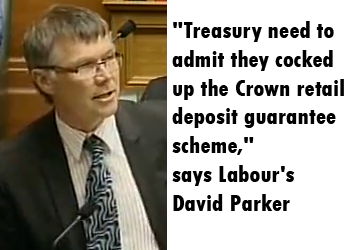 By Gareth Vaughan
Asking whether heads should roll at Treasury over its management of the Crown retail deposit guarantee scheme, from which taxpayers face a gross loss of about NZ$1 billion, is a fair question, according to Labour Party finance spokesman David Parker.
However, Parker told interest.co.nz that Treasury officials must first acknowledge they "cocked up" before the appropriate consequences of their wrong doing were determined.
Meanwhile, Parker also hit out at the National Party members of Parliament's Finance and Expenditure Select Committee, accusing them of abuse of process for preventing him from calling Treasury officials for questioning before the Committee.
Parker has, so far unsuccessfully, been trying to have Treasury officials hauled before the Committee for questioning on the scheme. His move was prompted by Deputy Controller and Auditor General Phillippa Smith's appearance before the committee late last month, when she discussed the Auditor General's report on the 2008 implementation and subsequent management of the scheme, which was finally brought to an end on December 31 last year with the closing of the extended Crown retail deposit guarantee scheme.
In her report, released last October, Auditor General Lyn Provost said Treasury should have been more willing to intervene to prevent finance companies significantly increasing their taxpayer guaranteed liabilities once they had the guarantee in place, rather than merely looking to recover what it could after a company fell over.
Parker said, based on Smith's comments, the loss to the taxpayer could have been at least NZ$100 million less if Treasury had taken a more proactive management role.
'Fair question'
Asked if he ultimately thought heads should roll at Treasury as a result of this Parker said: "That's a fair question."
"What I would say, irrespective of whether heads should roll, is people should be held to account. Whether that's by the rolling of heads or by getting them to first admit they have cocked up... the appropriate consequence of wrong doing relies upon first getting an acknowledgment of wrong doing. And at the moment they're saying, 'the scheme worked over all, we don't interfere in financial markets, and we haven't done anything substantially wrong'."
"And to the extent they do (admit) anything, you might get a very grudging 'oh, well maybe if we did it again we'd look at it differently.' They need to drop those pretend justifications because they're not justifications," Parker said.
When questioned in Parliament by Parker recently, Finance Minister Bill English acknowledged Treasury didn't immediately establish the types of checks and balances you would expect for the management of such a big taxpayer liability when the Crown retail deposit guarantee scheme was launched at the height of the global financial crisis in October 2008.
At its zenith the scheme guaranteed about NZ$133 billion. Ultimately nine finance companies failed with debts guaranteed by the taxpayer, starting with Mascot Finance in March 2009, including South Canterbury Finance in August 2010, and ending with Equitable Mortgages in November 2010.
All up, the taxpayer paid out NZ$1.97 billion to finance company investors. English has put the amount reimbursed through receiverships so far at NZ$523 million, and up to June 30, 2011 a further NZ$355 million was collected in fees from companies participating in the scheme, leaving the taxpayer still more than NZ$1 billion out of pocket.
Intensive monitoring didn't start till after first failure
Provost's report notes Treasury didn't begin to intensively monitor individual companies until March 2009 when Mascot Finance was tipped into receivership. By this point South Canterbury Finance had increased its deposit base, and therefore potential Crown liability, by 25%, with much of the lending to property developers.
"The answer of Treasury is oh so superficial," said Parker. "They first of all say it (the Crown guarantee scheme) has been a success because the financial sector didn't fall over. But that's no excuse for wasting money."
"(And) they say they don't like to intervene in financial markets. (But) they already have by the grant of the guarantee and once you do put yourself at risk under a guarantee, you should prudently manage that risk so it doesn't cost you more than it ought."
'Not the RBNZ's fault'
Furthermore Parker said, Treasury - and some of the government members of the Select Committee - blamed the Reserve Bank, from which Treasury received financial information on the companies with guaranteed debts. However, Parker didn't buy this.
"The idea that the Treasury should've relied on some data series produced by the Reserve Bank as their information set as guarantor is just ridiculous. Because as a matter of law the guarantor has a right to know what their liability is to debtors, daily if they want."
"They (Treasury) had a direct legal right as guarantor to that information rather than relying on some statistical data series that's historical," said Parker, adding the strength of Treasury's excuses is "so patently unworthy" they need to be forced to acknowledge it.
Having been blocked once by the National Party majority on the Select Committee (see the full list of committee members here and watch Parker questioning new select committee chairman Todd McClay in Parliament here) from calling Treasury officials in for questioning, Parker said he'll continue to try and convince his fellow committee members to call Treasury to account for its management of the scheme.
'National complicit'
Parker argued the National government must also take some responsibility for Treasury's short comings.
"This is first and foremost a cock up of the Treasury (but) the Treasury is a government department, and it does reflect their (National's) claim that they're a fine manager of the economy because this is an instance where they haven't been and it has cost the taxpayers hundreds of millions of dollars."
Furthermore, he maintains the government has dragged itself in deeper by "being complicit" both through National Party MPs' actions in Parliament, and in their refusal to let the Select Committee - on behalf of Parliament - follow through on what the Auditor General had highlighted.
"Now, the Auditor General, in a constitutional sense, is an Officer of Parliament. And that Officer of Parliament has reported to Parliament that the Treasury cocked up to the tune of NZ$100 million or more, and yet they are blocking us in Parliament from holding them (Treasury) to account," said Parker.
The only "fig leaf" McClay has used in defence, said Parker, was that Treasury's annual financial review in front of the Select Committee included a look at the Crown retail deposit guarantee scheme. However, Parker said the Auditor General's report wasn't on the agenda at that hearing and nor had the committee then heard from Smith.
'Abuse of process'
Here, he accuses the National MPs of abuse of process.
"Given that, at least in theory, the role of the Select Committee is to hold government departments to account for mismanagement, if this financial expenditure committee can't because the government members block us doing it, why do we pretend that that's one of the proper functions of select committees?"
He said this was an important point because New Zealand had few checks and balances compared with a lot of other countries.
"We've only got one House of Representatives, all the power lies with the executive. And if the few constitutional safeguards that we have got against inappropriate actions are undermined or aren't let to operate... there are points of principle here that go beyond the seriousness of this case."
"If they abuse process on this, well you've got to ask yourself whether this is something they (National) should be severely criticised for and I believe they should be."
Treasury says it 'generally ran the scheme well', disagrees it should've intervened more
After Provost issued her report Treasury released a press release entitled Treasury welcomes guarantee scheme findings by Auditor General. The release quoted Treasury secretary Gabriel Makhlouf saying Treasury disagreed with the assertion that more intervention in finance companies may have reduced the fiscal risks that were an "inevitable consequence" of the scheme.
"The guarantee scheme was already a very significant, but necessary, intervention in New Zealand's financial system. The Treasury considered a range of further interventions but couldn't find a case where intervention was more likely to create a better outcome. All interventions carry a degree of risk and we don't believe that the Auditor General's report gives sufficient weight to the risks that further interventions would have created," Makhlouf said.
He added he was pleased the report found "that the Treasury generally ran the scheme well. The report will be a key resource in ensuring that we learn as much as possible from that experience."
You can read my views in this article: Opinion: Treasury's ambulance at the bottom of the Crown retail deposit guarantee scheme cliff wasn't good enough.
This article was first published in our email for paid subscribers this morning. See here for more details and to subscribe.