Former Finance Minister Michael Cullen says ex-Aussie PM Kevin Rudd to blame for NZ's broad Crown retail deposit guarantee scheme that left taxpayers' with NZ$1b bill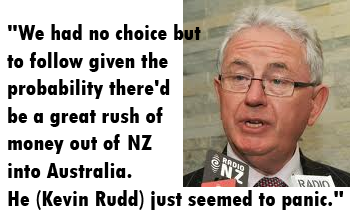 By Gareth Vaughan
Former Finance Minister Michael Cullen says ex-Australian Prime Minister Kevin Rudd is to blame for New Zealand's wide ranging Crown retail deposit guarantee scheme, which looks set to cost taxpayers around NZ$1 billion.
Cullen says the New Zealand government of the day was "forced into" a much more comprehensive, open ended scheme than it had been considering by Rudd's "panicky" actions.
Introduced in October 2008 by Cullen's Labour Party led government at the height of the global financial crisis during the 2008 election campaign, the scheme at its zenith saw taxpayers' guaranteeing about NZ$133 billion. Ultimately nine finance companies failed with debts guaranteed by the taxpayer before the much smaller extended Crown retail deposit guarantee scheme, introduced by the National Party-led government upon the initial scheme's expiry in October 2010, ended on December 31 last year.
All up, the taxpayer paid out NZ$1.97 billion to investors in failed finance companies with the bulk stemming from South Canterbury Finance's August 2010 demise. Finance Minister Bill English has put the amount reimbursed through receiverships so far at NZ$523 million, and up to June 30, 2011 a further NZ$355 million was collected in fees from companies participating in the scheme, leaving the taxpayer more than NZ$1 billion out of pocket.
Following Deputy Controller and Auditor General Phillippa Smith's recent appearance before Parliament's Finance and Expenditure Select Committee, Labour's new finance spokesman David Parker has been striving to have Treasury officials hauled before the Committee for questioning over their stewardship of the scheme, serious aspects of which the Auditor General has criticised. Parker told interest.co.nz that based on Smith's comments, the loss to the taxpayer could have been at least NZ$100 million less if Treasury had taken a more proactive management role and said it was a fair question to ask whether Treasury heads should roll.
'Govt had been working on a more limited scheme'
For his part Cullen says he's "keeping out" of recent arguments. However, he says the Crown retail deposit guarantee scheme as it ultimately emerged was more comprehensive than the Government of the day had been planning because of Australia's move.
"The day the Labour Party launched its election campaign Helen (Clark) was going to include a reference in her speech to the fact that work was proceeding on such a scheme," Cullen recalls. "However, word emerged out of Canberra that it was believed that the Australian Government was about to announce a comprehensive 100% guarantee scheme."
At the time an International Monetary Fund-World Bank conference was underway in Washington DC. Australian Treasurer Wayne Swan was attending, along with the Australian Treasury Secretary and New Zealand's Treasury Secretary John Whitehead.
"So we were actually huddled at the back of the (Auckland Town) Hall in the green room getting messages through to John Whitehead to find out what was going on," says Cullen.
"The Australian delegation in Washington professed to have no knowledge of any such announcement being made. Eventually we got on to Rudd's office and got confirmation that Rudd was about to announce, essentially on his own initiative, a 100% guarantee scheme," says Cullen. "Therefore we had to announce that, which we promptly did in Helen's speech."
Clark's Sunday October 11, 2008 speech, kicking off Labour's campaign for the November 8 general election which it subsequently lost, noted "the Government has agreed to implement a deposit guarantee scheme which will provide New Zealand depositors with additional confidence."
"What emerged over the next couple of days was there were absolutely no details, virtually at all, to the Australian scheme," Cullen continues. "We actually filled in the details of ours very much faster than they did  even though we were in the middle of an election campaign."
Fears over 'rush of money to Australia' after Rudd 'panicked'
And, Cullen says, the New Zealand scheme that emerged was forced by the Australian announcement.
"Because clearly if the Australians were doing that we had no choice but to follow given the probability that if we were something less than that then there'd be a great rush of money out of New Zealand into Australia."
Cullen says the New Zealand Government didn't want to get itself into such a comprehensive scheme, but had to "because of Rudd's action."
"Whether he was under pressure from the Aussie banks, who have always had enormous amount of entree into the Prime Minister's office in Australia, I don't know.  He just seemed to me to panic and clearly hadn't consulted properly with the Australian Treasury about it," Cullen adds.
'Politically untenable to have left finance companies out'
Asked about the inclusion of finance companies in the scheme Cullen says there was no real consideration given to leaving them out.
"Because that would have folded them up like a pack of cards straight away. It would have been politically untenable apart from anything else, because we would have been seen to precipitate those collapses as opposed to the process of what you might call orderly collapse which have been occurring over a period of time," says Cullen.
He says the only area where he recollects not following the advice of Treasury and Reserve Bank officials was resisting pressure from Treasury for a "very clearly" risk weighted scheme.
"It would mean a very high fee for, for example, the credit unions. My view was that was likely to lead to very high risk of their immediate collapse because the costs would've been so great to them, given the very low margins with which credit unions operate, that it was unsustainable."
Some of the features of a proposed New Zealand Crown guarantee scheme prior to Australia's move included caps on exposure. Cullen says it wasn't going to be a blanket scheme, "100% everything across the board no matter what." In a perfect world he says the government would've worked out the details of the scheme "a little bit more carefully" and hopefully had more limited total exposure.
Nonetheless, Cullen argues through its initial stage the scheme - following an international trend started by Ireland - was successful.
"It stabilised, to a significant degree, confidence in the financial sector in New Zealand and that in the end was the purpose of the exercise. From there on the problem was always going to be, for whoever was the Government, how did you extricate yourself from the guarantee?"
'Govt wouldn't let the big banks fall over'
And in terms of the big banks, he says there has always been "a degree of pretence" around the idea the government didn't stand behind them.
"If they were systemically important in reality the government couldn't afford to let them fall over. But no Minister of Finance is ever going to say that as Minister of Finance. It's only when they're old and clapped out and out of a job that they can actually say that."
An October 10, 2008 report from Treasury and the Reserve Bank entitled Responding to the prospect of a worsening financial crisis in New Zealand said if quick action was needed, the preferred option would be to offer a guarantee of some or all liabilities of banks and other deposit takers. They noted that, given Parliament had been dissolved for the election, the only way the Government could charge fees for a guarantee was if the scheme was operated on a voluntary opt-in basis, which the scheme ultimately was.
The officials went on to say they didn't believe it would be appropriate to offer a full guarantee of all liabilities at present, and noted that any offer should include New Zealand registered banks, and non-bank deposit taking entities including building societies, credit unions and deposit taking finance companies.
'Sum equivalent to three quarters of GDP guaranteed'
The report further said that banks held retail deposits of about NZ$130 billion with about another NZ$10 billion held by other institutions.
"Hence the contingent guarantee might well involve a sum equal to three quarters of GDP. This is an order of magnitude larger than all existing Crown Contingent Liabilities," the report added.
Although acknowledging this was the total potential exposure, the report said actual fiscal cost would only be what the Crown ended up paying out in the event of a company failure.
"A back of the envelope calculation based on US Savings and Loan crisis experience is that this cost could be of the order of 0.1% of GDP, or about NZ$1.6 billion," the officials wrote.
Meanwhile, in the first reading of the Crown Retail Deposit Guarantee Scheme Bill in Parliament on September 8, 2009 English noted the Australian Government had decided at very short notice to guarantee retail deposits.
"There was a considerable risk that New Zealand's financial institutions could lose some of their domestic deposit base to Australia," said English.
"At the time, the New Zealand Parliament had been dissolved for the 2008 general election, and the Government of the day established the existing guarantees scheme using the powers available to the Minister of Finance under the Public Finance Act 1989. This scheme provided assurance to depositors in New Zealand financial institutions during a period of great uncertainty and at a time when New Zealanders had seen pictures on TV of bank runs in the UK."
The introduction of this bill recognises that non-bank deposit taking institutions are a significant feature of New Zealand's financial system," he added. "However, the Government recognises that guarantees can encourage unwarranted risk-taking among financial institutions and that guaranteeing deposits carries an ongoing economic cost."
This article was first published in our email for paid subscribers this morning. See here for more details and to subscribe.