CBA's Kiwi CEO Ian Narev says ASB is a domestic brand; CBA won't talk of cross selling; Sees big changes driven by technological innovation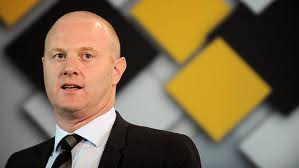 By Gareth Vaughan
In what's probably a common view among senior executives at Australia's big banks but one that won't thrill the Reserve Bank of New Zealand, the New Zealander at the helm of ASB's parent Commonwealth Bank of Australia (CBA) has publicly said he views the Kiwi subsidiary as one of the group's domestic businesses.
Speaking in a group strategy update yesterday, CBA chief executive officer Ian Narev noted such a view may not thrill his "former" countrymen.
"Across all of our domestic businesses, and at the risk of incurring the wroth of my former countrymen I include ASB as one of our domestic businesses, we will have a group wide productivity emphasis," Narev said.
It was a rare mention for ASB, which although it recently delivered record half-year profit after tax of NZ$372 million (about A$293 million), this was just 8.2% of CBA's A$3.57 billion group profit. Other group domestic brands Narev cited were CBA and BankWest. Outside the "domestic" Australian market, Narev only mentioned Indonesia and China, where it already has operations.
Narev's comment may not thrill the occupants of 2 The Terrace, Wellington from where the Reserve Bank acts as prudential regulator of ASB and New Zealand's other trading banks, as opposed to the Australian Prudential Regulation Authority, which oversees CBA and its Australian rivals.
Narev played Davie in the 1979 television series Children of Fire Mountain. He also has an undergraduate degree in English and Law from the University of Auckland. Prior to joining CBA in 2007, he worked for consultancy firm McKinsey & Co, including in Auckland. A remaining New Zealand connection is his role as chairman of Springboard Trust, which works with principals of low-decile primary schools in South Auckland. See CBA's profile of Narev here. He succeeded another New Zealander, Ralph Norris, as CBA's chief executive on December 1 last year.
Strategy focussed in 3 areas
More broadly Narev said CBA's strategies in coming years would be focussed on three key areas; Being world leading in the application of technology to financial services and products; Having a vibrant and customer focussed culture and people; And having a strong and flexible balance sheet.
And as for the wider world Narev said there were five factors CBA was looking to over the next three to five years that form the fundamental external assumptions behind the group's strategy.
Firstly, confidence in Australia's long term economic strength.
Secondly, notwithstanding this confidence in Australia, Narev said CBA recognises the likelihood of global economic volatility.
"As we see the debate about Europe, for example, morph less about what's going to happen today or tomorrow about bond auctions, and more about the reality now for a number of years, (that) growth out of Europe will be anaemic. We don't see ourselves returning to 2006-2007. We see ourselves as having to operate in an environment of ongoing volatility," Narev said.
Thirdly, he said competition would intensify in all the areas CBA operates in.
Fourthly, the changes brought by technological innovation to the tastes and preferences of customers was only just beginning, "be they individual customers or business customers in what they want from us and how they want to engage with us."
Fifth, Narev acknowledged a reality of being a financial institution now and into the future, was "increasing demands" from regulators and the broader community.
'We don't cross sell'
Separately Narev said although it may sound a bit semantic, CBA won't be using the term "cross sell."
"Cross sell sounds like we're manufacturing a whole lot of things and trying to jam them down into our customers," Narev said.
And on the funding front Narev said CBA had issued €1.5 billion worth of 10-year covered bonds on Wednesday night at an effective interest rate of 195 basis points over the local swap rate.
"We wouldn't have done that a year ago, we certainly wouldn't have done it five years ago when we weren't ever thinking we'd fund beyond three years. It's more expensive, (but) it's the right thing to do and it shows the importance of being flexible. The fact that issue was almost three times oversubscribed also shows the benefits of being strong," Narev added.
See Narev's presentation slides here.
This article was first published in our email for paid subscribers this morning. See here for more details and to subscribe.