Kiwis are much more confident about future prospects and expect house prices to keep rising strongly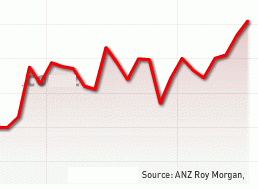 Kiwis are continuing to feel much better about their lot, with the ANZ-Roy Morgan NZ Consumer Confidence Survey hitting a 32-month high.
Helping to fuel the confidence is a survey-high expectation of rising house prices.
ANZ senior economist Mark Smith said respondents to the survey were expecting a 4.1% lift in house prices during the next two years.
"Gains were widespread across the regions, although expectations remain the highest in Auckland (4.9%) and Canterbury (4.5%)," he said.
Despite this, the latest survey recorded a drop in inflation expectations, with respondents now expecting 3.2% inflation over the next two years, down from 3.3% in the last survey.
The results in the latest survey are nearly all positive. Consumers feel less worse off financially than a year earlier, they are more positive than in the last survey about their own financial prospects in the year ahead, their views on the general economy in the year ahead have improved, as has views of the economy five years out. It is still views as a good time to buy a major household item, but just slightly less so than in the last survey.
Gains in confidence were strongest in the 50 and over age bracket, while the next strongest confidence-wise was the 25-34 bracket, while confidence actually dropped slightly among those aged between 35 and 49.
There were somewhat bigger falls in confidence for the 14-17s and the 18-24s, which Smith said was likely a reflection of the difficult job market for those age groups.
On a regional basis, Wellington showed gains in confidence but remained the least confident region, while Auckland saw a slight drop in confidence. However, confidence improved in the rest of the North Island, Canterbury and the rest of the South Island.