Labour's David Shearer goes on attack over troubled Solid Energy, says Govt wanted the SOE to increase debt so it could ramp up dividends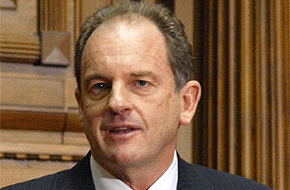 Government pressure for State Owned Enterprise Solid Energy to borrow more and pay bigger dividends contributed to its current financial woes and Prime Minister John Key ought to take some responsibility, Labour Party leader David Shearer says.
Shearer says the Government pressured Solid Energy to increase debt so it could ramp up dividends despite knowing the company was facing financial difficulties.
"Bill English knew that coal prices were forecast to decline in 2009 but still urged Solid Energy to increase its gearing (debt to equity) ratio," Shearer said. "That means 'go out and borrow more' despite knowing there was trouble ahead."
"The Finance Minister told Parliament today he didn't know coal prices were going to decline. But documents obtained by Labour show that he did."
Shearer says in May 2009, shareholding ministers, including English, wrote to Solid Energy expressing disappointment with the firm's "forecast decline" in its financial performance and "dramatic decline in profitability and dividends." He reportedly tabled a May 2009 letter in Parliament today that was sent by then State Owned Enterprises Minister Simon Power to Solid Energy's then chairman John Palmer.
"In it, they urge Solid Energy to increase its gearing ratio despite confirming that they're aware there has been a 'significant decline' in forecast coal prices," Shearer said.
"At the same time, the Government was demanding increased dividends. And Solid Energy paid up, returning NZ$130 million over four years, including NZ$30 million in late 2011 by which time coal prices had further declined and the company was in financial distress."
Responding to Shearer, English said ultimately the decisions about how much debt Solid Energy took on was made by the company's board. Power is now managing director of Westpac NZ's wealth, insurance and private banking, overseeing 250 staff.
The Government revealed last month that Solid Energy is in talks with its banks over restructuring options. English and Minister for State Owned Enterprises Tony Ryall said Solid Energy had NZ$389 million of debt and its interim financial result, due soon, would show a "significant" loss.
Solid Energy's banks are Westpac, ASB, ANZ, Bank of Tokyo-Mitsubishi and BNZ. Their loans to the company are unsecured. Treasury has hired investment bank Macquarie to advice on the Government's options for the SOE.
Shearer said Key and his ministers were "desperately" dumping the blame for Solid Energy's woes on its board.
"But the real blame rests with them. They were urging the company to borrow more despite knowing stormy financial times were ahead. They knew the company was in trouble but continued to treat it like a cash cow," said Shearer.
"It's time John Key took responsibility. While Solid Energy's woes are complex and this is not the only factor in its decline, the pressure from ministers to borrow more and pay bigger dividends certainly contributed to its current dire financial straits," Shearer said.
Solid Energy's former CEO Don Elder, and its ex-chairman John Palmer, will appear before Parliament's Commerce Select Committee on Thursday.