General Equity Building Society outlines what it does, NZ expansion plans, and how it's 'regulated'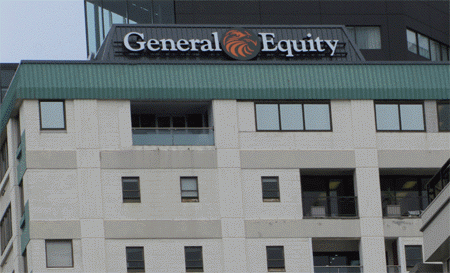 By Gareth Vaughan
The people behind General Equity Building Society (GEBS), which is New Zealand registered but operates overseas, chose to set up here because NZ's a well regulated, quality jurisdiction that's "cost effective", according to GEBS' Malaysian-based Australian director of international business.
Interest.co.nz sat down with Mark Bayoud, GEBS' director of international business, and Murray Greer, its chairman, at the building society's Auckland offices, located in a building that GEBS recently took out naming rights on and is now known as General Equity House.
The interview was in response to questions interest.co.nz put to GEBS prior to our recent story General Equity, no ordinary New Zealand building society.
Among things to come out of the interview Bayoud said;
* GEBS has hired a New Zealand Authorised Financial Adviser (AFA) and is setting up a wealth division as it moves to offer financial services within NZ;
* A fund managed by GEBS that purportedly holds US$6.2 billion in mining assets is owned by a small group of Asian businessmen and the assets held are predominantly in Thailand and Indonesia;
*GEBS is "comprehensively" regulated by the Financial Markets Authority (FMA), something the FMA says isn't the case;
*Anthony James Scott, now described as senior legal advisor to GEBS who used to be both a director and its secretary, is indeed the Anthony Scott banned by the Australian Securities and Investments Commission from managing a corporation for 18 months from August 2009;
* GEBS is owned by 200-300 members located in various countries with "quite a few" but not a majority in NZ, and is "comprehensively and totally" a mutual. And;
* An algae to hydrocarbon project GEBS is involved in could result in a sharemarket listing.
"We agree with a lot of the intent behind your articles," Bayoud said. "We see a lot of these (NZ) offshore financial service providers... masquerading. They set up and say that they're banks which is something that we agree should not be allowed. And that's not who we are and that's who we never intend to be."
"We've actually highlighted to the FMA maybe four or five (non-compliant finance companies) that we've reported to them," Bayoud added.
Why NZ?
Bayoud said GEBS was often asked why it chose NZ.
"And we find it very hard to understand why people keep asking us that because we've looked around. We found New Zealand was well regulated, it's a quality jurisdiction, the cost of operations was very cost effective and well in our favour to operate from here," he said.
"And the question we keep saying is why not New Zealand? Why would you go anywhere else? If we were to set up in Australia we'd probably have a 30% or 40% premium on top of our costs."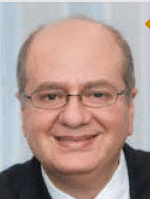 He added that GEBS was "comprehensively" regulated by the FMA. Bayoud said GEBS was accountable to the FMA "in every sense that we provide any service to anyone", via its (GEBS') disputes resolution process, by submitting annual audits to the FMA and through complying with the rules and regulations, as a financial institution, the FMA stipulates.
Meanwhile Bayoud (pictured left) suggested GEBS is overseen for compliance with the recently introduced Anti-Money Laundering and Countering the Financing of Terrorism Act (AML-CFT ACT) by the FMA as well as the Reserve Bank and Ministry of Internal Affairs, saying "we work with all of those departments."
He said taking out naming rights on the high rise, body corporate owned building at number 17 Albert Street in the Auckland CBD, where GEBS and associated company CBD Office Ltd, a "provider of tailored office solutions" have offices on the fourth floor, was because GEBS will start offering financial services within NZ.
"We've employed an AFA who is setting up a wealth division within General Equity and they're looking to provide insurance and financial advice to local New Zealanders in a non-deposit taking environment," said Bayoud. "And at some point in the future we may decide to become a full deposit taker, at which point we will comply with all the Reserve Bank requirements."
The AFA is Keith Hayes.
'FMA not the supervisor for General Equity Building Society'
However, much of what Bayoud says appears to be news to the FMA.
"FMA can confirm that it is not the supervisor for General Equity Building Society," an FMA spokesman told interest.co.nz.
"We are not aware of any tip-offs from General Equity."
"We are aware that they have employed an AFA and we will be following this up to determine whether supervision of General Equity should fall under FMA," the spokesman added.
And nor does the Reserve Bank supervise GEBS.
"The General Equity Building Society is not overseen by the Reserve Bank. It has been declared out of the Non-Bank Deposit Taker regime," a Reserve Bank spokesman said. "So for anti-money laundering purposes it isn't supervised by the Reserve Bank either."
Interest.co.nz asked the Department of Internal Affairs whether an entity such as GEBS, which is registered in New Zealand but isn't a non-bank deposit taker and operates overseas, falls under its umbrella in terms of oversight for compliance with the AML-CFT Act.
A Department of Internal Affairs spokeswoman said: "In relation to the jurisdictional issue raised, each business would be assessed on an individual basis to see if the financial activities are carried on in NZ. The following factors would be included in this assessment; there is a physical place of business in NZ which hosts NZ staff and/or an infrastructure that provides a means to carry out the financial activity in NZ;  the entity actively and directly advertises or solicits business from persons in NZ to such an extent that it requires registration under the Companies Act."
"(But) an entity incorporated or formed in NZ is not automatically a reporting entity, particularly where it carries on financial activities wholly outside NZ. An overseas entity that is not required to be registered under the Companies Act 1993 as carrying on business in New Zealand is unlikely to be a 'reporting entity' under the AML/CFT Act."
GEBS is incorporated under the 1965 Building Societies Act.
See more on the AML-CFT Act here in An undesirable form of regulatory arbitrage.
Billions of dollars of mining assets owned by '3 or 4 anonymous Asian businessmen'
GEBS says it's the manager and trustee of an entity known as the General Equity Building Society Asset Builder Fund 1. GEBS says its mandate in managing this fund is to write trade finance business for members and clients located around the world including in the United States, Europe, Middle East, Africa, Russia, China, Asia and Oceania.
It says the Fund has US$6.2 billion of investment holdings comprising gold, nickel, silver, oil and gas refining technology and granite.
Bayoud emphasised these weren't GEBS' assets, saying it merely "plays a management role" with the value of the assets determined by the auditor, Ari & Co Chartered Accountants of Kuala Lumpur.
"These are mining assets, predominantly in Thailand and Indonesia," he said. "This fund does not raise any money from the public, does not have any offerings to the public, and it's strictly used for the purposes of backing trade activities."
"The big concern would be when you see a number like that that it's being used to potentially raise money from the public and that's just not the case. It's valuations on assets plus geological reports, plus actual extractions and things like that."
He said the owners of the assets were a group of private businessmen in Asia.
"They've wanted to remain anonymous, as part of them providing that asset for the purposes of supporting trade finance activity," Bayoud said.
"I believe they're from a combination of Malaysia, Hong Kong, Thailand and Indonesia. I think there's three or four (owners)."
'A building society for SMEs'
In terms of GEBS' core business, Bayoud said it was a building society for small to medium-sized enterprises.
"We're not a mums and dads type building society, we won't have retail stores. The main focus of our business began on providing trade and trade finance services to expand trade and export and import activity between the (Asia-Pacific) region and that's where we predominate our business," said Bayoud.
Clients were from Japan, Malaysia, the United States, Canada and Europe and were involved in exporting and importing.
"They do trade into the Middle East and quite occasionally into Africa. So our inter-banking relationships (GEBS says there are more than 100 including with BNZ's parent National Australia Bank and Germany's Commerzbank), are for those purposes for issuing and receiving letters of credit."
Murray Greer 'a very shrewd man'
Meanwhile, Greer said he joined as chairman last October with previous chairman Brian McGrath, the Lord Mayor of the Victorian town of Horsham from 1974-75, ill. Greer used to be ANZ director of property and construction finance and was managing director of Rifleman Finance between 2006-08. Greer also has a consulting business, Park Rise Consulting Ltd.
Bayoud denied Greer's appointment was related to the Companies and Limited Partnerships Amendment Bill, which had its first reading in Parliament last July. Commerce Minister Craig Foss says the Bill, once passed, will require every company registered in New Zealand to have an NZ-resident agent who will be held responsible if the company fails to comply with its reporting and record-keeping obligations.
"Murray Greer is a very shrewd man and he checked us extensively before he joined us," Bayoud said.
Asked what had attracted him to GEBS Greer, a member of the Institute of Directors, said he was in the right place at the right time.
"People knew that I was at a bit of a loose end so I was approached," said Greer.
Algae to hydrocarbon IPO seen
An algae to hydrocarbon project GEBS is involved in came about because some of its members decided to invest in a Flinders University programme, said Bayoud. GEBS had thus far invested "in excess" of A$5 million to A$6 million. A Hong Kong company named WWCC Ltd, whose shareholders include some GEBS members, owns the intellectual property and patents relating to it, Bayoud added.
"At some point it will go for an IPO (initial public offering) when it's fully justified and operating and producing."
GEBS was committed to the project and he expected more investment would be sunk into it.
"At the end of the day it's worth the risk. It's one of those products that if it does work it will really make a difference," said Bayoud.
Professor Andrew Ball, of the School of Applied Sciences at RMIT University, told interest.co.nz WWCC and GEBS had funded research into the production of hydrocarbons by micro algae when he previously worked at Flinders University.
 "There are some patents owned by WWCC that have emanated from the work we did then," Ball said. "As for their significance, well I believe they represent good science and certainly are proof of concept."
However, he said more work was needed to truly assess the commercial potential of the technology.
"The line of research we are following presently is to use algae to produce high value pharmaceuticals rather than biofuels," Ball added.
"I think generally there is agreement around the industry that algae production of biofuels alone does not represent a viable industry in the foreseeable future. But by coupling production to other higher value intermediates (e.g. beta carotene, triterpenoids) biofuels may be produced as a by-product."
'A NZ financial institution'
Meanwhile, Bayoud said that, although most of GEBS' owners and directors aren't New Zealanders, with directors aside from Greer hailing from Australia, Hong Kong and the US, they see themselves as a New Zealand financial institution. The entity's registered here, and it has its head office and annual meetings here. Including consultants, Bayoud said GEBS now has five or six staff in NZ.
"The progression is to create a stable, steady business in NZ," said Bayoud.
This article was first published in our email for paid subscribers yesterday. See here for more details and to subscribe.