Governor Graeme Wheeler says RBNZ wants more data on banks' performance metrics, is reviewing exchange rate measures & gives Stats NZ a wish list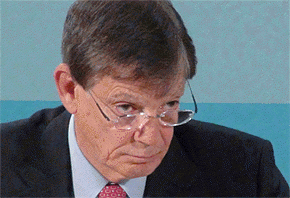 Governor Graeme Wheeler says the Reserve Bank is revamping the way it collects statistics from banks as it seeks to add data on performance metrics such as incomes and expenses.
Noting China is now New Zealand's biggest export market but the renminbi isn't included in the Reserve Bank's "flagship" Trade Weighted Index (TWI), Wheeler also says the Reserve Bank is reviewing all its exchange rate measures with the review expected to be finished by year's end.
He made these comments in a speech to the Official Statistics User Forum in Wellington.
"Our standard statistical return for the banking system has served us well over the past 15 years but we're now re-developing it," Wheeler said.
"That reflects changes in the banking sector over the period and a better understanding of what to monitor in the sector. For example, the existing return provides little if any data on the banks' incomes and expenses and other performance metrics. Our hope is that a new collection methodology will serve us well for the next 15 years."
'Full review of exchange rate measures'
Separately he alluded to recent discussion among economists about the lack of the renminbi in the TWI five. Direct convertibility of the New Zealand dollar and the renminbi was announced during Prime Minister John Key's visit to China last week.
"Since the 1970s, the (Reserve) Bank has published weighted average measures of the New Zealand dollar relative to the currencies of our major trading partners. We report a variety of real and nominal measures of these trade weighted exchange rates (TWIs) on our website. Our flagship TWI was developed 15 years ago following the introduction of the euro and is based on five currencies (the US dollar, Australian dollar, yen, euro and British pound)," Wheeler said.
"Since then, trading patterns have changed dramatically. In particular, China is now the largest single destination for New Zealand's merchandise exports and its exchange rate has become more flexible. Some years ago we developed a broader 14 currency trade weighted index, which included the Chinese currency and this is published daily on our website alongside the five currency index. However, we are currently undertaking a full review of all the exchange rate measures that we publish, which we hope to complete before the end of the year."
Insurance data collection planned
Meanwhile, Wheeler also said the Reserve Bank is planning a data collection from the insurance industry, which it became the prudential regulator and supervisor of in 2010. He said there "is currently little in the way of formal statistics" on the insurance sector.
"Consequently we're currently planning a data collection from the industry designed to meet our prudential and broader statistical needs. This is a major job as there are around 100 newly licensed insurers, and there are a wide range of potential risks to cover," Wheeler said.
He also said new standards for non-bank deposit taker capital, liquidity and related party exposures, since the Reserve Bank took on prudential regulation of this sector in 2008, "inevitably require" more data to be collected from the industry. This might "prompt a further upgrading of the sector's statistics in the future," said Wheeler.
RBNZ's wish list for Stats NZ
Wheeler also outlined a Reserve Bank top four wish list from Statistics New Zealand.
"We'd like sector balance sheets that would tell us who owes what to whom across the economy and with the rest of the world. We'd like a quarterly income-based measure of GDP, which would provide a useful alternative perspective on output to the existing production and expenditure-based measures. We'd like GDP to be rebased at the very least every 10 years to capture structural change in the economy. And we would love a monthly CPI to enable more timely analysis and forecasting of inflation."
"We recognise that there are many statistical needs and resources are limited. But nor should we lose sight of their value. New Zealand's annual GDP is more than $220 billion so better quality or more timely decisions that result in a very slight improvement in economic performance could easily be worth millions of dollars per annum," Wheeler added.
Growing demand
Wheeler also cited growing demand for financial statistics from the general public, international agencies, the media and financial analysts since the global financial crisis.
"There's a growing appetite for more granularity and detail in financial statistics and for coverage of new areas. For example, there's demand for more detail on the financial products and services offered by banks, expanded data on financial prices, and the ability to drill down into financial sub-sectors to a rather greater extent than before. And there's much greater interest in understanding the capital markets - an area that to date hasn't been well captured in statistics in New Zealand."