Govt says the $36 mln of taxpayers' money invested in the America's Cup campaign directly benefited the New Zealand economy by $87 mln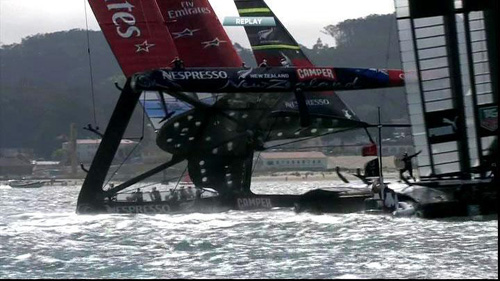 Economic Development Minister Steven Joyce says the $36 million of taxpayers' money pumped into the last America's Cup challenge directly benefited the New Zealand economy to the tune of $87 million.
Joyce today released two evaluation reports, both an independent evaluation of the Government's investment in Emirates Team New Zealand and an evaluation of New Zealand Trade and Enterprise's (NZTE) leveraging programme in San Francisco.
"The economic benefit from our investment in Team New Zealand is considerable. From a $36 million taxpayer investment, the evaluation shows an estimated positive impact of $87 million to the New Zealand economy," Joyce said. (see table below from the report).
Team New Zealand obtained 66% ($118.3 million) of its total revenue of $179.8 million from international sources. Team New Zealand needed to source at least $2 for every $1 of Government support and exceeded that with $3.68 secured for every $1. In total $153 million or 85% of the total campaign budget was spent in New Zealand.
"One of the key benefits of the America's cup challenge was the lift it provided to New Zealand's profile, particularly in North America over the period of the regatta," Joyce said.
He said the two reports showed that New Zealand agencies "successfully leveraged participation in the races" to improve international awareness of New Zealand as an innovative place to do business. "The recreational marine industry also enhanced its ability to attract and retain highly skilled and professional workers, wanting to be involved New Zealand's campaign."
The 212 companies that participated in the NZTE's America's Cup business leveraging programme also reported a range of benefits.
"New Zealand design, manufacturing, and technology were on display both on and off the water, and told a compelling story about who we are and what we can deliver. The audience reach of media coverage about New Zealand business was measured up to 86 million," Joyce said.
"Activity during the Cup has contributed to trade and investment deals so far worth $200 million for New Zealand and a further $120 million of new sales opportunities and investor interest."
Following the regatta, the Government committed to an interim investment of $5 million to retain key team members for the next challenge. A decision on any further government investment will be made following the delivery of a business case by Team New Zealand to the Government.
"One of the things I have made clear to team representatives is that the Government must have confidence that a strengthened governance structure has been put in place before it will consider a further investment of taxpayers' money in another challenge. I look forward to having the opportunity to evaluate progress in that regard," Joyce said.