Labour doesn't want Mike Hosking moderating debate; Cunliffe complains about John Key's All Blacks' cover; Labour launches NZ$21 mln IT policy
By Bernard Hickey
With 58 days left until the September 20 election, here's my daily round-up of political news from in and around Wellington on Thursday July 24, including news that Gerry Brownlee offered to resign as Transport Minister after he personally breached airport security by going through a restricted door to get on plane in time. Key rejected the offer.
"Earlier today, running late for a plane at Christchurch Airport, I without thought breached airport and airline security rules by entering the gate lounge through a door usually used for exit only," Brownlee said in a statement.

"Running late for a plane is no excuse for bypassing a security check. In doing this I have broken aviation rules and put individuals who hold responsible positions in upholding public security in a compromised position. My actions were thoughtless and I unreservedly apologise to those people who felt and were compromised by my actions," he said.

"No one else is to blame. I have offered my resignation as the Minister of Transport to the Prime Minister," he said.
The Prime Minister's spokeswoman issued a statement shortly after 2pm. "The Prime Minster has spoken to Mr Brownlee and indicated he's very disappointed with the actions he took this morning," the spokeswoman said.

"He has reflected on the significant contribution Minister Brownlee has made over time and decided on balance, not to accept his resignation," she said.
'Door of national significance'
Brownlee later told reporters before entering Parliament for Question Time that he had been running late for a plane to Wellington and had gone through a restricted door.
"We knocked on the door and I said to the guy 'look, we are in a terrible hurry, can we get through here?". He said OK. In reality I should never had done that. It's not that guy's fault. I'm the one to blame here and I fully accept that," Brownlee said.
"I've got to accept that when a person that's got a role like that sees a minister turn up, they sort of think it's going to be OK. I really don't want that guy getting into trouble.
He said he had offered to resign because he put the official and the airport company in a difficult position and because he was responsible for aviation security as Transport Minister.
The twitter commentary started immediately Toby Manhire talked about Gerry's 'Door of National Significance', while Clayton Cosgrove questioned where Brownlee was running.
Debate about a debate
The day started with a couple of real election season stories: a debate over a debate and a complaint about a photo shoot.
Stuff's Andrea Vance reported Labour is in a stand-off with TVNZ over who should be the moderator of the Labour vs National leaders debate. Labour, it seems, don't want Mike Hosking because it believes he is too sympathetic to the Government.
"When we heard it was Hosking the initial reaction was 'Are you f...ing joking?' But we are trying to get it changed. We are not making a hullabaloo about nothing, we'd rather they get someone else," an unnamed Labour source was quoted as saying. The report referred to Hosking once calling Labour Leader David Cunliffe a "moron".
Grant Robertson (and a few others) joked that Labour would much prefer to have Jeremy Wells pretending to be Mike Hosking than Hosking himself.
Hosking was unaware of the row, and unpeturbed. ""I've called everyone a moron. This has got nothing to do with me . . . I don't want to get involved, I didn't have a clue, nor does it bother me," Hosking was quoted as saying.
Cunliffe was quoted in the NZ Herald as confirming Labour's concerns.
"Concerns were raised by my staff when it became apparent Mr Hosking had introduced Mr Key at his 2013 State of the Nation speech and appeared to warmly endorse him. We are in discussion with TVNZ about that and other matters," Cunliffe said.
Hosking was quoted as introducing Key at the event thus: "As I see it, all things considered we are doing pretty bloody well ... We have bright prospects for the future, so long as you keep them in Government."
'Pack leader'
Meanwhile, Cunliffe also quoted as being surprised over what appeared to be a photo-shopped cover of Rugby News posing in an All Blacks jersey with four All Blacks.
"I was surprised to see it. It's not often you see a major sporting body getting involved in politics," Cunliffe said.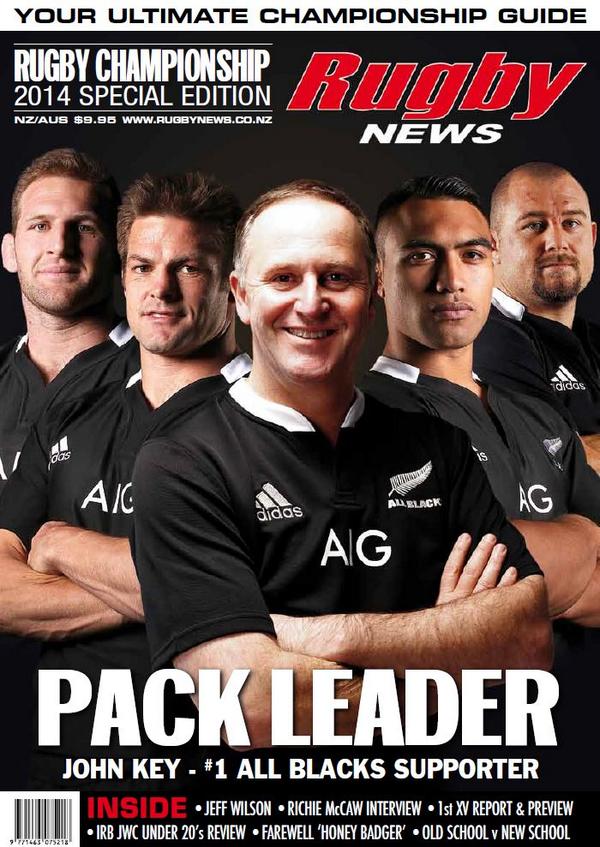 Labour ICT policy
Meanwhile, Labour released another part of its Information and Communications Technology policy, including plans to review the Ultra Fast Broadband and Rural Broadband rollouts, and a review of the regulatory framework for Telecommunciations.
It would also create a contestable fund costing NZ$9.6 million over four years to "close the digital divide" by funding broadband access for lower income and community groups. It would create a NZ$6.3 million contestable fund over four years to enhance rural uptake of broadband.
Labour also planned to set up a "connectivity innovation fund" costing NZ$5.2 million over four years to allow more citizens to use government services online.
Green solar panels for schools
Elsewhere, the Green Party launched a NZ$20 million policy to provide solar panels for schools. It would spend NZ$20 million over three years to install panels in 500 schools, which would produce savings of NZ$1.64 million a year and NZ$41 million over the life of the panels.
(Updated with Brownlee resignation offer, Key's rejection, Video of question to Brownlee)
I'll keep updating this through the day.
See all my previous election diaries here.
See the index for Interest.co.nz's special election policy comparison pages here.