Key to hang Colin Craig out to dry in East Coast Bays; Key says Brownlee not arrogant as "he has a heart of gold"; Greens would ban deep sea drilling; Your view?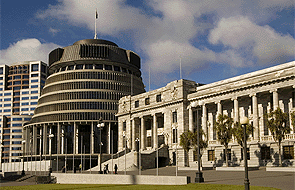 By Bernard Hickey
With 54 days left until the September 20 election, here's my daily round-up of political news from in and around Wellington on Monday July 28, including John Key deciding not to tell National voters in East Coast Bays to vote for Colin Craig and Nick Smith threatening to take legal action against environmental lobbyists who accused him of bullying.
There was another strong result for National in TVNZ's Colmar Brunton poll overnight, which set the scene for an announcement by Prime Minister John Key at his weekly post cabinet news conference that he will not back Colin Craig in East Coast Bays.
He said he encouraged National voters to place their party votes with National and then place their electorate vote with ACT's David Seymour in Epsom and United Future's Peter Dunne in Ohariu.
"In East Coast Bays, where the Conservatives have a candidate, the only option to accommodate that party would be to remove a sitting MP from the ballot paper and that, as I have said, is a bridge too far. So there will be no electorate accommodation with the Conservatives," Key said.
He later told the news conference the Government had no plans to change its mind closer to the election. He said Craig's personality had not been a "dominant factor" and there had been more of an accommodation a year ago, "but there hasn't been enough movement" since then to tip the balance in favour of an accommodation with Craig.
Key said he would be happy to talk with both Colin Craig and Winston Peters after the election, but would prefer any smaller party to have ministers outside cabinet, rather than inside cabinet.
The Government would even look to re-form confidence and supply accommodations with its existing partners United Future, Maori and ACT even if National got more than 50% of the vote and could govern alone, given it gave the Government some insurance against changes in its own ranks and "gave the Government more balance and better perspective."
He repeated advice to National voters in Maori seats to vote for Maori Party electorate candidates.
Strong poll result
The monthly poll found support for National rose 2% to 52%, while support for Labour fell 1% to 28% and support for Green fell 2% to 10%.
The landline poll of 1,001 voters from July 19-23 had a 3.1% margin of error at the 95th percentile and found 10% were either undecided or would not answer the party vote question. John Key rose 1% to 48% as preferred prime minister, while David Cunliffe fell 2% to 8%.
Nick Smith denies threats
Meanwhile, Conservation Minister Nick Smith has denied claims aired in a Radio New Zealand interview by Association of Freshwater Anglers president David Haynes that Smith threatened to 'tweak' Fish and Game's statutory obligations to stop its advocacy over water quality in a July 18 meeting.
Here's the Radio NZ report:
Mr Haynes said there was no doubt this activity angered Dr Smith, and at the meeting the minister made it clear he wanted Fish and Game to shut up, stop carrying out its statutory function to advocate for clean rivers, and do as it was told.

He said the minister indicated he wanted to "tweak" Fish and Game because its advocacy for clean rivers was standing in the way of economic growth.

"Very clearly they were being castigated and that the idea of this tweaking was a threat - a threat to pull your neck in," Mr Haynes said. "I was also surprised to hear him say 'Fish and Game sometimes behaves like a rabid NGO, worse than Forest and Bird', which is very insulting."

Three other people at the meeting spoken to by Radio New Zealand News agreed with Mr Haynes that the minister was trying to interfere with the statutory functions of Fish and Game.
Smith said handwritten notes from the meeting from a DOC official refuted the claims and he threatened legal action over statements he viewed as offensive and defamatory.
"Mr Haines is a long-time critic of me as Conservation Minister, most recently over 1080. He is not neutral and his deliberate misrepresentation of the meeting is driven by politics and the election season I am taking legal advice over his statements. I have been a long-term advocate for improving New Zealand's water quality, including putting in place New Zealand's first National Policy Statement on Freshwater, and I find his statements offensive and defamatory."
United Future leader and National Government partner Peter Dunne said he supported Fish and Game's right to criticise the Government on water quality and said any threatens to its statutory roles were unaccceptable.
"Issues like the impact of dairy intensification, or major new irrigation schemes on water quality are obvious matters of interest to Fish and Game and the interests they are obliged by law to represent and advocate for.

"To threaten – directly or obliquely – to curtail their role because they perform it well, is unacceptable in any circumstances."
National list released
Indicating the likely accommodations with ACT and United Future,National released its list for the September 20 election on Sunday. Winners included Hekia Parata (up to 7 from 18 in 2011), Nikki Kaye (up to 19 from 33) and Jami-Lee Ross (who rose to 29 from 54), although the rankings are broadly in line with their cabinet and caucus rankings. Maurice Williamson, who resigned his ministerial position, dropped to 35 from 19.
Epsom candidate and current list MP Paul Goldsmith was put at 30, up from 39 at the last election, while Ohariu candidate Brett Hudson was put at 39. Both are seen as safe to get in on the list, which some interpreted as an indication from National to its supporters in those electorates to vote for Seymour and Dunne. Key's comments this morning confirmed that.
National President Peter Goodfellow said if National got the same 47% party result in got in 2011 then 13 new MPs would be elected, alongside 46 returning MPs.
Gerry's "heart of gold"
Elsewhere in a TVNZ Breakfast interview, Key also defended his decision not to accept Gerry Brownlee's resignation after Brownlee's airport security breach. He rejected the accusation that it showed National was arrogant.
"Arrogance is not in the nature of the beast with Gerry. He's bombastic and all of those things, but he has a heart of gold," Key said.
Green drilling ban
In an event on Piha beach, Russel Norman launched the Green Party policy to ban deep sea oil drilling, bring in compulsory shipping lanes for coastal shipping and increase Maritime NZ 's oil spill response capability.
"The Greens in Government will protect our beaches by keeping the deep sea oil genie in the bottle. There are no deep sea wells in New Zealand, so now is the time to prohibit the practice," Norman said, adding the oil and gas industry employed 7,000, while the food-producing industries endangered if New Zealand lost its clean, green image employed 250,000.
"Steven Joyce's jobs claims are illusory. Deep sea oil is jobs poor but risk rich," he said.
He later said the ban would be a big part of any government-forming negotiations, but he stopped short of saying it was a 'bottom line.'
Steven Joyce said the ban showed the Labour-Green coalition "was in complete disarray" over economic policy given Labour supported drilling, albeit with caveats.
Maori vs Mana debate
Te Ururoa Flavell and Hone Harawira faced off in their first debate on TV3's The Nation , sparring over Whanau Ora and the progress for Maori on unemployment, child poverty, health and education since 2008.
In my opinion, a more statesmanlike Harawira appeared the stronger debater and offered an olive branch for a potential tie-up with Maori after the election. Flavell was non-committal.
Harawira also said he expected a call of support from Cunliffe before the election if, as he expected, Internet-Mana got close to the 5% threshold.
(Updated with comments from Nick Smith refuting claims about what he said (or didn't say) at a July 18 meeting with Fish and Game. He is threatening legal action over claims he says are defamatory. Also includes comment from Peter Dunne in support of Fish and Game. Also updated with Key's announcement of electorate 'accommodations' with ACT, United Future and Maori, but not Conservative).
I'll keep updating this through the day.
See all my previous election diaries here.
See the index for Interest.co.nz's special election policy comparison pages here.