Labour plans Fair Workplace Commission; Jamie Whyte says Maori legal privileges same as French aristocrats; Winston rules out working with Mana and Maori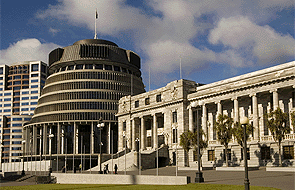 By Bernard Hickey
With 52 days left until the September 20 election, here's my daily round-up of political news from in and around Wellington on Wednesday July 29, including Economic Development Minister Steven Joyce announcing the Government is taking over the operation of the troubled Novopay payroll system for teachers from Talent2 after a settlement worth NZ$22 million.
"After lengthy negotiations, the Ministry of Education and the existing school payroll provider, Talent2, have settled both on the amounts payable by Talent2 towards the costs of remediating the Novopay service and a new operating model for the school payroll system," Joyce said.

"The new model involves a new government-owned company taking over the operation of the payroll service, and Talent2 licensing the core Alesco software to that company, he said.

Under the settlement, Talent2 has agreed to pay the Ministry NZ$18 million to $22 million, including NZ$7 million in cash, a license for the Alesco software used by Novopay and discounted fees for support and maintenance. Joyce said the settlement represented less than half the NZ$45 million the Government had spent fixing Novopay.
Joyce said he was pleased with the 0.5% error rate rate over the past 15 months for all but the three 'start of year' payroll cycles at the beginning of this year.

"However further changes are required to the system and the service model to make the system easier to operate for school administrators.  On top of that, keeping the system performing at its current level under the current operating model has remained very expensive for both taxpayers and the payroll provider," he said.
Labour's labour plan
Labour announced its wages and work policy, including a planned increase in the minimum wage from NZ$14.25/hour now to NZ$16.25 an hour by April next year.
"New Zealand's productivity gains of 50 per cent over the last 20 years have not led to corresponding increases in real wages. Forty-six per cent of Kiwi wage earners didn't receive a pay rise last year despite the economy growing by around 3 per cent. Wage earners help create economic wealth; it is only fair they share the benefits," Cunliffe said in releasing the policy.
He said a Labour Government also aimed to lift the minimum wage to two thirds of the average wage over two terms "as conditions permit,",  would ensure all 'core public service workers' were paid at least the Living Wage (currently NZ$18.80/hour) "as fiscal conditions allowed," and would abolish the 90 day dismissal law.
Labour would also set up a Commission of Inquiry into wage setting and other workplace practices "with a view to developing labour market regulation that makes it easier to negotiate fair pay and conditions, and encourages productive workplace relationships."
Elsewhere, the jockeying for position ahead of the government-forming talks is already under way and well before the actual election results.
Winston's race-based decision
Winston Peters was surprisingly clear in ruling out working in any government with either the Internet-Mana Party or the Maori Party, which would on the face of it consign New Zealand First to the opposition benches, assuming both those other parties get in to Parliament.
"We are not going to line up in any arrangement with race-based parties," Peters told reporters before question time in Parliament.
"We are not going to be in any combination that is race-based - that's with the Maori Party or the Mana Party. We think separatism is extraordinarily damaging for this country and we'll keep on saying that until we get the message across," he said.
Elsewhere, Laila Harre announced she would stand against John Key in the Helensville electorate. Both she and John Key live in Epsom, which opens up the curious possibility they will both be personally voting for the National candidate, Paul Goldsmith, in their electorate.
Key has said that he as National leader has to vote for the National candidate in his own electorate, even though he is guiding National supporters to vote for ACT's David Seymour. Harre said last night she would vote for Goldsmith to try to reduce the chances of Seymour getting in.
ACT plays race card
Meanwhile, ACT Leader Jamie Whyte used a speech in Hamilton to rail against race-based laws around the Maori seats.
"Maori are legally privileged in New Zealand today, just as the Aristocracy were legally privileged in pre-revolutionary France," Whyte said.
Maori Party MP Te Ururoa Flavell was not impressed with the comments, calling them "straight out racism."
"Our nation has come leaps and bounds over the last 10 years in improving race relations and addressing the disparities between Maori and Pakeha," he said. "It's sad that political parties feel the need to attract some attention by making outlandish claims.
Nick Smith and irony
Elsewhere, Conservation Minister Nick Smith backed down on his threat of launching defamation action against Association of Freshwater Anglers president David Haynes.
Smith said he would still send a stern legal letter to Haynes over his claims in a Radio New Zealand interview that, in a July 18 meeting, Smith threatened to 'tweak' Fish and Game's statutory obligations to stop its advocacy against dairying over water quality.
Smith later told Parliament that he stood by his views that Fish and Game needed to be "pro-freshwater quality and not anti-dairy and anti-farming." He said his decision taken after the meeting to increase Fish and Game's fees showed the conspiracy theories about his bullying were wrong.
He also cited a blog by David Haynes that cited Smith's "professional" delivery of his views at the meeting as proof he had not acted in a bullying way.
Here's the full quote from the Haynes blog: "Smith delivered his opinions and thoughts as professionally as ever, albeit the medium outshone the message on several occasions."
This was only proof that irony rarely works on the Internet...
I'll keep updating this through the day.
(Updated with Steven Joyce nationalising Novopay and Labour's wages and work policy launch detail)
See all my previous election diaries here.
See the index for Interest.co.nz's special election policy comparison pages here.