Key defends Shanghai Pengxin investment in Crafar Farms and OIO process for Lochinver sale; Joyce accuses Labour of xenophobia; Fed Farmers concerned about sale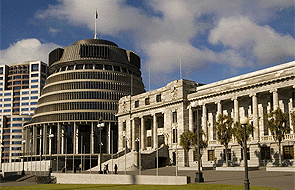 By Bernard Hickey
With 47 days until the September 20 election, here's my daily round-up of political news from in and around Wellington on Monday, August 4, including Prime Minister John Key defending Shanghai Pengxin's investments to improve the run-down Crafar Farms and supporting what he said was an "arguably more difficult" Overseas Investment Office (OIO) process to assess Shanghai Pengxin's bid for Lochinver.
Key was commenting on TVNZ Breakfast after a debate over the weekend over the bid for the 13,800 ha sheep, beef and dairy support property on the Napier-Taupo highway.
He said the OIO had approved around 39,000 ha of sales each year since the rules were changed in 2010, which was about "half the run rate under Labour."
He also defended Shanghai Pengxin's investment in improving the run-down Crafar Farms and pointed to its distribution links in China.
"Shanghai Pengxin is developing and has amazing distribution systems in China, and that's underpinning Kiwi jobs here in New Zealand," he said.
Earlier, New Zealand First leader Winston Peters said on The Nation the issue of land sales to foreigners would be a bottom line in any government-forming negotiations.
"If we were on the cross-benches with the balance of power as well, we would stop this deal," he said, later issuing a statement and a tweet saying: "We will not work in any arrangement with any party that allows our land to fall into the hands of foreign owners."
Federated Farmers concerned
Meanwhile, Federated Farmers President William Rolleston said he was "frankly uneasy" about the sale of Lochinver to Shanghai Pengxin and concerned it may not provide sufficient benefit to New Zealand.
He called for the Government to do more research into the extent of foreign investment in farmland.
"The reality is that here, no one knows how much of our farmland or housing is foreign owned. To base critical economic policy decisions around a hunch is unacceptable. We also hope the OIO will be able to share what the 'substantial and identifiable benefit' to New Zealand is with the proposed overseas sale of Lochinver Station," Rolleston said.
Joyce vs Robertson
Grant Robertson and Steven Joyce squared up against each other in a combative debate over foreign ownership, dairying and economic development on The Nation .
Joyce accused Labour of xenophobia and described Lochinver as a "ridiculously small amount of land," which was much less than the 90,000ha a year sold when Labour was in Government. He pointed to investments made by Shanghai Pengxin in the Crafar Farms and challenged Robertson to oppose the sale of land to James Cameron in the Wairarapa.
Robertson said a sale such as Lochinver to a foreign buyer was "highly unlikely" under Labour. "We want to make sure that there are jobs generated when there is foreign investment, that it's more than a New Zealand company that owns it," he said.
David Parker accused Joyce of "extreme rudeness" in the debate.
"His belligerent blustering behaviour was designed to hide the fact National promised to tighten up on land sales at the time of the Crafar farm sales. But in reality it hasn't," Parker said.
"New Zealanders do not like this sort of double-speak from politicians, and Steven Joyce knows it," he said.
National's support for selling off New Zealand farmland to overseas investors will result in more and more environmental degradation from dairy intensification, Green Party Co-leader Dr Russel Norman said today.
Chinese company Shanghai Pengxin has confirmed that it is aiming to buy a $70 million farm, Lochinver Station, in the central North Island, which would be the second-largest foreign purchase of New Zealand land. The Overseas Investment Office (OIO) is currently reviewing the Lochinver Station deal, which would need the approval of two Government ministers before going ahead.
Greens warn on dairy intensification
Green Co-Leader Russel Norman said the OIO must consider the environmental impacts of any Lochinver sale, given the station is situated on the upper reaches of the Ripia that flows into the Mohaka River, and is also situated on the source of the Rangateiki River.
"Lochinver station is at present a mixed farm involving beef, sheep and dairy. Any intensification of dairy farming at Lochinver risks polluting both these rivers," Norman said, adding Shanghai Pengxin was expected to maximise Lochinver's dairy capacity," Norman said.
"Under this, and any future National Government, more and more farmland will be sold into foreign ownership and converted to dairy. A future Government involving the Green Party would look to progress legislation, already drafted, that would restrict foreign investors from purchasing New Zealand farmland," he said.
Minor party news
Conservative Party CEO and former Families Commissioner Christine Rankin announced on Sunday she would stand in Epsom. Some feared it might split the centre-right vote in Epsom.
Key said Rankin "doesn't have a dog's show in Epsom," adding National's polling showed about 70% of Epsom voters planned to give their party vote to National and a "fair few" would give their electorate vote to ACT's David Seymour.
Peter Dunne announced the top 11 members on the United Future list, including himself and 10 other men.
Elsewhere, Jamie Whyte released ACT's policy to grow GDP by a third by cutting the corporate tax rate to 12.5% by 2020.
He cited Ireland's success in attracting foreign investment when it cut its corporate rate to 12.5%. ACT would pay for it by abolishing corporate welfare and abolishing the emissions trading scheme. His speech included a bibliography with academic sourcing.
(Updated with Green comment on the Lochinver sale)
See all my previous election diaries here.
See the index for Interest.co.nz's special election policy comparison pages here.