Peters would block sale of Wheturau station too; Labour targets Govt's 'weasel words' in OIO directive; Greens launch free travel card for students; Kelvin Davis vs Kim Dotcom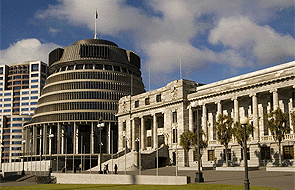 By Bernard Hickey
With 45 days until the September 20 election, here's my daily round-up of political news from in and around Wellington on Wednesday August 6, including Winston Peters pledging to block the sale of another big sheep and beef station to a foreign buyer and Russel Norman offering students their own version of the gold card for free off-peak travel on public transport (but not to Waiheke Island).
New Zealand First Leader Winston Peters ramped up his attack on the Government over land sales to overseas buyers, highlighting the pending sale of the 1,037 ha Wheturau Station near Gisborne to an un-named foreign buyer. The farm has 10,000 stock units and was promoted as a dairy grazing property.
"The Government will use every excuse to avert accusations of their allowing the sell-out of New Zealand. The truth is that since National came to power over a million hectares, or a land area six times that of Stewart Island, has gone into foreign ownership," Peters said in a speech in Rangiora.
"On this issue, they are not to be believed," he said.
"We are not dealing with any Government or any party that is out to sell this country's interests down the drain."
Labour Finance Spokesman David Parker also followed up on the land sale issue in an interview on Campbell Live , in which he said his past approvals of land sales as Land Information Minister were a mistake and Labour would stop the sales in future.
He also highlighted a December 2010 directive from Bill English to the OIO saying it should consider large farms to be those 10 times the average size.
"This directive was issued at the same time National pretended it was tightening up the criteria for overseas sales of farmland. That was weasel wording. Those are massive farms and any New Zealander would agree," Parker said.
"No sale of rural farm land has been stopped under the new directive. Not a single farm. That's because the criteria, including redefining the term 'large', was so loose as to be meaningless," he said.
A Green Gold card
Green Co-Leader Russel Norman launched the Green Party's own version of the Gold card, but targeted at students. It pledged free public transport for students and apprentices between 9 am and 3 pm, and after 6.30 pm on weekdays.
Travel would also be free on weekends and public holidays. Only students who can prove they live on Waiheke Island would get free trips on the ferry.
Norman costed the policy at NZ$20 million to NZ$30 million.
"For less than the cost of one kilometre of one of National's motorway projects, we can provide all tertiary students and apprentices with free off-peak public transport," Norman said.
Kelvin Davis vs Kim Dotcom (and the Labour Party?)
David Cunliffe said he "didn't hold a candle for Kim Dotcom " and a Labour Government would not include the Internet Mana Party.
He was commenting after Kelvin Davis wrote a facebook post criticising Internet Mana, seemingly in conflict with the Labour's so-called 'sledge pledge' not to be negative about possible partners in Government.
The episode highlights the tension within Labour about a possible working arrangement with Internet Mana and the sensitivity over any tacit signal to Labour voters in Te Tai Tokerau to ensure the election of Hone Harawira , and any coat-tail MPs.
Hone Harawira said he saw indications support for Internet Mana was headed for 5% and he expected a call from Cunliffe after the election if that was proven at the ballot box.
ACT candidate resigns
Meanwhile, the fallout from ACT Leader Jamie Whyte's speech equating Maori legal privilege with the French aristocracy continued.
ACT's Dunedin North Candidate and ACT board member Guy McCallum resigned as a candidate in protest over Whyte's speech.
"Jamie was in Dunedin for a small gathering of ACT supporters on the morning of 20 July, and he mentioned to me that he was in search of a 'stunt … because you know, the polls.' A week later ACT rolled out a controversial and obviously unprepared race relations policy," McCallum was quoted as saying in Critic.
See all my previous election diaries here.
See the index for Interest.co.nz's special election policy comparison pages here.