Key defiant over Hager book and defends both Ede and Collins; Labour calls for Key to dump Collins over claims in book; Labour struggles in poll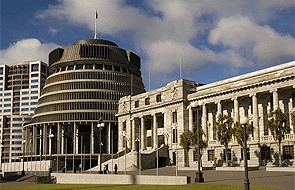 By Bernard Hickey
With just under five weeks to go until the September 20 election, here's my daily round-up of political news on Friday August 15, including calls for Justice and ACC Minister Judith Collins to be sacked after revelations in Nicky Hager's 'Dirty Politics' book about her close links to 'shock jock' blogger Cameron Slater.
Collins has denied allegations in the book she organised for a prisoner to be moved on Slater's behalf. She made the denial on NewstalkZB, saying it was "an utter lie" and "absolutely, completely false."
Prime Minister John Key said he would 'wait and see' about this allegation, although he said he accepted Collins' separate assurances that she had not leaked the details of ACC claimant Bronwyn Pullar to Slater.
Collins said in a TVNZ Breakfast interview on Friday the allegations from Hager were smears. She again rejected that she had told Slater about Pullar, even though Slater is quoted saying in an email that she had. Collins did not address the claim about moving a prisoner and was not asked.
Hager, meanwhile, told Radio New Zealand he may release some of the original email and social media messages to and from Cameron Slater that underpin the book.
Labour's Grant Robertson said Key should follow through on earlier comments that Collins was on her last chance.
"It is well past time for John Key to take some responsibility for the misuse of power and information by his Minister Judith Collins, and follow through on his last warning to her," Robertson said.
"Nicky Hager's book includes new examples of the way in which Judith Collins has misused information that she only had access to because she is a Minister. New Zealanders have a right to expect better of the Ministers who act on their behalf," he said.
Collins was quoted in the book as telling Slater: "If you can't be loved, then best to be feared." She also told him to pay back "double" any injury suffered, to which he replied: "I learned the rule from you."
Key rejects allegations
Meanwhile, John Key yesteday simply rejected 'Dirty Politics' as a set of left wing conspiracy theories that were not backed up with evidence and he stood beside his former staffer Jason Ede, who now works at National's head office, and Collins, who is portrayed in the least flattering light in the book.
Here's Radio NZ audio of Key's full news conference in Dunedin.
Key rejected the book's allegation that Ede had hacked into Labour computers, saying the website was essentially open for all to see andCameron Slater's actions had nothing to do with the National Party. He said he would be comfortable with any inquiries and that he had accepted Judith Collins' assurances that she had not leaked the name of Bronwyn Pullar to Cameron Slater.
"Cameron Slater runs his own ship, his own website, and he's nothing to do with the National Party," Key said, adding he spoke to Slater once every two or three months and texted him very occasionally.
"He spends half his time attacking the National Party. You should see what he says about the National Party President and Steven Joyce, or what he says about me. He's a shock-jock kind of blog site," he said, adding he last contacted Slater three or four months ago.
Prisoner moved?
Key was least comfortable around the allegations in 'Dirty Politics' that Collins arranged to move a prisoner as a favour for Slater. He said he would get "some advice on that."
"Let's wait and see," he said when asked if Collins had abused her ministerial position.
"All I know is that Nicky Hager is a left wing conspiracy theorist and makes stuff up," he said, suggesting reporters talk to Helen Clark about her views on Hager's Corngate book.
Key denied that he had supported Slater when the blogger was criticised for comments about a West Coast man killed in a car crash.
Key told reporters after an event in Wellington on Friday that he welcomed Hager releasing documents. He said Hager's claims were disintegrating.
"He really is having a bit of a problem now because most of the assumptions and accusations he's made are dissolving before his eyes, and I think that's because he didn't do what a true journalist would do; he didn't go and check out the facts, he didn't get the other side of the story," Key said.
"He should knock his socks off and release anything he wants and if he continues to do that he'll continue to demonstrate to New Zealanders that he's politically motivated with a very Left-wing conspiracy agenda," Key said.
Elsewhere, Slater himself, who is in Korea, wrote on Whaleoil that he believed Kim Dotcom was responsible for hacking into his emails and handing them over Hager. He said he would lay a complaint with the Police. Dotcom denied this in a tweet threatening Slater with legal action.
No Hide blackmail
Meanwhile, Rodney Hide rejected suggestions raised in the book that he had been blackmailed by Slater and political operative Simon Lusk to step down over texts sent to a woman. He said in a Radio Live panel session the first he had heard of the texts or any suggestions of blackmail was after the release of the book.
In summary, there has yet to be a smoking gun linking Key personally to any of the tactics used by Ede and Slater in a way that would significantly damage him.
After 36 hours of intense chewing over the detail in the emails, the most vulnerable member of Key's cabinet is Judith Collins, who Key has previously said was on her last chance. Collins has again flatly rejected the claims over Pullar, but has not yet addressed the claim she arranged to move a prisoner while Minister of Corrections.
The chapter on Judith Collins is the ugliest for the Government and presents her in a less-than-statesmanlike manner. Any ambitions she has to become Prime Minister should now be seen as remote, at best.
Poll result
Fairfax's Ipsos poll published this morning showed support for Labour fell 2.4% to 22.4% in August from July, while National rose 0.3% to 55.1%. Green support fell 1.1% to 11.3% and New Zealand First rose 0.8% to 3.4%. The biggest mover was Conservative, which rose to 3.4% from 1.3%. Internet Mana was at 2.1%, up from 1.2%.
The telephone poll of 1,007 people was taken from August 9-13 and has a margin of error of 3.1%. 20.2% of those surveyed were either undecided or would not express a party preference.
Meanwhile, Winston Peters shoved aside a protester during a campaign event in Garden Place in Hamilton. "They've come to listen to me, not you," Peters said before pushing the man, who then shouted 'Sieg Heil' and ran off, the NZ Herald reported .
Cunliffe downplayed the results of the poll when talking to reporters on the campaign trail, saying the Hager book's revelations would shift hundreds of thousands of votes.
"It's the sort of thing that you don't even want to talk about because it is just so disgusting," he said.
(Updated with Nicky Hager saying he may release some of the documents backing up the book and Judith Collins rejecting the allegation she arranged for a prisoner to be moved on Slater's behalf, also Key's latest comments on the book on Friday, Cunliffe's comments)
I'll update this regularly through the day.
See all my previous election diaries here.
See the index for Interest.co.nz's special election policy comparison pages here.