Key calls for debate on policy substance rather than 'Dirty Politics'; Key says Greens 'smoking pot' with budget surplus promise; Key challenged on SIS knowledge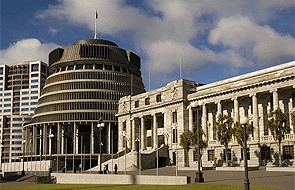 By Bernard Hickey
With less than a month to go until the September 20 election, here's my daily round-up of political news on Thursday August 21, including Prime Minister John Key calling for a debate on policy substance rather than 'Dirty Politics', before saying the Green Party may be smoking cannabis with its policy of running higher budget surpluses.
Key's comments came as the publisher of 'Dirty Politics' said more than 10,000 copies of the book had been sold in less than a week, making it the best-selling book in the country.
Key, who has repeatedly said this week that most New Zealanders want to debate the real issues rather than the book, told reporters the Green Party's Fiscal Policy announced on Wednesday of running higher surpluses and reducing debt was not believable.
"I know the Greens are keen on legalising cannabis, but you know, if they really believe that, maybe they've been trying the substance because they can't do that," Key said of the Green forecast of bigger surplues.
Asked if he thought if Green Co-Leader Russel Norman had been smoking pot, he said: "Well, if he really believes those press releases, yes. Press releases are cheap and easy. Getting back into surplus is a much more challenging issue."
Norman released the Green Party's 29-page Fiscal policy in Wellington, including a review by Infometrics of the figures which used the Treasury's forecasting model updated with the new figures from yesterday's PREFU.
Collins 'unwise and held responsible'
John Key was repeatedly questioned on the campaign trail why he had not sacked Judith Collins after the ' Whaledump ' leaks showed she leaked both an official's name and private phone number to Cameron Slater.
Key repeated that the leak had been 'unwise' and that she had been held responsible, but would not confirm or deny if she had breached the cabinet manual. He laughed off suggestions she had embarrassing information on the Prime Minister himself and would not say how she had been held responsible. He simply repeated the allegations in 'Dirty Politics' were an orchestrated left-wing smear campaign.
However, Key did welcome the announcement by the Inspector-General of Intelligence and Security, Cheryl Gwyn, that she would launch an official Inquiry into whether the SIS was politically neutral in its response to Cameron Slater's OIA request.
Office informed, but not PM himself
The Press Gallery is now questioning the Prime Minister's comment on Monday that he was not involved and did not sign off on Slater's OIA request. Felix Marwick from NewstalkZB has this morning tweeted a copy of a letter from Warren Tucker from November 2011 saying Tucker had informed the Prime Minister.
However, Tucker released a statement on Thursday morning saying he had only informed the office of the Prime Minister, and not the Prime Minister personally.
"My practice under the 'no surprises' convention relating to Official Information Act requests was to brief the Prime Minister through his office. The reference to the PM in this context means the PM's office," Tucker said.
Key was reported as telling reporters in Auckland this morning that his office was informed, but not him personally.
"A lot of these agencies just make the assumption that if they inform my office I'm informed," he said. "In this particular case I was not personally informed. My office was informed about the timing but I was not personally involved in it."
However, a second letter to Felix Marwick from Chief Ombudsman Beverley Wakem also referred to a discussion with the Prime Minister.
Waken refers to a discussin she had from Warren Tucker saying "that he is prepared to release a statement regarding his discussion with the Prime Minister".
The letter then says: "Ms Wakem is of the view that there is good reason to withhold Dr Tucker's full recollection of his discussion with the Prime Minister".
However, Wakem told reporters early this afternoon her comments related to a briefing of the office of the Prime Minister, rather than the Prime Minister himself. The SIS itself has refused to say who in the Prime Minister's office was briefed.
Key later told reporters on the campaign trail that he was in Hawaii on holiday when the SIS briefing was given to the PM's office.
Meanwhile, NewstalkZB reported that a Herald Digipoll due to be published tomorrow would show John Key's personal popularity as preferred Prime Minister had dropped by 8.5% to 64.8%
Whaledumps keep coming
Meanwhile, the Whaledump drip-feed of raw correspondence between Cameron Slater and his friends continued, including a long one yesterday of Slater's facebook messages with Aaron Bhatnagar. They confirmed their involvement in downloading details from Labour's website and their discussions with 'senior Nats' on how to release the information.
They messages also include many personal details about Slater's family, which Whaledump apologised for not redacting, undercutting suggestions by some that the drip-feeding of the documents is an orchestrated and professional exercise.
"I got lazy. Didn't read the dumps before dumping. Didn't do it on purpose. Won't happen again," Whaledump said via twitter when challenged by many others upset about the personal details of non-public figures being exposed.
The pattern has been set though with regular Whaledumps around the middle of the day every day until the election.
(Updated with the latest on whether John Key was briefed on the very quick release of SIS documents to Cameron Slater after an OIA request)
I'll update this regularly through the day.
See all my previous election diaries here.
See the index for Interest.co.nz's special election policy comparison pages here.