Net migration rises to 41,000 in year to July; highest since February 2003; India, China, UK the biggest migration sources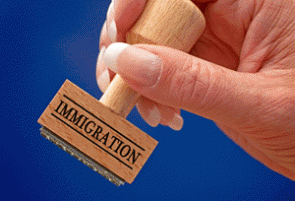 By Bernard Hickey
Annaul net migration hit an 11 year high of 41,000 in July and looks set to surge to new record highs later this year as New Zealanders come home from Australia and more students arrive on working visas.
Economists said the stronger-than-expected figures suggested net migration was headed for 50,000, which would be well above the scenarios used by the Reserve Bank and Treasury in warning of higher interest rates.
Treasury forecast in May that a rise in net migration to a peak of 41,500 by the end of this year would push up the 90 day bank bill rate by around 100 basis points more than its main forecast for a peak of 38,000. The Reserve Bank forecast in June that a rise in annual net migration to 45,000 from its central forecast for a peak of 37,000 would push up the 90 day bill rate by around 50 basis points above its central forecast by late next year and push up house price inflation by around four percentage points.
Statistics New Zealand reported seasonally adjusted net migration of 4,540 in July, which was the highest monthly figure since the 4,700 that arrived in February 2003.
This took annual net migration to 41,000, which was the highest net gain since the 41,200 seen in the year to August 2003. It was up from net migration of 10,600 in the previous year to July 2013.
Economists had forecast a monthly figure of around 4,100 and an annual figure of around 40,000.
The Reserve Bank is watching net migration closely because a surge can boost inflationary pressures and the housing market. The New Zealand rose around 5 basis points to 83.7 USc after the result, having fallen sharply earlier this morning on renewed talk of an early increase in US interest rates.
Statistics New Zealand said the difference between the net gain in the month of July 2013 of 2,010 and 4,500 July 2014 was mainly due to more non-New Zealand citizens arriving (up 1,200) and fewer New Zealand citizens leaving for Australia (down 800).
"In the July 2014 year, migrant arrivals numbered 102,400 (up 15 percent from 2013). Migrant departures numbered 61,400 (down 22 percent)," Statistics NZ said.
In the latest year, New Zealand had a net loss of 7,300 migrants to Australia, down from 29,200 a year earlier. Just a net 79 New Zealanders left to live in Australia in the month of July, down from 1,121 in July 2013.
"Net gains were recorded from most other countries, led by India (7,700), China (6,600), the United Kingdom (5,500), and the Philippines (3,100). Compared to the July 2013 year, the biggest increase in visa type for arriving migrants was student visas (up 4,800). Migrants from India and China most commonly arrived in New Zealand to study, while migrants from the United Kingdom and the Philippines most often arrived to work," Statistics NZ said.
Immigration Minister Michael Woodhouse and Economic Development Minister Steven Joyce announced in October that full-time students would be able to work during course breaks (rather than just in summer), doctoral and masters students could work full time and English language students would be able to work part time.
Economist reaction
Westpac Senior Economist Felix Delbruck pointed to the rise in annual net immigration across the 40,000 threshold as significant.
"The major factor driving this migration cycle has been movements by both New Zealanders and Australians across the Tasman as the Australian job market has cooled - New Zealand departures to Australia are at levels last seen in 2003, while arrivals of Australians are at multi-decade highs. In addition, in recent months there has been a noticeable lift in migrants coming in on student visas, likely reflecting an easing in work restrictions for foreign students late last year," Delbruck said.

"We don't expect Australian job prospects to improve decisively before early next year, so this migration dynamic could continue for a while - we now expect net immigration to peak around 50,000 early next year," he said.
"Along with recent falls in fixed mortgage rates and a revival in low-equity lending, we expect this migration surge to support a revival in the housing market over the next year or so. However any resurgence in the housing market is likely to be temporary - by next year we do expect job prospects in Australia to improve, which would cause net migration to reverse. And the Reserve Bank is also likely to resume hiking the OCR next year, which will lead to renewed upward pressure on mortgage rates. As mortgage rates continue to rise, we wouldn't be surprised to see house prices actually fall in the second half of the decade."
ANZ Senior Economist Mark Smith also said net migration was on track to approach 50,000 by the end of the year.
He said the increase in net migration would increase demand, but it was also dampening wage inflation, which would help the Reserve Bank leave rates on hold through the rest of the year.
"Despite the boost to demand provided by more migration to our shores, we note that migration gains are also adding to the economy's potential growth rate and are helping to contain wage inflation," Smith said.
"While the next move in the OCR is likely to be up, a benign inflationary backdrop will provide the RBNZ with scope to keep OCR settings on hold for the remainder of the year," he said.
Political reaction
New Zealand First Leader Winston Peters said the Government should hang its head in shame over jump in net migration, given there were still 140,000 unemployed and a housing crisis in Auckland.
"The pressure on housing, jobs, our hospitals, schools and our welfare system from a near record 41,000 people settling here in the past year is unbearable and will squeeze these services for hardworking New Zealanders," Peters said, adding a 4,800 increase in student visas to 90,000 was making life more difficult for local unemployed.
"When the National government gave foreign students work rights they increased job competition and allowed 'study" to be used as a means to permanent residency," he said.
"Where is the export education policy now when it is our economy that is paying for foreign students to work here? The government is not monitoring immigration at all – it has an open door policy and its contributing to the fastest rate of population growth for over a decade."
(Updated with more detail and economist reaction, background on Treasury and Reserve Bank forecasts, background on student work visa changes, and reaction from Winston Peters)