National down in polls after 'Dirty Politics'; Labour not the beneficiary; Winston Peters firming up as Kingmaker; Eyes ahead to leaders debate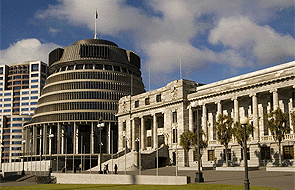 By Bernard Hickey
With 23 days to go until the September 20 election, here's my daily round-up of political news on Thursday, including fresh opinion polls showing 'Dirty Politics' has hit National in the polls and increased the prospect of Winston Peters as the Kingmaker after September 20, but that Labour is not benefiting.
The New Zealand Herald's Digipoll published on Thursday afternoon showed Labour down 1.1% to 24.1%, while National rose 0.7% to 50.7%. The Green Party fell 2.3% to 11.4%, while Internet Mana rose 1.3% to 3.4%. Conservative rose 0.7% to 3.3% and New Zealand First rose 0.7% to 5.0%.
The fallout from 'Dirty Politics' was evident in the latest 3News Reid Research poll results released last night.
National 's support fell 2.5% to 45%, which would leave it needing the support of New Zealand First to govern.
But the real winners were Colin Craig's Conservative Party, which rose 2.1% to 4.6%, and Winston Peters' New Zealand First , which rose 1.7% to 6.3%, suggesting the 'Dirty Politics' book helped the minor parties more than Labour , which fell 2.6% to 26.4%.
The poll also asked whether John Key should stand down Judith Collinsas Justice Minister. It found 63% said he should stand her down, while 28% said he should not. It found 43% of National supporters thought he should have stood her down.
Collins had to withdraw an earlier comment on Wednesday morning that she had been cleared by the Privacy Commissioner over her leaking of an official's name to Cameron Slater .
The Reid Research poll of 1,000 voters was taken from August 18 to 25 and has a margin of error of 3.1%. However, New Zealand Herald Editor Shayne Currie tweeted last night that viewers of the poll should not get too excited as the Herald Digipoll due on Friday would "add a further twist."
A 3% lump off National
Another poll released overnight also showed 'Dirty Politics' had hit National. A Horizon Poll of 1,752 adults from August 18-25 found 12.8% or 135,700 of National's voters in 2011 were "feeling angry, disappointed and disgusted as a result of the Prime Minister's management of the issues raised in the book."
"National appears to have at least 3% less support overall from the 18+ population following the book's publication in comparison with its position prior to the publication," Horizon said. "Analysis poll by poll since March 2014 indicates that the decline is probably greater, around 3.8% less support," it said.
Subsidies for Chinese land bankers?
Labour formally released its Home Ownership Policy on Wednesday, sparking an attack from Nick Smith, who was in turn criticised by Winston Peters for helping enrich Chinese land bankers in Auckland.
Winston Peters described National's housing policy as limp and meant more money would go to foreign owned builders and developers.
"Foreign-owned building and land development companies will profit from National throwing money at home buyers," Peters said, citing the example of Chinese owned Universal Homes.
"So, will China be one of the serious beneficiaries of National's limp plans to deal with the housing crisis? Foreign companies have been major buyers of land around Auckland and land banking it for future subdivisions. Aucklanders know it and many are concerned," he said.
Elsewhere on the campaign trail...
Reporters on the campaign trail tweeted that John Key said he stood by his decision to keep Collins as a minister, but reserved the right to change that decision "if the situation changes."
He also rejected questions that he was keeping Collins because she had embarrassing information that could be released.
"No one has anything on me," Key said.
Key was also asked about Peters' strong showing in last night's polls and what that might mean in any post-election negotiations. Key doubted Peters would act irresponsibly if he held the balance of power.
"I find myself in the unusual position of defending Winston Peters," Key said, adding he doubted Peters would send New Zealand back for another election.
"Will he have a big shopping list? The answer is yes," he said.
Key said he would try and govern after the election even if he did not have a supply and confidence agreement, saying minor parties would be reluctant to force another election and the Governor General would be OK with such an arrangement.
Lists and policies
Internet Mana released its list of 32 candidates for the election, includingHone Harawira, Laila Harre, Annette Sykes, John Minto and Chris Yong in the top 5.
It said Mana candidates Georgina Beyer (Te Tai Tonga), Jordan Winiata (Te Tai Hauauru) and Kereama Pene (Tamaki Makaurau) would contest electorate seats only.
The youngest candidate, Beverley Ballantine (23) was placed at number 10 on the list, while the oldest, Angeline Greensill (66) was placed at 11.
National released its trade policy and its foreign affairs policy , saying only National could deliver a TPP deal. Winston Peters reiterated on the campaign trail that the "right vote" would stop the TPP from happening.
John Key also released National's Tourism policy and pledged to remain Tourism minister after the election.
Elective surgery spending
Health Minister Tony Ryall announced a re-elected National government would invest NZ$50 million extra of new money over the next three years on extra elective surgery and other measures for those people with bone, muscle and joint pain.
"It is estimated up to a quarter of GP consultations are related to arthritis, lower back pain, orthopaedic or other bone, muscle and joint conditions," Ryall said.
"We will invest $6 million to create primary care based early intervention teams that will identify patients who are likely to suffer from bone, muscle & joint conditions in the future and support them to make changes to help prevent patients heading down the path towards surgery. This approach will enable some patients to be treated early enough to maintain independence. Others however will require surgery," he said.
"To ensure the people requiring surgery receive it faster, we will invest $30 million of the new money to further lift our record numbers of orthopaedic operations – delivering an extra 2250 hip, knee and other orthopaedic operations over the next term in addition to the usual increases. The remaining $14 million will deliver more than 1500 extra general surgeries, such as hernia, gallstone and vein conditions."
This would deliver an extra 14,500 elective operations a year by 2016/17.
(Updated with NZ$50 million of extra spending on elective surgeries, Key's comments on Winston Peters and governing without a supply and confidence agreement, Herald Digipoll result)
I'll update this regularly through the day.
See all my previous election diaries here.
See the index for Interest.co.nz's special election policy comparison pages here.