Key rejects calls for Inquiry into Govt links with Slater; Feb video shows Key saying he often talks to Slater "about lots of political events"; National Tax plan due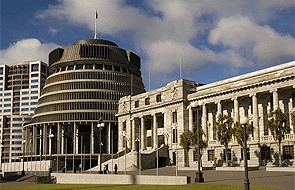 By Bernard Hickey
With less than three weeks to go until the September 20 election, here's my daily round-up of political news on Monday September 1 2, including Prime Minister John Key rejecting calls for a full Royal Commission of Inquiry into Cameron Slater's links with the Government.
Key told a news conference in Wellington the Government had decided to postpone the announcement of its fiscal plan, possibly until after Wednesday, because of the two fatal shootings at an Ashburton Work and Income office and the ongoing manhunt for the killer.
Meanwhile, former Financial Markets Authority CEO Sean Hughes, said the personal attacks against him by Cathy Odgers and Cameron Slater were partly responsible for him not seeking a second three-year term.
He told Radio NZ the attacks were aimed at deterring the FMA.
"They were distasteful, they created an unnecessary distraction and anxiety for the organisation and the team that I was leading, and of course the personal attack on me was just unnecessary," Hughes said.
"It was not fair on my family, or myself, to put myself through an ongoing experience such as this," he said.
Meanwhile, former SFO director Adam Feeley told Radio Live he thought the SFO and the Police would be considering their own investigation into the 'smoking gun' email that emerged on Friday and brought down Judith Collins. Cameron Slater said in the email that Collins was "gunning for Feeley."
"It's almost certain that several offences could have been committed if people were undermining a police or an SFO investigation, absolutely," he said.
"I would be surprised if both SFO and police weren't thinking about that today," he said.
Key talked to Slater
A Stuff video from February also emerged showing Key saying he rang Cameron Slater to discuss Slater's report that Winston Peters had visited Kim Dotcom's mansion and that he talks to him "about lots of political events."
Key had been asked if he had used the SIS or GCSB to spy on Peters, which he denied.
Key was questioned about whether Slater had told him about the visits. Key would not confirm Slater as the source, but confirmed he regularly talked to Slater.
"I rang him. He's a blog site. He writes a lot of stuff. I don't necessarily agree with all of it. I speak to lots of blogsters," Key told reporters on February 14.
He was then asked what his relationship with Slater was: "I just know him." He was then asked why he called Slater: "Because I talk to him about lots of political events. To see what he's got on his site and mind."
Key said he spoke to "heaps" of bloggers. Here's the Stuff report on the comments from February 14.
Key was questioned at length by Guyon Espiner about the same episode on Radio New Zealand's Morning Report this morning, and again virtually confirmed that Slater was his source.
Earlier, Labour and the Greens called for a much broader Royal Commission of Inquiry into Slater's links with the Government.
They also called for Collins' office to be sealed to prevent evidence tampering. Key rejected the call for a Royal Commission.
Bill English called the allegations detailed in the email that brought down Judith Collins on Saturday as serious and quite bizarre.  English has previously distanced himself from Collins and Slater and their "style of politics."
"It looks awful and that's why it has to be dealt with," he said on Q+A .
Polls turning on National
Key has yet to actually condemn Slater's opinions or style of politics and the extent of the Prime Minister's personal discussions with Slater are the biggest risk for the Government's future. Most voters have yet to lose faith in Key personally, who is National's core strength in the mind of the electorate.
This photo of Key and Slater is now routinely shared on social media.
Key's strategy of simply dismissing the 'Dirty Politics' book as a left wing smear and talking over the heads of the media to the public has failed now that Judith Collins has resigned and he has had to launch an Inquiry. Until now, the public have mostly believed Key that there was nothing of substance in the book and it could be ignored.
The polling suggests that support is beginning to slip for National and Key.
44% don't believe Key
A TVNZ Colmar Brunton poll found 41% believed Key when he said he was not personally informed by SIS about an OIA request from Cameron Slater, while 44% did not believe him and 14% said they did not know. The poll also found an increase in the proportion of those believing the claims in Nicky Hager's 'Dirty Politics' book from 28% to 41% and an increase in those having negative views about National rising from 9% to 18%.
"Every time I lose one of those polls I find it a bit soul-destroying," Key said on TVNZ Breakfast.
National's party support in the poll fell 2% to 48%, while Labour rose 2% to 28% and Green support rose 1% to 12%. New Zealand First rose 1% to 6% and Conservative rose 1% to 3%. Internet Mana fell 2% to 2%. The poll of 1,000 eligible voters from August 23 to 27 (before Judith Collins' resignation and before the leaders debate) found 12% were undecided. It had a 3.1% margin of error at the 95th percentile.
National Party-aligned PR man Matthew Hooten said on TVNZ's Q+A programme on Sunday that National's internal polling had also shown a dip in support in recent days.
However, the Colmar Brunton poll also found Key's support as preferred Prime Minister rose 2% to 47%, while David Cunliffe rose 2% to 12%.
SIS inquiry
Meanwhile, members of Key's office and Slater himself face questions from Cheryl Gwyn , the Inspector General of the Intelligence and Security, as early as next week over the now infamously expedited OIA request to Slater over Warren Tucker's briefing to Phil Goff . The hearings are not public.
Fast OIA responses were not just given to Slater for political purposes, it seems. Stuff reported this morning that a request from the NBR over a letter of apology from Feeley to Collins was processed by Collins' office in two days.
Bill English is scheduled to speak at Victoria University in the afternoon. Key is expected to release the terms of reference into the Inquiry into the Judith Colllins email on Tuesday or Wednesday.
(Updated with delay of National fiscal plan, Sean Hughes on how the blogging attacks partly caused him to leave early and Adam Feeley saying he expected the SFO and Police to consider their own investigations into the Cameron Slater email about Judith Collins)
I'll update this regularly through the day.
See all my previous election diaries here.
See the index for Interest.co.nz's special election policy comparison pages here.