Polls show National resilient after Collins resigation; Green sewage treatement pln; Labour says National's partners want NZ$42 bln of tax cuts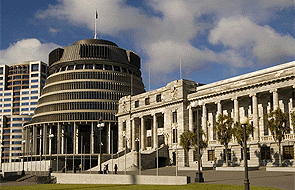 By Bernard Hickey
With just over a fortnight to go until the September 20 election, here's my daily round-up of political news on Friday September 5, including signs National has brushed off the latest controversies in the opinion polls.
Two polls published on Friday suggested 'Dirty Politics' and the resignation of Judith Collins have not significantly hurt the Government's chances of re-election in just over a fortnight.
Fairfax's Stuff/Ipsos poll taken on September 3, well after the resignation of Collins, found support for National rose 3.4% to 54.2%, while support for Labour fell 1.8% to 24.3%.
Green rose 1.1% to 12.9% and New Zealand First fell 0.4% to 3.6%. Conservative fell a further 0.3% to 2.4% and is down 1% in the last 3 weeks.
In an article headlined "All over bar the shouting," Fairfax's Tracy Watkins wrote National was on track for a resounding win and Labour was set for a trouncing.
The NZ Herald's Digipoll published this morning found support for National fell just 0.6% to 50.1% in the third week of the election campaign, while Labour fell 0.3% to 23.8%. New Zealand First was the only major winner for the week, rising 1% to 6%.
Conservative rose 0.5% to 3.8% and Green was flat at 11.4%.
John Key told Audrey Young the results reflected a "huge fatigue factor" with 'Dirty Politics'. The Digipoll also found support for Labour had fallen to an all-time low of 18.4%.
Green plan for better sewage plants
The Green Party announced it would, if elected, invest NZ$20 million per year for 10 years to help smaller towns upgrade their sewage-treatment systems.
It said it would re-establish the Sanitary Works Subsidy Scheme (SWSS) for smaller communities, but with stronger environmental rules. It was set up in 2002 but wound up and closed down in 2013.
Sewage plants that posed health risks to towns would be prioritised, as would projects with land-based solutions. The maximum subsidy for eligible capital works would be 50% for towns of up to 2000, reducing proportionally to 10% percent for communities of up to 10,000.
"Families should be able to head down to their local swimming hole or beach and jump right in the water without worrying about getting sick," said Green Party Co-leader Dr Russel Norman.
"We must stop National from using our rivers as drains, and establish or upgrade wastewater systems where needed," he said. 
"National is turning a blind eye to how the faecal and nutrient pollution from wastewater discharges are ruining our rivers and lakes. The major decline in our rivers and lakes over the past decade has largely been due to agricultural intensification. However, towns and cities have contributed to the pollution problem and need better wastewater systems."
Local Government New Zealand (LGNZ) welcomed the Green policy, although said NZ$20 million would not be enough to alleviate the problems.
Whaledump signs off
The hacker known as Rawshawk announced on his Twitter account he would stop releasing documents hacked from Cameron Slater's account.
"By the time you read this, every device used in this operation will have been destroyed and disposed of along with all the decryption keys," Whaledump wrote.
"Don't try this at home.. unless you think it's important enough to risk 7 years in jail."
Whaledump's exit came on the eve of court proceedings brought by Cameron Slater to stop more publication of the hacked emails and messages.
Justice John Fogarty ruled that Whaledump/Rawshark could not release any more material, but he did not stop media organisations from continuing to report from material already obtained directly from the hacker.
Labour says National's partners' tax plans total NZ$42 billion
Labour Finance spokesman said National's potential partners, Conservative, ACT and United Future, had promised tax cuts that would cost at least NZ$42 billion and possibly as much as NZ$50 billion.
"National claims to be extremely concerned about the fiscal prudence of the next Labour Government. This is despite Labour producing a fully costed alternative budget with headroom for coalition arrangements after the election," Parker said.
"To please the politically naive yet stubborn Conservatives, National would need a tax-free threshold up to NZ$20,000 with a flat tax rate of 25 per cent thereafter. That would cost at least NZ$6.5 billion a year even though this would actually increase taxes on incomes between $20,000 and $48,000. Then to mollify the ACT party National would have to cut tax on earnings above $70,000 to 20 per cent which would cost an additional $1.3 billion," he said.
"The ACT leader has said the party's top priority in government is to lower the tax paid by corporations to 20 per cent costing around $2.8 billion a year rising to over $5 billion when cut to 12.5 per cent in 2017/18. All up these tax promises cost at least $10.5 billion a year which works out over four years to at least $42 billion, and possibly as much as $50 billion by end of the 2018/19 financial year. And that is without including the forgotten Peter Dunne who wants to introduce the regressive income-tax 'splitting' measure which Treasury said would cost around $500 million a year."
See all my previous election diaries here.
See the index for Interest.co.nz's special election policy comparison pages here.