Resilient in the polls despite 'Dirty Politics', National goes fishing for votes in Hauraki Gulf and Marlborough Sounds; ACT fears 'Frankenstein'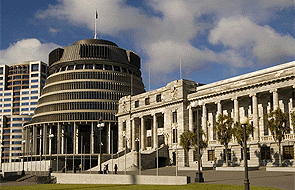 By Bernard Hickey
With less than fortnight to go until the September 20 election, here's my daily round-up of political news on Monday September 8, including National's announcement of plans for modest tax cuts and ACC levy cuts.
Prime Minister John Key and Finance Minister Bill English said they planned modest income tax cuts from April 2017 and would reduce ACC levies by the equivalent of NZ$700 million to NZ$900 million per year.
"Any tax reductions will be modest, given the fiscal headroom available, and they will focus on low and middle income earners," Key said.
Here's National's full finance policy.
There was also another opinion poll showing National has brushed aside 'Dirty Politics' as it announces a plan to win the big recreational fishing vote.
TVNZ's Colmar Brunton poll published on Friday night found support for National rose 2% to 50%, while Labour fell 2% to 26% and Green fell 1% to 11%. New Zealand First rose 1% to 7% and Internet Mana and Conservative were steady on 2% and 3% respectively.
The poll of 1,000 eligible voters was taken from August 30 to September 3, immediately after the resignation of Judith Collins, and 7% of respondents were undecided or would not specify their party preference, down 5% from its previous poll. The has a 3.1% margin of error at the 95th percentile.
The polls taken in the week after the the resignation of Collins appear to show support for National either bouncing or remaining resilient at or above 47% despite the cascade of 'Dirty Politics' coverage.
National literally went fishing for votes on Sunday, announcing it would create recreational fishing parks in the inner Hauraki Gulf and the Marlborough Sounds.
Nick Smith and Nathan Guy said commercial fishing would be banned in the two areas under a new Marine Protected Areas Act.
"On a typical summer's day on the Hauraki Gulf, there can be up to 6,900 recreational vessels on the water – that equals around 21,000 fishers. National wants to preserve the inner Hauraki Gulf exclusively for these fishers, so families in Auckland and across the wider region can continue to enjoy one of the country's best-loved pastimes," Guy said.
Commercial fishers would either be able to catch their quota outside the area or be compensated, they said. Key suggested compensation of up to NZ$20 million.
'Dirty Politics' appeared to have burned itself out over the weekend, apart from this gem in the Waikato Times, where Judith Collins' older sister, Pamela Cassidy, said the former Justice Minister had been hounded by the media "exactly the same as what they did to Princess Diana."
"She is human and the family have to wear it too. People have feelings - or they should have," Cassidy said.
In minor party news.
TVNZ held its minor party leaders debate on Friday night. Winston Peters said the polls showing rising support for the other minor parties such as Conservative were wrong. Colin Craig said the Conservative vote would rise on election day.
Craig told TVNZ's Q+A on Sunday he would support a National Government if Conservative got over the 5% threshold. He also clarified that any referendum that put the Government's finances at risk may not be binding under the Conservative policy of binding referendums -- a bottom line.
Fearing 'Frankenstein'
Meanwhile, ACT Leader Jamie Whyte launched his party's campaign with a speech about Labour being the "flabby torso" of a "Frankenstein Labour-Green-Internet-Mana-New Zealand First Government."
David Cunliffe dismissed the speech thus: "He used to be a philosopher. Now he's not even a good name caller."
(Updated with National tax cut plan and ACC levy cuts)
See all my previous election diaries here.
See the index for Interest.co.nz's special election policy comparison pages here.