Dotcom says will reveal the 'sordid workings of Hollywood' in John Key's Government; Winston Peters suggests NZ First's coalition terms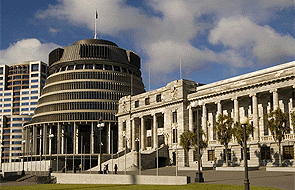 By Bernard Hickey
With 10 days to go until the September 20 election, here's my daily round-up of political news on Wednesday September 9, including Kim Dotcom giving a teaser to his September 15 revelation about John Key.
Dotcom said the event in Auckland, which will include appearances from Glenn Greenwald and Julian Assange would "present vital information to voters about Prime Minister John Key, the National Government and the sordid workings of Hollywood."
However, Dotcom told the NZ Herald he did not think it would hurt Key, given the Prime Minister's poll ratings have emerged virtually unscathed from 'Dirty Politics':
"If he survived that, he could probably survive shooting little kittens in his garden with a shotgun, even if there is picture evidence of that. It's a mystery. I can't understand it," Dotcom said.
Coalition terms?
New Zealand First Leader Winston Peters gave a speech in Porirua about "Forming Coalitions" that appeared to spell out the main areas for post-election negotiations.
He said New Zealand First was against Labour 's plan for a Capital Gains Tax, unless it also extended to allowing capital losses on assets to be offset against gains elsewhere. He also reiterated New Zealand First's policy of reducing tax rates for exporters to 20%.
Peters also detailed what he thought a majority of New Zealanders were concerned about achieving in any coalition negotiations, including limiting foreign buying of houses and land, reducing record high net migration and reducing poverty and high unemployment.
"Having regard to what has just been said, anyone going into coalition negotiations without a total commitment to address the public concerns is not there to negotiate for the people but for their own political preferment and office," Peters said in his most detailed comments yet on what he wants out of any coalition, given opinion polls suggest New Zealand First is likely to receive more than 5% and he may be the 'Kingmaker'.
Capital Gains windfalls over
Meanwhile, I interviewed National Finance Minister Bill English. He said first home buyers were unlikely to experience the big capital gains seen by Baby Boomers because interest rates were unlikely to fall sharply again and leverage could not go any higher.
He also previewed Government moves to do more to improve housing supply after the election and to extend the investment-led approach in Welfare into Education and Health. Watch out for an announcement later today on improving land supply.
I also interviewed Winston Peters . He talked about the need for monetary policy reform and limits on foreign buyers.
Protection for subbies
National Housing Minister Nick Smith announced National would change the Construction Contracts Act so contractors and developers could not inappropriately use money retained as guarantees of good work. Retentions are payments withheld by the developer and main contractor from subcontractors to ensure any faults can be repaired. The issue arose when Mainzealcollapsed and took with it NZ$18 million of retentions.
"We are going to change the law and require retentions to be held in trust to help ensure contractors and their subcontractors get paid for the work they do," Smith said, adding he had asked for a supplementary order paper to be drafted for the existing Construction Contracts Amendment Bill currently before Parliament.
Clayton Cosgrove said Smith's plan was a copy of Labour's February 2013 call for improved security for subbies and Labour had proposed a SOP in April.
"Nick Smith should stop playing politics, pick up my amendment and run with it. If he really wanted to help subbies he wouldn't be doing this in the middle of an election campaign," Cosgrove said.
New rifles and helicopters
Jonathan Coleman announced National's Defence policy, including a commitment to keep all bases and camps open if re-elected.
He reiterated the Budget 2014 plan to spend NZ$535.5 million on operating costs over the next four years and NZ$1 billion on new equipment, including new naval helicopters, a frigate combat systems upgrade, new army vehicles, an SAS battle training facility and a new pilot training package. National would would also replace the Army's 8,000 Steyr rifles.
Special education
Metiria Turei announced a Green Government would spend an extra NZ$115 million per year on improving special education, including doubling the number of children receiving the Ongoing Resource Scheme at a cost of NZ$95 million per year. It would also increase funding for the Early Intervention service by NZ$15 million and spend an extra NZ$5 million on school holiday and after school programmes.
Jo Goodhew announced National's Senior Citizens Policy , including a reiteration National would maintain the link between New Zealand Superannuation payments and 66% of the average wage, which meant superannuation rates would continue to increase "far ahead of inflation."
She pointed out the married rate of Superannuation had risen by NZ$249 per fortnight since 2008.
Goodhew said National also planned to keep expanding the SuperGoldcard scheme to include more businesses offering more discounts.
See all my previous election diaries here.
See the index for Interest.co.nz's special election policy comparison pages here.