National down in polls; NZ First solidly over 5%, may hit 10%; Conservative under 5%; Peters seen 'Kingmaker'; Key rules out last-minute deal for Craig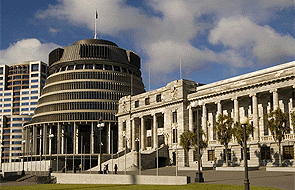 By Bernard Hickey
With 7 days to go until the September 20 election, here's my daily round-up of political news on Friday September 10, with two opinion polls showing National would struggle to govern with its current support partners and may need the support of an engorged New Zealand First in Parliament under Winston 'Kingmaker' Peters.
TVNZ published its now-weekly Colmar Brunton poll showing National down 4% to 46% in a poll of 1,001 voters from September 6 to 10. Labour fell 1% to a record-low 25% and Green rose 1% to a record-high 14% in this poll.
New Zealand First was unchanged at 7%, while Conservative rose 1% to 4%. Internet Mana fell 1% to 1% and Maori rose 1% to 1%. ACT also rose 1% to 1%, although the margin of error on the poll was 3.1% at the 95th percentile. The poll found 12% of eligible voters were undecided, up from 7% the previous week.
If this poll result was repeated on election night, National would need the support of ACT, United Future and Maori to only just retain power. In theory, Labour/Green/New Zealand First could just win power if it was able to count on the support of Maori and Internet Mana. Much will depend on whether Conservative gets over the 5% threshold.
"It just shows you how tight the race is going to be," Prime Minister John Key said.
The NZ Herald's Digipoll also showed the race tightening.
It found support for National fell 1.5% to 48.6%, Labour rose 0.8% to 24.6%, Green rose 0.1% to 11.5%, New Zealand First rose 2.1% to 8.1% and Conservative was unchanged at 3.8%.
Internet-Mana fell 1.2% to 2.3%, while Maori rose 0.3% to 0.7%, Act was down 0.1% to 0.3% and both United Future and Legalise Cannabis were on 0%.
The poll of 750 eligible voters was taken from September 4 to 10 and 9.1% of those surveyed were undecided. The margin of error was 3.6 per cent.
Wasted vote?
The risk for National is that right-leaning Conservative voters 'waste' their vote on Conservative if it fails to get above the 5% threshold under MMP.
Key was asked again yesterday if he would do a last-minute deal with Colin Craig to 'gift' him an electorate to ensure the remaining Conservative vote gets represented in Parliament through the 'coat-tail' provisions under MMP.
Craig had asked for a deal in East Coast Bays, where Foreign Minister Murray McCully is the electorate MP.
Key again said it was too late and not possible.
"Firstly, I've said I won't. The second thing is we'd have to take our candidate out and that wouldn't take him off the ballot paper and I'm not convinced that's a strategy that would work," Key was reported on NewstalkZB as saying.
Although Key said a deal with Conservative in Napier, where Garth McVicar is standing for Conservative against National's Wayne Walford and Labour's Stuart Nash, would have been easier than East Coast Bays in hindsight. A strong McVicar performance risks splitting the right-leaning vote and handing the seat to Nash.
"Would've been an easier deal, but I will say Nash has run a big campaign there for a long period of time nad we've been fighting hard in the electorate too, so it's not straightforward," Key said of a possible National deal to give McVicar the nod.
(Updated with National missing out on Conservative wasted vote)
See all my previous election diaries here.
See the index for Interest.co.nz's special election policy comparison pages here.