Four election candidates explain their party's approach to Auckland's Transport System, what they like and what they would change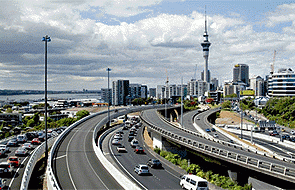 Each week from now until the election we will be asking a small group of electorate candidates to explain where they and their parties stand on a specific issue.
This allows them the opportunity to explain and justify their policies, which we have separately listed and compared here.
This week the subject is Auckland's Transport System. (Responses are listed in Party alpha order.)

David Seymour, ACT Party candidate for Epsom
The thinking that got us into Auckland's current transport frustrations will not get us out of them.  Politicians are responsible for investment decisions, but they lack sufficient information to serve consumer preferences.

All transport policy should start with pricing.  Cost Benefit Ratios are merely the new name for dressing up one's prejudices in statistics.  As a result they are ignored and transport investment decisions are political.  If you doubt that, consider an illustration: Labour do not hold a single seat North of the Harbour Bridge, and their most prominent candidate there, Kelvin Davis, has broken ranks saying that he too supports the Puhoi-Wellsford motorway.  The City Rail Link is another example, politics decides its fate.

Unfortunately neither the technocrats nor the politicians really know which investments will best serve consumer demand.  Real and comprehensive road pricing, along with the removal of subsidies for public transport in return for cuts in taxes and rates, is the only way to get a truly responsive, dynamic, and fair system of transport.  Projects should be chosen based on consumers' willingness to pay for them.  The process should begin with the introduction of HOT (High-Occupancy-Toll) lanes where there are currently T3 lanes on Auckland arterial routes, this would improve the use of these road spaces, which are currently underutilised.  As an end goal, a comprehensive road tolling system would remove congestion and save the taxpayer significant money.

Denise Roche. Green Party candidate for Auckland Central
We can transform Auckland's transport system so that our kids can walk and cycle to school safely and our city desperately needs fast and efficient public transport which will create less congestion on our roads. The Greens will implement the Congestion Free Network by investing in bus lanes and getting started on the City Rail link immediately so that we can take a bus or train trains every few minutes. We will future proof bus lanes for light rail as well. We will invest in safe, separated walking and cycling infrastructure so that people can get around our city easily through active transport. And finally we have a plan to save students and trainees money and encourage them to use public transport with our Green Card which will give them access to free off-peak public transport.

Jacinda Adern, Labour Party candidate for Auckland Central
Thanks to substantial investments begun under the last Labour Government, the Auckland motorway network is now more or less complete, and we will finish off the currently underway Waterview project. The task ahead is to complement the road network with a 21st century integrated public transport network.

Labour will build the City Rail Link immediately, funding it 50:50 with Auckland Council. We won't wait until 2020 and hold back Auckland's growth and prosperity for another five years. This means it will be up and running by about the time the digging will start under National's plan.

Labour in government will also sit down with Auckland Council and negotiate a 30 year transport plan for the city, with funding agreed. Our starting point will be the Congestion Free Network. The city's motorway network is more or less complete, and now it is time to invest in a modern public transport network. As well as the City Rail Link, this includes giving priority status to rapid transit busways in the North West and South East, electrification of the rail to Pukekohe, rail to the airport, and ensuring the next harbour crossing includes rail to the North Shore.

Nikki Kaye, National Party candidate for Auckland Central
National has made a number of pragmatic decisions to help deliver a better-connected and integrated transport system across the city – and ensure Auckland's future as a world-class city that people want to live in.

We all know that congestion is a problem, and helping people move around the city more easily will help it grow and thrive.

As the MP for Auckland Central, I know the number of people living and working in the electorate has significantly increased over the last decade. The final shape of the Unitary Plan will give us greater clarity on planning for the future scale and location of growth areas.

We have already made several significant announcements for transport projects in the city, including the City Rail Link and a second harbour crossing - part of a $10 billion package of next-generation Auckland transport projects.

In Budget 2014, we also announced $375 million to accelerate transport projects through an interest-free loan to Auckland Transport Agency, part of a total of $815 million of Auckland transport projects to address congestion and improve access to Auckland International Airport.

Both the Newmarket Viaduct and the Victoria Park tunnel are open and reducing congestion on our roads, and the electrification of the rail network is making public transport more accessible.

The City Rail Link is a vital piece of our transport infrastructure that will significantly decrease transport travel times for people travelling from west and south Auckland, and will also better support the growth in the number of people and businesses living and working in the CBD.

Last year we announced that the Government is committed to a joint business case with Auckland Council for the City Rail Link in 2017 and providing its share of funding for a construction start in 2020. Under this timeframe, the project will be constructed by 2025/26 – about five years before current analysis suggests it is needed.

The Prime Minister has also stated that the Government is prepared to consider an earlier start date if it becomes clear that Auckland's city centre employment and rail patronage growth will hit thresholds faster than current rates of growth suggest.

We are making progress on transport issues that have been debated and discussed for decades, and making decisions when others haven't.  National will continue to work on improving Auckland's transport network to make our city even more liveable.

Feel free to comment below, but keep all commenting civil and within our commenting guidelines. You can also suggest future issues for debate by candidates.