Dotcom fails to reveal proof Key conspired with Hollywood on Dotcom's extradition; Key denies Snowden claim of mass surveillance of Southern Cross Cable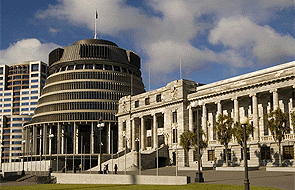 By Bernard Hickey
With 4 days to go until the September 20 election, here's my daily round-up of political news on Tuesday September 16, with news Kim Dotcom bombed his 'Moment of Truth" about John Key's connections with Hollywood. The allegations about the GCSB are more substantial, but more on that below.
Firstly, an agitated and combative Dotcom simply failed to deliver convincing proof that Key lied about knowing about Dotcom before his arrest or had conspired with Hollywood executives on the arrest. His news conference on Monday night at the Auckland Town ended in farce with a rant at journalists for not doing their job properly.
Earlier David Fisher at the New Zealand Herald published an email purporting to have been sent in 2010 from Warner Brothers chairman and chief executive Kevin Tsujihara to a senior executive at the Motion Picture Association of America.
"John Key told me in private that they are granting Dotcom residency despite pushback from officials about his criminal past. His AG will do everything in his power to assist us with our case. VIP treatment and then a one-way ticket to Virginia," Tsujihara was cited as saying.
Almost immediately, Warner Bros said the email was a fake and John Key denied ever having had the purported conversation with Tsujihara.
Fisher said the NZ Herald published the email after confirming it was the evidence Dotcom planned to present at the 'Moment of Truth' event, but in the end Dotcom failed to present it on the night.
Laila Harre said at the news conference the Internet Party could not release the email because it was subject to a judicial process of a Parliamentary Inquiry. That was derided by journalists present at the news conference, given no Parliamentary Inquiry has yet been launched.
Snowden vs Key
However, the more substantial issues raised on the night came from Edward Snowden by video link from Russia and Glenn Greenwald on the stage.
Following on from Greenwald's claims of mass surveillance on Saturday, denied by Key over the weekend, Snowden said that, while an NSA analyst, he had seen evidence of private emails and other communications from New Zealanders.
Snowden said the GCSB had access to XKEYSCORE, the mass data harvesting system run by the NSA. He also cited evidence of a 'Project Speargun', a GSCB plan for mass surveillance, and that the NSA had two facilities in the north of New Zealand, including one in Auckland.
"Let me be clear: any statement that mass surveillance is not performed in New Zealand, or that the internet communications are not comprehensively intercepted and monitored, or that this is not intentionally and actively abetted by the [GCSB], is categorically false," Snowden told the audience.
"If you live in New Zealand, you are being watched," he said.
Greenwald published an article on The Intercept shortly before the 'Moment of Truth' that detailed phases 1 and 2 of Operation Speargun, including the insertion of meta-data probes into the Southern Cross Cable.
Fairfax's Andrea Vance, who has been the following the GSCB most closely, wrote the Snowden revelations raised two important questions.
"Firstly, why did Key not make details of Project Speargun public during the public debate about the new spying laws? That trashes Key's claims about enhanced transparency on intelligence and security issues," Vance wrote.
"Secondly - and this is the point which demolishes Key's counter attacks this week - why was the GCSB planning (and partly implementing) a programme of mass surveillance when it would have been illegal? For the GCSB/NSA proposals to get off the ground, the agencies needed that law reform."
"The Government painted the legislative changes as necessary to close the loopholes exposed by the illegal spying scandal. But it is now clear, thanks to Snowden, that they were on the cards from well before the unlawful snooping on Dotcom and a further 88 Kiwis came to light."
The denials
John Key released his own detailed statement responding to what he said were incorrect claims based on incomplete information.
"There is not, and never has been, a cable access surveillance programme operating in New Zealand. There is not, and never has been, mass surveillance of New Zealanders undertaken by the GCSB," Key said.
"Regarding XKEYSCORE, we don't discuss the specific programmes the GCSB may, or may not use, but the GCSB does not collect mass metadata on New Zealanders, therefore it is clearly not contributing such data to anything or anyone."
Key published documents referring to an initial wider GCSB plan for cyber-protection for public and private organisations, but that was later revoked in favour of a more limited version called 'Cortex'.
"The business case for the highest form of protection was never completed or presented to Cabinet and never approved. Put simply, it never happened."
Southern Cross Cable CEO Anthony Briscoe described the claims that the cable had been tapped into as "total nonsense."
"I can tell you quite categorically there is no facility by the NSA, the GCSB or anyone else on the Southern Cross cable network," Briscoe said.
"Let's be quite blunt. To do this, we would have to take the cable out of service and I can assure you there's no way we are going to do that. It is a physical impossibility to do it without us knowing," he said.
Green Co-Leader Russel Norman said Key had to explain exactly what the GCSB was doing with XKEYSCORE and the nature of the Five Eyes relationship.
"John Key's document dump and obfuscations over the past 48 hours have been a red herring. Snowden's allegations around X-Keyscore have nothing to do with Cortex or cyber protection," Norman said.
"John Key is trying to purposefully mislead people by focusing on Cortex and cyber protection. What he must come clean on is X-Keyscore and declassify all information relating to it," he said, calling for a wide-ranging independent Inquiry.
Labour Leader David Cunliffe called for Wednesday's Leaders Debate on TVNZ to be extended by half an hour to an hour to discuss the issue.
Another denial
John Key spoke to reporters in Dunedin on Tuesday morning.
He again denied mass surveillance or that the NSA had a base in New Zealand.
Reporters tweeted from the stand-up news conference, including that Key would not comment on whether the GCSB used XKEYSCORE.
"Absolutely without doubt, New Zealanders are not subject to mass surveillance," Key was quoted as saying.
Harawira in close race with Davis
After all the fuss and Dotcom's multi millions on campaigning, Internet-Mana may struggle to make it into Parliament. A Maori TV Reid Research poll of Hone Harawira's Te Tai Tokerau electorate found Harawira on 38% and only just leading Labour's Kelvin Davis on 37%.
Given Internet-Mana remains well below the 5% threshold, any failure by Hone Harawira to win the electorate would wipe out the party's chances of winning the expected one or two extra list seats under the coat-tailing rule. That would in turn reduce the chances of a cobbled together Labour-Green-New Zealand First-Internet Mana alliance winning Government, although Labour has previously ruled out formally working with Interent-Mana.
Some had thought Labour would quietly gift Te Tai Tokerau to Harawira to ensure the extra one or two MPs under the coat-tailing rule, but Davis has been an active campaigner and aggressively supported by many in the Party opposed to working with Dotcom in particular.
(Updated with Cunliffe's call for a longer debate, Key's repeated denials)
See all my previous election diaries here.
See the index for Interest.co.nz's special election policy comparison pages here.