National in poll position to win with support of either Winston Peters or Colin Craig; Final leaders debate inconclusive; Craig's PR person quits and calls him 'manipulative'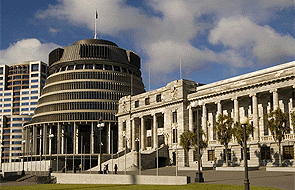 By Bernard Hickey
With 2 days to go until the September 20 election, here's my daily round-up of political news on Thursday September 18, with two polls showing National being the most likely to win Government on Saturday with the support of either Winston Peters or Colin Craig.
The chances of National governing with its current partners are smaller, and the chances of a Labour-Green-NZ First government supported by Internet Mana are the lowest of all.
Last night's half-hour leaders debate on TVNZ was widely judged as indecisive and inconsequential for the result, which is appearing more and more likely to be a National-led victory with just two clear days to the election.
The NZ Herald's commentators were split on who won, with John Armstrong declaring it for David Cunliffe , Fran O'Sullivan saw it as a draw and Toby Manhire wrote Winston Peters was the winner. Both leaders positioned themselves to work with the New Zealand First leader after the election.
Fairfax's Tracy Watkins simply described the debate as 'chaotic, messy and loud.'
Two poll results were of more consequence to the result, with both showing Labour failing to gain any ground and Winston Peters looking increasingly certain to hold the balance of power, unless Colin Craig can sneak over the 5% threshold, which remains a possibility, albeit much less likely than for New Zealand First on the latest polls.
The 3 News Reid Research poll broadcast last night showed National down 2.2% to 44.5%, while Labour fell 0.5% to 25.6% and Green rose 1.2% to 14.4%. New Zealand First support rose 1.2% to 7.1%. Conservative rose 0.2% to 4.9% and Internet Mana fell 0.3% to 2%. ACT and United Future were on 0.1% and Maori fell 0.2% to 1.1%.
On this poll, National would need the support of Winston Peters to remain in Government, unless Colin Craig made it over the threshold and/or Maori got more than two seats.
Roy Morgan published its poll of 935 voters from September 1 to 14 showing support for National rose 1.5% to  46.5%, support for Labour fell 2% to 24% and support for the Green Party fell 2.5% to 13.5%.
Support for New Zealand First rose 2% to 8%, its highest level since 2005, while Conservative was unchanged at 3.5%. Support for the Maori Party rose 1% to 1.5%, while ACT fell 0.5% to 0.5% and United Future rose 0.5% to 0.5%.
The Internet-Mana Party alliance was unchanged at 1%. The poll found 5% had yet to decide on which party to vote for.
Election outcome scenarios
The swing factors in the result will be around whether National gets over 45% in its own right, whether the Maori Party wins 1 or 3 seats, whether New Zealand First can win more than 7 or 8%, whether Hone Harawira wins Te Tai Tokerau, whether Colin Craig gets over 5%, and whether the combined Labour-Green vote can get over 40%.
If Maori can win three seats and National wins 46% then it could just govern alone with the support of Maori, ACT and United Future, but would be unable to reform the RMA or Labour laws, given Maori and Peter Dunne oppose them.
If Colin Craig gets over 5% than National would be able to govern without the need for Winston Peters, with the potential to carry out RMA and Labour reforms with the support of Craig, who has said he would go with National.
If National got under 45%, if Internet Mana won 3 seats, if Conservative failed to get over the 5% threshold, if Winston Peters got over 8% and if Labour-Green got more than 40% then a third term for a John Key-led National Government would be more difficult, although still possible if Peters opted to support National, even if only on confidence and supply.
The iPredict market puts the chances of a third term National Government at 83%, up from a low of 62% shortly before the resignation of Judith Collins.
Craig a 'manipulative man'
Meanwhile, Colin Craig's media spokeswoman Rachel MacGregor was reported to have quit just two days before the election, complaining to NewsTalkZB's Barry Soper that Craig was a "manipulative man."
Craig denied he was manipulative and said he was unaware MacGregor had quit.
"It's obviously been a really stressful campaign so Rachel's having the morning off, and I'm hoping to catch up with her this afternoon," Craig was quoted as saying.
"I'll have a chat with her, hopefully today, and find out what all those issues are," he said.
See all my previous election diaries here.
See the index for Interest.co.nz's special election policy comparison pages here.