Final poll of polls show National may need support of Winston Peters or Colin Craig to secure third term; Foreign ownership register and RMA reforms up for grabs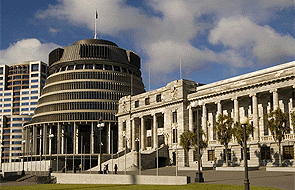 By Bernard Hickey
With 1 day to go until the election, here's my final pre-election round-up of political news, including a final poll of polls showing National could just squeak back in with its current support partners, but is more likely to need the support of either New Zealand First or Conservative to secure a third term.
A simple average of the last five main opinion polls (NZ Herald Digipoll, 3 News Reid Research, TVNZ Colmar Brunton, Stuff Ipsos and Roy Morgan) before the election shows National on 46.4%, Labour on 25.3%, Green on 12.6% and New Zealand First on 7.6%.
Conservative is on 4.1% and would fail to get over the 5% threshold, while Internet Mana is on 1.3% and may get in if Hone Harawira wins Te Tai Tokerau.
Somewhat strangely, this is an almost identical left-right split to the 2011 election result , where National won 47%, Labour won 27%, Green won 11% and New Zealand First won 7%.
Assuming ACT, United Future and Maori each win one seat, National could again (just) govern alone, although it would come down to the fractions of percentage in National's party vote percentage. Any 'bonus' seats for ACT or Maori would make it easier and the possibility of Colin Craig's Conservatives getting over the 5% threshold would make a third term for National a certainty.
Any slippage in National's vote below 45%, any rise in the Labour-Green vote over 40%, a failure of Conservative to get over 5% and a rise over 8% for New Zealand First would see Winston Peters clearly in a position to demand significant concessions from National for his support.
Internet Mana fades
The feature of the last week of the campaign was the failure of Internet-Mana to kick on from a strong start last month. The 'Dotcom bomb' on Monday night sucked any remaining momentum out of Internet-Mana's campaign and reinforced the reservations many of its supporters have had about Kim Dotcom's involvement.
Hone Harawira's own position as the springboard for Internet-Mana into Parliament is also in doubt. Maori TV reported last night that Maori Party leader Te Ururoa Flavell had pushed (unsuccessfully) for the last minute withdrawal of his candidate to encourage Maori Party supporters to vote strategically for Kelvin Davis to deny Harawira the seat. National has also encouraged its supporters in Te Tai Tokerau to vote for Labour to deny Harawira the springboard.
Harawira's fate and the final party vote for Internet-Mana will be one of the great sub-plots to follow on Saturday night, along with whether Colin Craig makes it into Parliament.
Craig's campaign hit a bizarre speed bump yesterday when his media spokeswoman Rachel MacGregor told NewstalkZB's Barry Soper that she had resigned and that Craig was a "manipulative man."
Craig was informed of the decision by other media and said he had no idea why she had resigned. He said he hoped she would return.
RMA and Employment law reforms?
Craig's fate is important for those watching National's plans for RMA and Employment law reforms, which were stalled this year by opposition from Peter Dunne and Maori. Craig has spoken out in favour of RMA reform and is no friend of the unions. His election and support for National would make those reforms more likely.
Winston Peters remains the most likely 'Kingmaker' though. He has been the main beneficiary from the 'static' of 'Dirty Politics' and GSCB that has obscured debate about the economy.
No one has any clear idea of what concessions he would demand of John Key for any supply and confidence deal. Guyon Espiner's attempts on Thursday morning to wring some sort of detail out of Peters ended in a car crash of an interview.  It's worth listening to for a reminder of how cantankerous he can be. It was a type of action replay of his relations with the media around the Owen Glenn affair of 2008 that wrecked his last year in Government.
Foreign ownership register?
If Peters was interested in extracting policy concessions and he could be judged by his campaign rhetoric (which is a big if), then his first cab off the rank would be a foreign ownership register and some sort of tightening of the Overseas Investment Act.
Key has left the door ajar to at least a register and the potential for tighter rules on foreign ownership.
Those watching foreign investment should also remember Colin Craig's first big splash on the election campaign was his call for the sale of Lochinver Station to Shanghai Pengxin to be blocked.
One more factor to watch is the turnout. Weather forecasts suggest a wet election day.
See all my previous election diaries here.
See the index for Interest.co.nz's special election policy comparison pages here.