Polls close; National needs over 47% to win third term with same partners, or will need support from either Winston Peters or Colin Craig to govern again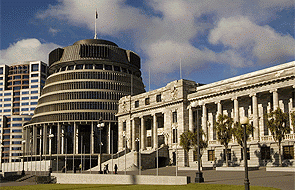 By Bernard Hickey
National has won a third consecutive term in Government with its existing support partners (ACT, Maori and United Future) after the Labour/Green block lost three seats and the Internet Mana and Conservative parties failed to get into Parliament.
National's vote increased despite (or perhaps because of) the 'Dirty Politics' saga and controversy over the GCSB that overwhelmed debate about other issues, and appeared to have encouraged National's supporters to get out and vote.
"Three more years," Prime Minister John Key said at the start of his victory speech. The crowd at National's victory function chanted back: "Three more years."
"This is a victory for those that kept the faith. This is a victory for those who refused to be distracted and knew that a vote for National was a vote for a brighter future," Key said in his victory speech in Auckland.
The Electoral Commission's Results website reported at 11.40 pm that with 99.9% of the vote counted National was on 48.06% (61 seats), Labour was on 24.69% (32 seats), Green was on 10.02% (13 seats) and New Zealand First was on 8.85% (11 seats).
Maori (1.29%) won 2 seats, including Leader Te Ururoa Flavell in Wairiki and one list MP. ACT's David Seymour won Epsom, but the party did not win any list seats because it only received 0.69%. United Future's Peter Dunne won the Ohariu electorate.
The combination of 61 National MPs plus its three support parties (4 seats) gave it a clear majority in the 121 seat Parliament. This was almost exactly the same as in 2011, when National with 59 MPs governed with 5 support MPs (3 Maori, 1 ACT and 1 United Future).
Labour lost two MPs and Green lost one MP.
Key earlier told reporters he did not plan to call New Zealand First Leader Winston Peters to ask for his support. He later said he planned to stay on to run for a fourth term and said Labour Leader David Cunliffe had been a tough competitor: "I have a lot of respect for him."
Key made special mention in his victory speech of Finance Minister Bill English, who he called the best finance minister in the developed world, and National Party pollster and blogger David Farrar.
Cunliffe vows to stay
Cunliffe conceded defeat in a speech just before 11 pm, saying he had called John Key to congratulate him on remaining Prime Minister. However, he showed no signs of resigning and said the campaign for the 2017 election started tonight and Labour needed to rebuild its organisation. He later told reporters he would stay on as leader and planned to renew the party.
Conservative fell short of the 5% threshold and Internet Mana failed to get into Parliament as Hone Harawira lost his Te Tai Tokerau seat to Labour's Kelvin Davis by more than 1,100 votes. Maori, Labour and National recommended their supporters vote for Davis to prevent Harawira from dragging Internet Mana into Parliament.
Conservative received 4.13% and failed to get over the 5% threshold necessary under MMP.
Dotcom blames himself
Kim Dotcom was quoted as blaming himself for the failure of Internet Mana to get into Parliament.
"I'm sorry to say this, but we lost because of me," Dotcom was quoted as saying.
Labour candidate Stuart Nash won the Napier seat with more than 3,000 votes more than National's Wayne Walford as Conservative candidate Garth McVicar split the vote.
Labour's Hutt South candidate Trevor Mallard was over 300 votes ahead of National's Chris Bishop with 97% of the vote counted.
Labour MP Clayton Cosgrove lost to National's Matt Doocey in Waimakiriri, while Labour list MP Andrew Little has missed out, being too low on the list.
Tweets of the night
Finlay Macdonald just before David Cunliffe's concession speech:
If this guy apologises for being a Labour leader ...
Lew after David Cunliffe appeared not to acknowledge the scale of the defeat in his concession speech:
"But a flesh wound!" -- David Cunliffe
Election Satire after David Cunliffe's concession speech:
Labour "decimated?" Cunliffe: "No, I think we've gone down by more than 10%"
Hugh Sundae on Conservative's failure to get into Parliament:
BREAKING: Colin Craig reportedly lightly smacking advisors.
Raybon Kan:
So with this election result does WhaleOil get a knighthood?!?
David Farrar on what John Key might say:
If John Key makes a victory speech tonight, will he thank Kim Dotcom first?
Juha Saarinen during a TV3 interview with Steven Joyce, who had a strange blue dot projected on his forehead:
"Fess up, who's got a laser pointed onto Joyce's forehead?"
Craig Lucinsky replied: "Judith"
Taika Waititi on the likely National win:
Cheer up - it can't get any better.
Stephen Franks:
RMA reform coming. Gratitude of NZ people due to to N Hager, Herr Schmitz and Journalists of NZ.
Simon Wong on the vibe in the National party event:
The Nats supporters REALLY like Kelvin Davis. Cheers louder than last time
Jane Patterson on the likely fallout at the bottom of the Labour list:
On current numbers @AndrewLittleMP @MaryanStreetMP and @MoanaMackey out of Parliament
Shayne Currie on the result:
National (currently 48.2%) likely to register highest party vote of any party since MMP started in 1996 - previous highest 47.31% in 2011
Bill Bennett on the result:
Has anyone tweeted about leaving NZ yet? Not a real election until that happens
Anthony Green on the Civilian Party:
Civilian Party coming last with 187 votes. Their policy to give a llama to all children in poverty clearly was not popular
Sam Hill on Peter Dunne:
Legalise Cannabis beating United Future. People like the real stuff not synthetic.
Craig McCulloch on Peter Dunne:
Aaaaand now the 1080 Party has edged ahead of Peter Dunne's United Future too
(Updated regularly with fresh results)
See all my previous election diaries here.
See the index for Interest.co.nz's special election policy comparison pages here.