Key sees new moves to reduce child poverty; rejects 'Koru lounge talk' of using outright majority of to 'veer to the right'; Labour in chaos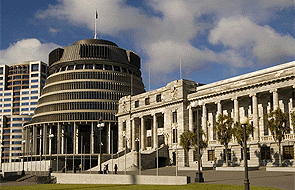 By Bernard Hickey
Prime Minister John Key is pushing ahead with government-forming discussions with support partners, despite calls for National to use its outright majority to veer to the right and enact tougher economic and social reforms.
His comments came as Labour descended into an all-out brawl for the leadership, with David Cunliffe refusing to step aside and trying vainly to gag his leadership rivals.
Key emphasised his plan to 'hug the centre' when he told TV3's John Campbell in a 22 minute interview that he had asked the Department for Prime Minister and Cabinet (DPMC) for more advice on reducing child poverty, particularly for those kids who were living in poverty despite also being in working households.
"This is one of the things I started to talk to Bill (English) about today. There are some children in situations where they may not be working, but they may be, working and benefits-based households, where we may not want to narrow the gap between welfare and working for the incentive reasons, but they still are victims aren't they?," Key said in the interview broadcast on Monday night.
"They live in that household and they are doing it tough. We have to work out -- are there things that we can do around provision for them, over and above what we're currently doing? Can we challenge ourselves on that? And in doing that, that we don't narrow those incentives," he said.
Asked if this was something new, Key said he had been talking to Bill English about it and thinking about it for some time.
"I still think there's more we can do. It's not necessarily at the benefit level. It's got to be (directly) into those youngsters. In a way, things like free doctor's visits are about that stuff and making sure all those things are wrapped around those youngsters," he said.
"Is there more we can do as we up-skill people? There is a legitimate concern from New Zealanders right across the income spectrum about helping people. They just will want to see that they want to help themselves. They do recognise that there are others that need more support. What they will want to see from the Government is that we deliver that support without entrapping people in long term dependency," he said.
"They want to see both sides -- the Government and the individuals themselves -- working our way through that issue. My sense is we can do more there. We just need to work on that issue. I've said to DPMC this morning I want to see more advice in that area of things we could do."
'No right turn'
Key has also been adamant in repeated post-election interviews that he wanted to form confidence and supply arrangements with ACT, United Future and Maori, as he had done in 2008 and 2011, despite there being no Parliamentary need for it.
"I like the concept of building a bigger majority. It's not just a matter of security, although that's important. I do genuinely believe the set-up we had in the past added to the depth and hopefully understanding and reach of the Government, so I'd like to have the Maori Party back, I'd like to have ACT back," he said.
"Just passing everything by the barest of majorities isn't the right way to govern, and I certainly don't think that would deliver a potential fourth term National Government," he said.
He has also warned against any signs of arrogance and rejected suggestions that National use its position to push through more right-wing reforms.
He referred in his Campbell Live interview to discussions he had already had with people in the Koru lounge suggesting National push ahead with more aggressive reforms and "veer to the right."
"I said to them the same thing I'd say in public. We need to hug the centre ground. We're a broad based party," he said.
The New Zealand Initiative's Oliver Hartwich was one of the first to argue that Key use National's unprecedented outright majority to pursue more aggressive reform.
"The Prime Minister should see that now is the time to go about those reforms which he may have wanted to implement in the past which he could not do. Now he has the political mandate, the parliamentary majority and political capital to achieve whatever he sets his eyes on," Hartwich said in this piece published on Interest.co.nz.
"The question is, will he go for it? Or will winning his fourth term hold him back from becoming a bolder reformer than he has been so far?," Hartwich said.
Meanwhile, Key told reporters before a 'super caucus' meeting in Wellington that he may not name his new Cabinet until after the return of special votes on October 4.
Cunliffe staggers on and lashes out
Meanwhile, Labour's implosion continues apace after its worst election result in 92 years.
David Cunliffe held an at-times bizarre news conference before Labour's first Parliamentary caucus meeting on Tuesday morning.
He first welcomed Labour's new Maori and Pacifica MPs as a bright spot in an otherwise "terrible result for Labour."
He said he took responsibility for the result, unlike in his widely criticised election night concession speech, but that he would not resign.
"We are all gutted at the loss of a number of excellent colleagues and we are all deeply concerned by the result of our party vote. I want to be clear that I, as leader, am responsible for that result," Cunliffe said.
He said he expected there to be a wider leadership contest in front of Labour Party members before the end of the year, but he refused to say what would trigger it, given he would not resign. The most likely outcome is a vote of no confidence from his fellow MPs, although most think that is unlikely on Tuesday. Cunliffe refused to agree to suggestions from journalists that he wanted to hold a no confidence vote that he would lose.
'We must stop the infighting'
However, Cunliffe was critical of front bench colleagues who he said had reneged on a Sunday meeting agreement not to comment in the media. David Shearer and Grant Robertson went on to discuss the poor result for Labour and the possible next steps on Sunday and Monday.
"We must stop the leaks. We must stop the in-fighting. It's not good enough. Our supporters and our members deserve better," Cunliffe said.
"We had a meeting of our front bench and senior party office holders on Sunday. We agreed that we would stay out of the media pending the review and caucus discussions and I have done that. Others have not," he said.
Almost immediately after the news conference, Phil Goff and David Shearer spoke to the media in open defiance of Cunliffe's ban on other candidates speaking openly.
"I've got skin in this game, being a former leader, I can talk about the future of Labour," Shearer told reporters.
Cunliffe said he would not apologise to his colleagues for the result.
"No, because I know I have done everything that I personally can to achieve the very best result of which I am capable and which the party is capable. I've worked tirelessly. People are telling we did okay in the debates. People are telling me we did well on the ground. All I can say is I have done my best," he said.
Asked what went wrong, he said: "Obviously a lot of stuff did. In my view we have a number of issues that we need to work through. Issues of funding, issues of capability and potentially issues of strategies.
Labour's caucus meeting finished shortly before 6 pm after seven and a half hours.
Cunliffe spoke briefly to the media who had been waiting all afternoon, saying only that an independent review into the Party's performance would be launched. He announced Chris Hipkins and Carmel Sepuloni had been unanimously voted in as senior and junior whips. Hipkins has been critical of Cunliffe in the past.
Cunliffe refused to say what had been discussed in the meeting and said the discussions would remain confidential.
"We have already made a decision that we have got a number of issues to consider and we will not be commenting on our confidential caucus discussion either now or in the future," he said.
Tweets of the day
Toby Manhire
David Cunliffe is definitely not seeking a no-confidence vote unless there is a no-confidence vote in which case that is what he was seeking
Is Kevin Rudd available? #NextTopNZLabourleader
Claire Trevett:
Straight from saying all his MPs should shut up (except him), Cunliffe walks downstairs to find Shearer and Goff holding court.
Jessica Williams:
As the Cunliffe press conference wrapped up, someone outside was playing The Last Post. Really.
Patrick Gower
Worst I have ever seen Labour. Worst.
Peter Dunne in response to Gower
yes, even in the aftermath of 1990 landslide defeat with mad Mike in charge, things weren't this chaotic or disorgansied
(Updated with more details from Cunliffe news conference, Tweets of the day, results of inconclusive Labour caucus meeting)
See all my previous election diaries here.
See the index for Interest.co.nz's special election policy comparison pages here.