Key set to announce new cabinet at 11 am; says new names and portfolios may surprise some, but English and Joyce keep finance and economic roles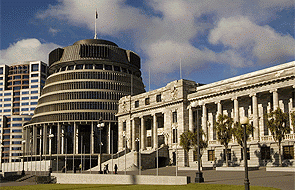 By Bernard Hickey
Prime Minister John Key is due to announce his new cabinet at 11 am, including what he said would be a few surprises, although he confirmed Bill English and Steven Joyce in their key finance and economic development roles.
He said there would be name changes for some ministries, including a change to the Ministry for Women from the Ministry for Womens' Affairs.
Potential movers include Amy Adams, Paula Bennett, Jonathan Coleman, Simon Bridges and Anne Tolley. Key has previously described Bennett as one of National's rising stars and pointed to her desire to move into more economic type portfolios to bolster her leadership ambitions.
The big three portfolios to fill are Health (vacated by retiringTony Ryall) , Social Development (Paula Bennett is moving into other portfolios) and Justice (after the resignation mid-election campaign of Judith Collins )
Key told TVNZ's Breakfast said there would a significant shakeup, although he confirmed that Bill English and Steven Joyce retained their key finance and economic roles.
"I think people might be a little bit surprised about how much movement there is within portfolios and rankings and different things that are going on," he said.
Some members of caucus had missed out, he said.
"There's 60 people dying to become a minister, and 25 spots, so insomuch there's quite a number of excited people I've rung, there's also some disappointed people," he told a news conference in Wellington on Sunday.
Key also said he was surprised and disappointed about losing the outright majority in the final result announced on Saturday.
Little says Labour policies frightening
Meanwhile, Labour list MP Andrew Little told The Nation on Saturday before the release of the final result that Labour's policy of increasing the age of eligibility for New Zealand Superannuation was a frightening prospect for many working people. He is the first potential candidate to seriously question Labour's policies so far.
Little told Q+A on Sunday he was actively considering running for the Labour leadership after his list seat was confirmed with the final counting of votes.
"My intuitive feel for this election and explanation for the result, is a combination of some big policies that meant significant changes for people, as well as confusion about coalition partners and so on, and a bit of scare campaigning about it, meant that we were too frightening a prospect for people," Little said.
"What people most want, they want economic security, knowing that they're going to have a job, they're going to get reasonably paid for it, and a sense of physical security as well, and I think people when they came to us they heard you know superannuation policy, working an extra couple of years, they had capital gains tax on their little investment property, all that was kind of at risk, it was too scary," he said.
See all my previous election diaries here.
See the index for Interest.co.nz's special election policy comparison pages here.