Former union leader and list MP Andrew Little says he will run for Labour leadership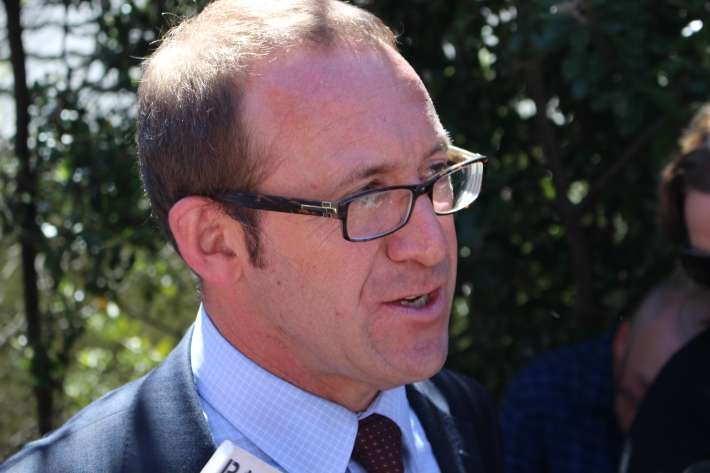 By Bernard Hickey
Former EPMU leader and Labour list MP Andrew Little has announced he will run for the Labour Party leadership, saying he wants a review of all of Labour's policies, including its Capital Gains Tax, its plan for a later retirement age and its New Zealand Power policy.
Little told a news conference outside his home in Wellington that some of Labour's policies had been frightening to potential voters and needed to be reviewed.
He described himself as a clean break from Labour's previous leadership and that he thought he had a fair amount of support across the board from affiliated unions, who make up 20% of the leadership vote.
He faces a contest against former leader David Cunliffe and former deputy leader Grant Robertson, who he said he had spoken to about his candidacy. He described the discusions as constructive and cordial. Little said he had given Robertson and Cunliffe no assurances about their roles under his leadership, although he said he knew and respected them both and would stand behind either "100%" if either won over him. Former leader David Shearer has yet to declare whether he will stand.
He confirmed that included its plans for a 15% Capital Gains Tax, it's plan to extend the age of eligiblity for New Zealand Superannuation from 65 to 67 between 2020 and 2026 and its plan for a single state buyer of electricity known as New Zealand Power.
He said he was confident of contesting Prime Minister John Key, who he described as a "transactional" politician without a plan for the country.
Little said it would easier for him to question Labour's policies than the two other candidates, given their involvement in creating and arguing for them in the past.
"I'm standing because I think I have something meaningful to contribute. I am different from the other candidates and I come to the role a little fresher than the other candidates in terms of ideas and I have some experience and skills that the others don't have," he said.
"I do think we need to have a hard look at our policies. We know there are policies that are very good theoretically and work on paper, but the reality is they are not engaging people who we want to vote for us," Little said.
"We cannot do the things we want as a party unless we are in Government -- the things about making this a more equal society, a fairer society and a happier place for a lot more people to be -- we can't do that if we're not in Government. We have to look at our policy offerings and if people are telling us these are the things I'm not voting for then we're going to have to be brutal about it and say, OK, we'll have a look at those policies again," he said.
"We need to go into 2017 with a very clear message, a clearly understood set of policies and some of those will be different to what we put up this time and the last couple of elections, and some will be the same, and we need to have that internal discussion and debate."
'Too many policies'
Little said the feedback he had been getting from party members and potential voters was that the Capital Gains Tax and the delayed retirement age were difficult issues for the people Labour needed votes from.
"I think we confuse people by having a policy for everything," he said, referring to Labour's 120 policies.
"We want to chunk it down to things that we know that people can understand and get hold of quickly."
He denied Labour's policies had been too left wing, describing the NZ Super retirement age plan as more of a right wing policy, while NZ Power and Capital Gains Tax were more left of centre.
"There's a mix there. The problem with not just having a big policy, but so many big policies, is that sometimes people get frightened off them, so that's what we need to have a look at and have a debate about."
Little said voters had either not understood Labour's NZ Power policy or didn't believe it, or couldn't see how it would work.
"We need to go back and have a look at that policy and see how we can make that work, or whether we can achieve the same objective (reducing power prices NZ$300 a year) by other means," he said.
Little said the feedback he had received in recent days since indicating he may stand on Saturday was that he could reach a wide range of people
'Key a transactional politician 'flouncing around' being popular
Asked what he thought his 'X factor' was, he said: "I am a stable, steady head on a stable, steady set of shoulders, but I'm also a good listener and can understand what people who may not understand us think of us and expect of us."
Little said he thought Key was popular, but there were questions about whether he was a leader.
"I don't think he lifts New Zealand above itself and looks beyond, and has a view or a direction of where he's taking New Zealand for the next 20 or 30 years," Little said.
"His is what I call a transactional politician -- here is the issue today, where are the trade-offs, how can I get through it -- then boom, do it," he said.
Little pointed to the rapidly falling dairy payout, which was going to put the economy "on the skids over the next year or 18 months."
"We don't hear anything from this Government or John Key about what we need to be doing preparing ourselves for a stronger, more diverse economy over the next 10-15-20 years. That speaks to what leadership is abou,t and that's what I'll bring to this discussion and debate," he said.
"He can flounce around doing his popularity routine, but actually more and more New Zealanders are looking for 'Where is our long term future economic security and that's the space that Labour needs to be in."
'Underdog'
Little acknowledged his relatively short experience in Parliament of three years and his list MP status with the lowest ranking were factors to overcome and made him the underdog.
Asked if a list MP could be a Prime Minister, he said: "There's a first time for everything."
Little said he doubted whether Kim Dotcom would appear on New Zealand's political landscape, "and if he does he'll get pretty short shrift from me."
He said two members of Labour's caucus would nominate him and he had not thought about who his deputy would be. He said he had decided to stand after talking to all but two of the 24 members in Labour's caucus.
Asked if Labour had focused too much on identity politics and sectional interests, Little said Labour needed to focus on good, secure jobs with a strong economy.
"What people want now at a time when there is still global uncertainty, economically and otherwise, people want to know they've got a Government focused on their economic security -- that's got to be the priority."
Little described the New Zealand electorate as "inherently pragmatic. "They don't care about the labels. They want to know what works. Sometimes there'll be things that require significant state intervention to fix a problem. Other times they have a sense of 'just leave us alone' -- give us some rules and we'll sort this out," he said.
Co-campaigning with Greens?
Little said Labour should consider campaigning with the Greens in a way similar to the way it did in 1999, "that holds a hand out to potential coalition partners and says 'this is what it might look like.'"
(Updated with comments from Little's news conference, picture)
See all my previous election diaries here.
See the index for Interest.co.nz's special election policy comparison pages here.