New Labour Leader Andrew Little chooses Grant Robertson as Finance Spokesman; Little talks up wealth taxes and KiwiBuild, but talks down Capital Gains Tax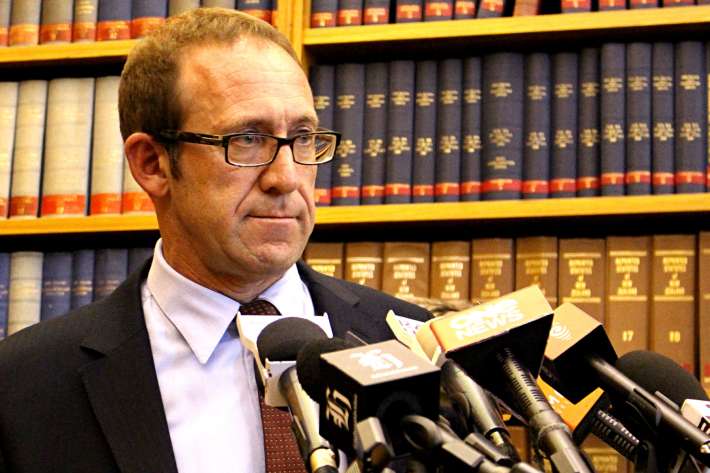 By Bernard Hickey
New Labour Leader Andrew Little has chosen former deputy leader Grant Robertson in the key role of Finance Spokesman, despite his leadership rival's lack of obvious economic or finance experience.
Robertson, who was an arts graduate, former diplomat and political advisor to Helen Clark, lost to Little by just 1.04% in the Labour Leadership contest.
Little said Robertson's apparent lack of finance experience was not an issue, pointing to Finance Minister Bill English's English's degree and former Labour Finance Minister Michael Cullen's background as a social historian and academic.
"What we need is intellectual competence and capability and Grant has that in spades," he said.
Little appointed Annette King as his Deputy Leader for a year, and said his initial shadow cabinet would have a year to prove itself. He said he would be spending a lot of time away from Parliament consulting with voters.
"I need to know I have a deputy back here with experience who can take charge at the helm while I'm out of the office," he said.
Little repeated that Labour would review its policies and Robertson's stated desire for a Capital Gains Tax did not change Little's own view that Labour should not have a Capital Gains Tax on its policy platform at the 2017 election.
'Other forms of wealth taxes'
Over the weekend, Little gave more detailed comments about taxing wealth and pushing back against rental property investors with multiple properties.
Little told TV3's The Nation that he wanted to look at options other than a Capital Gains Tax to push back against large professional property investors. He repeated his support for Labour's KiwiBuild policy of building 100,000 houses in 10 years.
"Let's look at taxes on wealth. Let's look at property speculators. Not the mums and dads who do all the extra overtime, get a bit of money aside and buy themselves an investment property that they use for their retirement," Little said.
"Let's look at the people who are buying 8, 10, 12 houses. Let's look at the people who are buying houses one day (and) 18 months later selling them again," he said.
He declined to say how many houses were too many, saying those issues would be for officials to examine in Government, but he also suggested other measures to control property speculators.
"There is the issue of how we deal with property speculators – those people who are in and out of houses, clearly doing it as a business. Clearly doing it to raise income, but are inflating house prices," he said.
"So there's talk now about, 'Do you have special conditions? Special interest rates for after you've bought your first house?'
Other portfolios
Elsewhere, Little re-appointed Phil Twyford as Housing and Transport spokesman, Jacinda Ardern as Justice spokeswoman and Kelvin Davis as Police spokesman. David Shearer kept Foreign Affairs, while David Parker was awarded Trade and the Shadow Attorney General portfolio.
David Cunliffe was named Regional Development, Tertiary Education and Science and Innovation spokesman.
Robertson later issued a statement saying the Government's challenge was to support an economy delivering good, sustainable jobs paying decent wages.
"It's time the economy delivered for all New Zealanders, not just the fortunate few," he said.
"The economy should work for people, not the other way around. I will campaign for reform to monetary policy, savings and the tax system to ensure a fair go for all, with people put first," he said.
"As a country we need a plan to address the changing nature of work. Technological changes mean that work as we know it today for many people will not exist in the decades to come.  At the moment the National Government is doing precious little to prepare New Zealand to address these issues."
"National made big promises to New Zealanders that their wages would rise, the books would be in surplus and exports would increase. They are struggling on all counts, and already different stories are emerging from John Key and Bill English. I will hold them to account."
(Updated with comments from Robertson)