RBNZ scotches talk it may develop new Macro-Prudential measures to control Auckland house price inflation; says Auckland now a supply problem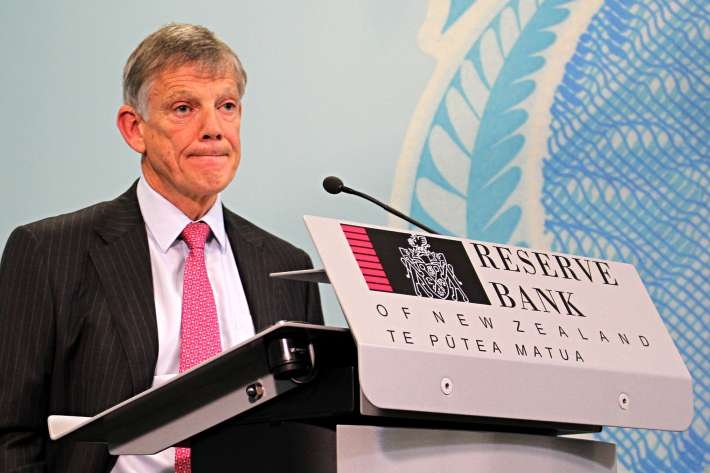 By Bernard Hickey
Reserve Bank Governor Graeme Wheeler has scotched growing talk in recent weeks that the Reserve Bank would have to ramp up the use of new or existing Macro-Prudential policy tools to slow down lending into the resurgent Auckland housing market.
Wheeler told a news conference and a Parliamentary hearing after the bank's December Quarter Monetary Policy Statement (MPS) that the bank was not considering further Macro-Prudential tools at this stage to address Auckland's housing market. Wheeler said the bank was watching the Auckland market,  but it had cooled off and the bank was not sure it had rebounded strongly yet. 
"We are concerned about house price inflation in the Auckland situation," Wheeler said.
He pointed to a halving of annual house price inflation to around 9% between September last year and November this year after the Reserve Bank's introduction of its high LVR speed limit and its 1% increase in the Official Cash Rate between March and July. 
Asked about signs evident in October and November of a resurgence in activity and prices in Auckland, Wheeler said it was too early to say if there was a new boom or whether the renewed activity was seasonal or simply linked to the election result. He said the bank would get a more accurate picture in February or March, but even then, he thought Auckland's problem was a supply issue the Reserve Bank could not address.
"The issue there in Auckland is very much a supply side problem. It's housing supply. Period," Wheeler told the Finance and Expenditure select committee.
Labour Finance Spokesman Grant Robertson then asked if the Reserve Bank was looking at tightening its use of its high LVR speed limits or using other Macro-Prudential tools. 
"No. At this stage we're not looking at any further Macro-Prudential instruments," he said.
"The challenge is to get supply sorted out as quickly as possible."
Wheeler pointed out that Auckland had been forecast to need an extra 10,000 dwellings a year for the next 30 years to keep up with future population growth. Auckland had built around 7,500 new dwellings over the last year, which was up 30% from a year ago and double two years earlier.
"It's still well short of the 10,000 needed and you've probably got a shortfall to begin with of 20,000 to 30,000 to catch up on," Wheeler said.
He said it was paramount that everything was done to resolve regulatory issues restricting housing supply in Auckland.
Wheeler was then asked if the Reserve Bank planned to take any demand-side measures to address the Auckland issue.
Wheeler said Auckland and Christchurch representated half of the market and were experiencing annual house price inflation of 9% and 8.5% respectively. He pointed to Canterbury Development Corporation figures suggesting an eventual over-supply of housing in Christchurch because of the large building programmes at the moment. 
"If you look at house price inflation in the rest of New Zealand, it's 2%, so it's a very segmented situation," he said.
APRA and ASIC moves?
Green Co-Leader Russel Norman then asked if the Reserve Bank was looking at actions announced on Monday by Australia's APRA and ASIC to intensify regulatory oversight of bank lending to rental property investors in particular. 
Deputy Governor Grant Spencer said the Australian regulators were looking at those banks increasing rental investor lending by more than 10% per annum, and also interest-only loans to owner-occupiers.
"Generally, that growth in investor lending they're seeing in Australia, we're not seeing to the same extent in New Zealand," Spencer said.
"Here most of the interest-only is on investor lending and Agri lending. We do monitor interest-only and talk to the banks in our prudential discussions, but it's not something that we're focusing on right now," he said.
"The evidence and froth in the Australian market is around investor lending, and it's not reflected in the New Zealand market at present."
Wheeler and Spencer were then asked by Robertson what it would take for the bank to intervene again to slow the Auckland housing market. He asked what threshold would need to be crossed.
"What we'd need to see a situation where there's increasing risk to the financial system. Say there's a strong growth in investor lending or there's a big increase in debt service ratios of customers that make banks more vulnerable," Spencer said. 
"Last year before we applied the LVR restrictions there was a big build up in high LVR lending, which was increasing the risk in the bank balance sheets, as well as adding pressure to the housing market, which threatened a downturn on the other side," he said.
"In other words, we need a prudential rationale and if the drivers are purely a supply shortage or a flooding in of migrants then there's not there's a not a basis for prudential policy."
Spencer agreed that a rise in credit growth that boosted house prices to levels that threatened bank stability would be an issue for the bank.
However, Wheeler noted that a rapid appreciation in Auckland house prices could spill over into extra consumer demand that increased inflationary pressures, "then you would be factoring that into your monetary policy considerations."
(Updated with more comments from Wheeler and Spencer)