Cabinet decides to change law for Remuneration Authority to ensure future pay increases in line with rest of public sector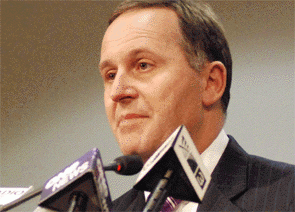 By Bernard Hickey
Prime Minister John Key has announced the Cabinet decided today to urgently change the law governing the Remuneration Authority to ensure pay for Members of Parliament rose in line with the rest of the public sector.
The move came after the Authority announced pay increases for MPs of around 3.5% last week, defying submissions from Key that no pay increase was appropriate when the Government was asking for pay restraint.
"That increase was neither necessary nor justified at a time when inflation is at 0.8%," Key said.
"While the decision was made independently of MPs, they should not be receiving increases which are disproportionate to the wider public sector," he said.
Key said the law change was necessary because the Authority cited criteria in the 1977 Act to justify the pay increases.
"The change will take away the Authority's discretion when setting MP pay. The sole criteria will now be the average public sector pay increase for the previous year," Key said.
Key said the decision was not taken lightly given the law was decades old and he expected the new arrangements to last for decades.
"However, it is clear that changing the criteria upon which that rate is set is the only way to ensure the Authority will start handing down more modest pay increases."
1-2% increase likely
The new legislation would be back-dated to July 1, 2014, meaning the pay increases announced last week would not be awarded.
"Based on the most recent data, total remuneration will instead increase by something in the range of 1 - 2%, reflecting average wage growth in the public sector," Key said.
He later told a news conference he sympathised with teachers unions who had complained last week that they were being told to be restrained in their pay demands while MPs were getting much bigger increases. "I don't think they should be getting less than what MPs are getting," he said.
The new law would be introduced under urgency in the next sitting session.
Key denied the Remuneration Authority's recommendations that MPs' pay rise as fast as other high paid professionals and managers indicated there was a problem of growing income inequality across the wider economy. He said public sector pay increases recently had been lower than the Authority's recommendations for MPs.
Key said it was up to private sector CEOs to make their own decisions about their own pay if they were also calling on their workers to show restraint.
"Sometimes their pay is very volatile because of bonus payments and sometimes they take massive pay cuts because they don't get a bonus payment. The private sector under a National-led Government has been rising at a slightly faster than the public sector," he said.
"As politicians and the Government we send very strong signals about what we can afford for the public sector and I don't think it's right that we should be saying to the public sector: 'We think living within our means is 1-2%, but by the way, an independent body, despite all the things that we tell them very directly and very plainly, is going to give us more than that. In the end they've said this is the reason why we're doing that, so we're changing the law," he said.
"The current Act suggests to them that they should be looking at relativity with other parts of employment, including the private sector. They strongly feel that they should be moving cabinet ministers and me as Prime Minister up to a level that is more reflective of what we would earn in the private sector."
Key said MPs could potentially receive backdated pay increases to July last year under the Remuneration Authority's ruling from last week, but that they would be expected to return that money.
"Lots of people would get overpaid, and then get it deducted off them the following week," he said.
Political reaction
Green Party Co-Leader Metiria Turei welcomed the changes to rules setting pay for MPs.
"We've argued for MPs' salaries to be linked to the nominal median income, and we still think this is the best option, but linking them to public sector incomes is a definite improvement on the current system," Turei said.
"The Green Party policy is that MPs' salaries should increase or decrease by the same dollar amount that the median individual income increases or decreases," she said.
The Public Service Association said the Government's decision could not be justified in withholding decent pay increases for public servants.
"While this may stop the complaints about excessive MP pay rises, public servants will still feel aggrieved," PSA National Secretary Richard Wagstaff said.

"A 1% pay rise on John Key's $400,000+ salary is a lot bigger than the same percentage on the salary of a hard-working hospital administrator paid below the living wage. If Mr Key thinks that he can justify below inflation pay increases for the people who keep this country running by taking the same percentage, he's only kidding himself," Wagstaff said.
Solid Energy 'in a delicate position'
Elsewhere, Key was asked if the Government would have to bail out Solid Energy for a third time after the board said last Friday it could not sign off on its accounts and TSB Bank wrote off NZ$54 million of loans to the state-owned coal miner. Chairwoman Pip Dunphy also resigned last week,
Key said Solid Energy was in a "delicate position," noting the board changes and that the company was in discussions with its banks.
He said he would not want to speculate on whether the Government would commit more funds to Solid Energy.
"They're in very delicate negotiations with the banks," he said when asked if Solid Energy would have to cut staff or shut more mines.
"It's sooner, as opposed to later in terms of resolving the next steps," he said.
Key said Solid Energy was not trading solely on its Government Guarantee and still had equity and cash in the bank.
He said he knew why Dunphy resigned, but suggested media talk to the board and would not speculate on whether her resignation related to any Government indemnity for directors.
He also said he expected the situation would be resolved before the May 21 Budget.
Key said putting more cash into Solid Energy was not the Government's preferred option. He denied the banks were now in control of Solid Energy, but acknowledged they were in discussions with the company about trying to recover their money.
(Updated with reaction, more detail, Solid Energy update)