English says election result last year ended debate on Capital Gains Tax; IRD may get more funds to crack down on property traders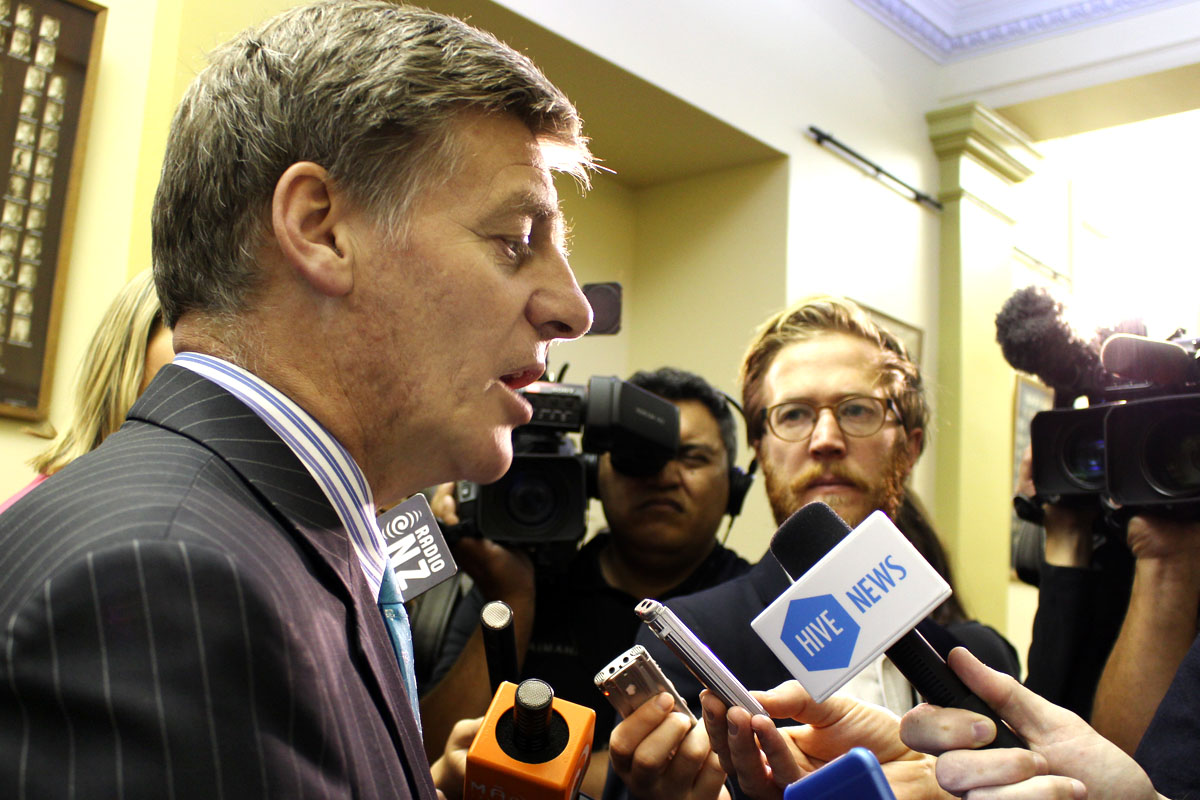 By Bernard Hickey
Finance Minister Bill English has directly rejected the Reserve Bank's call for a fresh debate about removing tax incentives for landlords, saying two official Tax Reviews and the public in two elections had decided against any such widening of taxation of landlords.
"There's been a lot of discussion over that issue over two tax inquiries in New Zealand under the previous government and under this government and in both cases they came to the conclusion that, on balance, it wouldn't make much difference," English told reporters in Parliament when asked about Reserve Bank Governor Grant Spencer's call for a debate about a widening of taxation of capital gains.
English was referring to the 2010 Tax Working Group review of taxation and the 2001 McLeod Review of tax.
"In the end you have to find something that's going to be generally supported and the fact is that in New Zealand that further taxation of property was certainly not supported in the last election campaign by the public, or the election campaign before that, so I think you can say various proposals have been tested analytically and politically and there hasn't yet been a decisive tax measure or tax change that has broad support," English said.
"I think the lesson, particularly out of the last election campaign, is that the public do need to support changes in taxation of housing because it is, for by far the majority of New Zealanders, their main asset, and for many of them, a significant investment asset. We are always testing the balance of public opinion, policy purity and effectiveness of policy so we have had a few debates about capital gains tax, and it is pretty clear it doesn't have the support of the public and politicians."
English said there was already a tax on landlords who trade properties for income and the Government was in discussion with the IRD about whether it needed extra resources to toughen its enforcement of these property trading rules.
"There's already effectively an income tax in place for those who trade and there's ongoing discussion about what further enforcement IRD can apply to the existing law," English said.
"I think everyone - real estate agents, buyers - are pointing to higher levels of trading activity in Auckland and so there is a question of whether that should give rise to further enforcement activity," he said. "The focus is on what what resource they might need for further enforcement of existing law and that will be a matter discussed in the context of the budget," he said.
The 2015/16 Budget is due on May 21.
"In the past we have put further resource in for more investigation into transactions and we're, in the context of the budget, having more discussions about that now."
'We're helping on supply'
English rejected the suggestion the Government was doing nothing to help the Reserve Bank address the latest housing boom in Auckland.
"It's not a matter of the Reserve Bank not getting any help from the government. We've focused strongly on the supply side. In fact, I'd say of all developed countries' property markets we've got the most coherent discussion about the fundamental driver of the housing markets at the moment, which is inflexible supply, and we've taken a lot of measures," English said.
"We haven't actually taken the job of consenting off the Auckland City Council but with respect to supply we have pushed pretty hard. We are building momentum there. More supply is coming to the market. The higher prices are an incentive for developers to get on with more supply," he said.
WOF for private rentals?
English was also asked about a Maori Party push for a Warrant of Fitness system for private rentals.
He said Housing NZ Corp was trialling such a system, but the Government was concerned it could reduce supply of rentals and increase its cost.
"This is all a matter of balance between getting the basic quality of housing up if we can without imposing so much cost that people can't afford the houses to live in," English said.
"If you could simply raise the quality of housing at no cost then of course you would do it, but in the real world, if you make the standards too high it will put housing out of the reach of a lot of people who, right now, have adequate enough housing and can afford it - just," he said.
'Not breaching PTA'
English was also asked if Reserve Bank Governor Graeme Wheeler was breaching his Policy Targets Agreement with English, given annual CPI inflation of 0.1% in the March, which was below the Bank's 1-3% target band.
"No, I don't think he is breaching the agreement. Whether he is within the band depends on where you think inflation is going to be 18 months, two years out," English said.
"They have been forecasting it to be back within the band two years ahead for a couple of years, and every six weeks, as they update their view, we get the opportunity to see whether that is still the case."