RBNZ holds OCR at 2.75%; says "further reduction seems likely"; warns may need even lower rates if NZ$ rebounds further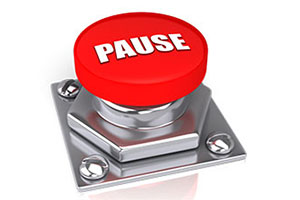 By Bernard Hickey
The Reserve Bank has held its Official Cash Rate at 2.75% as widely expected, pausing its sequence of three rate cuts in quick succession to "watch and wait."
But Governor Wheeler said "some further reduction in the OCR seems likely" and that the bank would need to run even lower interest rates if the New Zealand dollar continued to rebound. Economists had expected a pause at this decision, which is only accompanied by an eight paragraph statement. Most expected a final cut to 2.5% with the bank's full December 10 Monetary Policy Statement, which would fully unwind last year's 100 basis points of tightening.
Today's decision and statement is not expected to change that view, although strength of the Governor's warning about the New Zealand dollar may have surprised a few. Markets overall saw the pause decision as slightly hawkish and pushed up short term wholesale rates a few points.
Wheeler began the statement by pointing to concerns about slower growth in China and East Asia and financial market uncertainty about the US Federal Reserve's long-awaited tightening and possible monetary policy easings elsewhere. The Fed also left its main interest rate on hold near 0% this morning, but its statement was interpreted as increasing the chances of a rate hike in December, which would be the first US rate hike in nearly a decade.
He said the sharp fall in dairy prices since early 2014 was still dragging on domestic farm incomes, but growth in the services sector and construction remained robust because of high migration, strong tourism and low interest rates.
"Global dairy prices have risen in recent weeks, contributing to improved household and business sentiment," Wheeler said.
"However, it is too early to say whether these recent improvements will be sustained," he said.
Thinking about Auckland housing?
Wheeler said house price inflation in Auckland remained strong and was "posing a financial stability risk", but he did not specifically link Auckland's hot housing market to his OCR decision or the risks it could spark wider inflation.
That contrasts somewhat with his October 14 speech where he said: "Housing market considerations do influence our thinking on the OCR."
Wheeler also made no reference in his statement today to 'keeping the Reserve Bank's powder dry' by allowing plenty of room to cut the OCR in the event of a much bigger downturn.
In his October 14 speech he said: "We remain conscious of the impact that low interest rates can have on housing demand and its potential to feed into higher price inflation. It is important also to consider whether borrowing costs are constraining investment, and the need to have sufficient capacity to cut interest rates if the global economy slows significantly."
Some economists interpreted those October 14 comments as putting a harder floor under the OCR at 2.5%, given some have called for cuts to 2% or even lower.
Wheeler said in today's statement that while residential building is accelerating, it would take some time to correct the supply shortfall in Auckland.
He said CPI inflation remained below the 1 to 3% target range, largely reflecting a combination of earlier strength in the New Zealand dollar and the 60% fall in world oil prices since mid-2014.
CPI inflation has been below the mid-point of the bank's 1-3% target range since September 2011 and has been below 1% since September last year. Core inflation has been below the 2% midpoint specified in the Government's Policy Targets Agreement with Finance Minister Bill English since September 2011.
Currency warning
"Annual CPI inflation is expected to return well within the target range by early 2016, as the effects of earlier petrol price falls drop out of the CPI calculation and in response to the fall in the exchange rate since April," Wheeler said.
"However, the exchange rate has been moving higher since September, which could, if sustained, dampen tradables sector activity and medium-term inflation," he said. "This would require a lower interest rate path than would otherwise be the case."
This comment will be seen as a shot across the bows of the currency markets, which have pushed the New Zealand dollar 7.5% above the Reserve Bank's forecast for the Trade Weighted Index in the December quarter.
The New Zealand dollar fell more than half a US cent before the Reserve Bank decision in reaction to higher expectations the US Federal Reserve will hike in December, and fell another 20 basis points after 9 am, but it then bounced through the morning as traders viewed the statement as slightly more hawkish than expected.
"Continued economic expansion is expected to result in some pick-up in non-tradables inflation, despite the moderating effects of strong labour supply growth," Wheeler said.
"To ensure that future average CPI inflation settles near the middle of the target range, some further reduction in the OCR seems likely," he said.
"This will continue to depend on the emerging flow of economic data. It is appropriate at present to watch and wait."
Economist reaction
ASB Chief Economist Nick Tuffley said the Reserve Bank's linkining of the high New Zealand dollar to the need to respond to an OCR cut was "very explicit."
"We continue to expect the RBNZ to cut a final 25bp in December, and the statement suggests that remains the more likely outcome. But over 2016 we still see some risk that the RBNZ cuts the OCR further: we remain wary that a 2.5% OCR will not be low enough to sustain inflation as high as 2%," Tuffley said.
ANZ Chief Economist Cameron Bagrie said a clear easing bias remained, but the NZ dollar was now a more direct influence on future OCR moves.
"The RBNZ implicitly needs a lower NZD if inflation is to return to the inflation midpoint anytime soon (and we are not getting that at present!)," Bagrie said.
"Sub-trend growth and benign inflation mean that further easing is indeed on the cards (we still expect a March 2016 cut). Tying the outlook for the OCR more so to the NZD was soft, but the RBNZ appears to undone the benefit of this by including "wait and wait" which has been interpreted as little urgency," he said.
Bagrie said the statement had a little something for everyone and had muddied the short term picture somewhat. The bank's attempt to jawbone the currency appeared not to work.
"The NZD's reaction to the statement today is telling; it went up. While tying the OCR more directly to NZD moves might be expected to cap NZD gains, the inclusion of "watch and wait" implies little urgency to cut (and arguably confused the market)," Bagrie said.
"It highlights how difficult it is to jawbone the NZD lower; ultimately action is needed."
Westpac Senior Economist Dominick Stephens said the Reserve Bank kicked the can down the road on future OCR decisions and he saw the chances of a December cut at slightly above 50%.
"Our view remains that a December cut is the more likely decision - mainly because we expect the exchange rate to remain uncomfortably high.  However, the effect of today's Review was, if anything, to create slightly more uncertainly around that call," Stephens said.
The Governor's comments about having lower rates if the currency kept strengthening prevented the statement from being clearly hawkish, he said.
ASB Senior Economist Jane Turner said ASB saw the risks for medium term inflation skewed heavily lower than the Reserve Bank's view.
"The RBNZ acknowledged that tradable inflation will not pick up if the NZD remains high. Even then, we still think the RBNZ is over estimating the extent and persistence of future tradables inflation," Turner said.
"The RBNZ's expects that non-tradable inflation will pick up despite growing slack in the labour market.  As we have recently revised up our unemployment rate forecasts, this is an assumption we are starting to challenge ourselves, and suspect the RBNZ may have to start questioning this assumption too," she said.
BNZ Senior Economist Craig Ebert said the Reserve Bank had done the right thing by holding the OCR and retaining an only-moderate easing bias.
"Our take is that the RBNZ is doing its best to buy some more time, before potentially having to cut further. It's still, at heart, a reluctant cutter, in our view, but is keeping its options open nonetheless," Ebert said.
"For near-term rates, the market largely held to its view of a full 25 point rate cut by March/April next year, while reducing the odds of a cut in December to around 35%, from 50%," he said.
Political reaction
Green Party Finance Spokeswoman Julie Anne Genter said the Government's failure to fix Auckland's housing crisis was responsible for the Reserve Bank not cutting interest rates again.
"The Reserve Bank is clearly worried that property investors borrowed a new record amount of $2.239 billion in September, and so they haven't lowered interest rates," Genter said, adding the bank's rate hikes last year had cost someone with a NZ$500,000 mortgage an extra NZ$4,000 in interest since January 2014.
"The National Government's band-aid attempts to slow down property speculators in Auckland have failed, and families and small businesses are paying the price through unnecessarily high interest rates as the Reserve Bank steps in to cover the Government's failures."
(Updated with currency reaction, economist reaction, political reaction, table, chart)
| | | |
| --- | --- | --- |
| Decision date | change | OCR rate |
|   |   |   |
| 29 October 2015 | No change | 2.75% |
| 10 September 2015 | -0.25% | 2.75% |
| 23 July 2015 | -0.25% | 3.00% |
| 11 June 2015 | -0.25% | 3.25% |
| 30 April 2015 | No change | 3.50% |
| 12 March 2015 | No change | 3.50% |
| 29 January 2015 | No change | 3.50% |
| 11 December 2014 | No change | 3.50% |
| 30 October 2014 | No change | 3.50% |
| 11 September 2014 | No change | 3.50% |
| 24 July 2014 | +0.25% | 3.50% |
| 12 June 2014 | +0.25% | 3.25% |
| 24 April 2014 | +0.25% | 3.00% |
| 13 March 2014 | +0.25% | 2.75% |
| 30 January 2014 | No change | 2.50% |
| 12 December 2013 | No change | 2.50% |
| 31 October 2013 | No change | 2.50% |
| 11 September 2013 | No change | 2.50% |
| 25 July 2013 | No change | 2.50% |
| 13 June 2013 | No change | 2.50% |
| 24 April 2013 | No change | 2.50% |
| 14 March 2013 | No change | 2.50% |
| 31 January 2013 | No change | 2.50% |