Smith finally tables RMA reform after doing deal with Maori Party; National fails to get section 6 & 7 reform to focus on economic development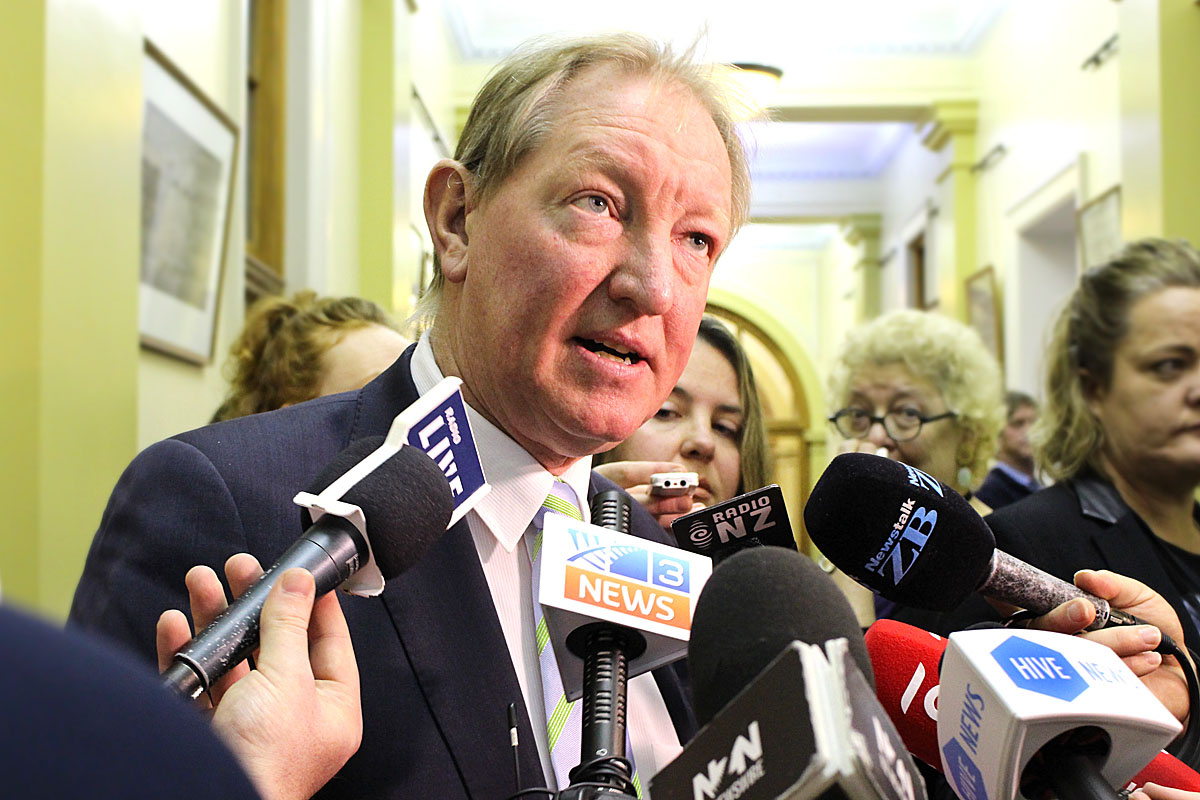 By Bernard Hickey
Environment and Housing Minister Nick Smith has finally tabled a massive set of reforms to the Resource Management Act (RMA) for consideration by Parliament after doing a deal to support the reforms through to the select committee stage with the Maori Party.
The Government had hoped to reform the key sections 6 and 7 of the RMA to introduce economic development and housing affordability as first principles for the Act, rather than environmental protection, but had to abandon that after New Zealand First won the Northland byelection earlier this year.
National's support partners David Seymour, Peter Dunne and the Maori Party had opposed the changes to sections 6 and 7 of the Act, which lay out its first principles, arguing it watered down protections for the environment. (Corrected to make clear Seymour supported the 6/7 changes)
After the loss of the Northland seat, National needed either the support of Dunne or the Maori Party to progress legislation. Dunne remained opposed to some of the 40 measures included in the reforms, but the Maori Party had said it would support the reforms through to select committee stage after securing commitments on consulting Iwi and allowing Iwi farmers to access ground water for stock, Smith said.
The changes include the introduction of new 10 day fast-track consents for simple issues, fixed fees for standard consents and the removal of the need for consents for some areas covered by other acts. It also introduces standard planning templates "so we don't have every council reinventing the wheel and having dozens of different ways of measuring the height of a building," Smith said.
"The Bill contains dozens of provisions that will improve the process of resource management decisions. There will be millions of dollars in savings from simpler, plain language public notices that enable the detailed information on plans and consents to be accessed on the web," Smith said.
'Iwi Participation Agreement'
The Maori Party secured the inclusion of new "Iwi Participation Agreements, which would involve Iwi early in the resource consent process. It also ensured corporate farmers, including Iwi and trusts, will be able to secure water for stock without obtaining resource consents in the same way as individual farmers currently do.
The 180-page Resource Legislation Amendment Bill comprises 40 changes contained in 235 clauses and eight schedules. It makes changes to the Resource Management Act 1991, the Reserves Act 1977, the Public Works Act 1981, the Conservation Act 1987, the Environmental Protection Authority Act 2011, and the Exclusive Economic Zone and Continental Shelf (Environmental Effects) Act 2012.
Smith said the Bill would simplify the consenting process.
"It narrows the parties that must be consulted to those directly affected – meaning a homeowner extending a deck only has to consult the affected neighbour. Councils will have discretion to not require resource consent for minor issues," Smith said.
The new 10-day fast track would be available for simple issues, while Councils would be required to have fixed fees for standard consents.
"Consents will no longer be required for activities that are already properly regulated by other Acts. These measures will reduce the number of consents required each year by thousands," he said.
Maori Party Co-Leader Marama Fox said retaining sections 6 and 7 had been a priority and it had opposed proposals for an alternative consenting authority.
"Iwi Participation Agreements will require councils to engage with iwi during their planning processes to ensure they are involved in resource management decisions at the front end," Fox said.
Maori did however agree to include managing for natural hazards such as earthquakes and sea level rise in the sections 6 and 7 of the act.
Smith published a questions and answers document detailing the changes.
Details included:
Amending the standard planning process to enable limited notificaiton of plan changes, and requiring the Minister's approval to go beyond the two-year timeframe for decisions on plan changes,
Creating a new streamlined planning process which would allow Councils to apply to the Minister for an alternative planning process,
Allowing Councils to limit notification to only those people who are directly affected by a new resource consent,
Permitting boundary activities where they have been agreed by the relevant neighbours,
Introducing a 10 working day time limit for simple applications,
Creating a three options for Council plans, including the existing track that now has tighter timelines, a new collaborative track, and a streamlined track.
Allowing regulations to be set by the Minister for specified land uses,
Allowing the Environment Court to to require people to go to alternative dispute resolution and judicial conferences first,
Allowing Councils to compulsorily acquire land that has been rendered incapable of use by planning provisions,
Changing the Public Works Act to allow the Government to pay a 'solatium' or compensation payment for disruption and interference when a landowner is selling their home of up to NZ$50,000, rather than the current NZ$2,000, which was set in 1975,
Removing the need for all public notices to be published in newspapers, instead limiting notices in newspapers to summaries with the full notices online,
Preventing just any group from registering as a Heritage Protection Authority to protect places on private land.
Reaction
Federated Farmers said the proposed reforms did not go far enough.
"As it stands in this Bill farmers will continue to face restrictions on what they can do on farmland which is classified as an 'outstanding natural landscape'. This unfairly limits farmers' ability to plant trees, add new buildings and install new fences, which ironically is what the Bill wants farmers to do to keep stock away from lakes and rivers," said Federated Farmers' Environment spokesman Chris Allen.
"Federated Farmers would have liked to see greater consideration of economic benefits and property rights," he said.
Green Environment spokeswoman Eugenie Sage said the proposed changes appeared to benefit seabed miners and property developers.
"The Bill appears to significantly increase the Minister's powers at the expense of local councils and to further politicise environmental decision making by having the Minister, rather than the Environmental Protection Agency, appoint hearing panels for developments in New Zealand's Exclusive Economic Zone," Sage said.
"The Bill risks having a chilling effect on councils' ability to regulate in the community's interest. For example, under proposed changes, councils could be reluctant to protect native plants and trees on private land as the Environment Court could require the council to purchase affected land if protections were deemed to put an 'unfair and unreasonable burden' on landholders," she said.
"The proposed RMA changes must not erode protection of the places we hold most dear; our beaches, rivers, and natural areas. They must not promote ugly urban sprawl at the expense of liveable towns and cities well connected to public transport."
Property Institute Chief Executive Ashley Church supported the reforms, but said they would do little to accelerate the construction of new dwellings.
"These changes will be great for people wanting to build a deck or move a fence – but they're not going to lead to a big jump in house building in Auckland," Church said, adding he would have liked to have seen more directions to Councils to open up land for development, fewer rules around sub-divisions and the adoption of targeted rate funding for infrastrucrture.
Property Council Chief Executive Connal Townsend said he was extremely pleased with the proposed reforms,
"We strongly support national templates to streamline and rationalise plan making processes. This will undoubtedly improve consistency in other areas, such as clarifying requirements which will enable greater compliance and save time and money," Townsend said, adding the bill's optional streamlined planning and consent provisions had a proven track record with the Special Housing Areas Act.
"These are exactly the sorts of measures we have been calling for to directly address Auckland's housing crisis and regional growth. Issues such as improved resource management have been stalled by political paralysis at great cost to communities and the country, he said.
(Updated with more details, reaction, correction in third paragraph)