PM unveils 'surgical' cabinet reshuffle with Judith Collins back in and Tim Groser off to the US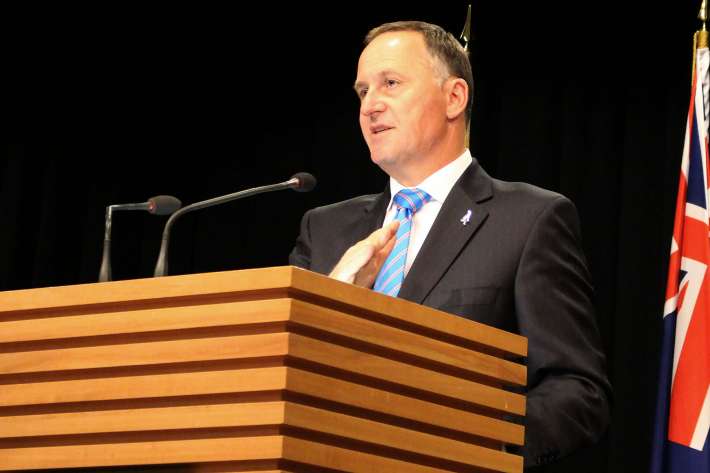 By Bernard Hickey
Prime Minister John Key has announced what he called a 'surgical' cabinet reshuffle to replace Tim Groser, who is leaving to become New Zealand's ambassador in Washington, with Judith Collins.
The former Corrections and Police Minister resigned just before the September 2014 election after allegations in an email from blogger Cameron Slater that she had interfered in staffing matters involving Serious Fraud Office boss Adam Feeley. She was subsequently cleared of that allegation in an official report after the election.
Key said Collins had been a good minister and had had a year to reflect on her actions and now was the first opportunity he had found to bring her back. She was rewarded with her 'old' portfolios of Police and Corrections, which had been held by Michael Woodhouse and Sam Lotu-liga respectively, but which Collins had held in National's previous two terms.
Groser's Trade role was taken by Inland Revenue Minister Todd McClay, while Groser's Climate Change portfolio was taken by Paula Bennett. Woodhouse lost Police, but was given Inland Revenue in its place, while Lotu-liga was given Bennett's Local Government portfolio.
Groser will resign from Cabinet on next Monday and will resign as a list MP from Parliament from December 19. He will replaced by the next person on the National list, Maureen Pugh from the West Coast of the South Island.
"I want to congratulate Tim Groser on his appointment as Ambassador to Washington. His experience in the trade portfolio, including the successful conclusion of the TPP negotiations, makes Mr Groser an ideal person to represent our country's interests in Washington," Key said.
"I am pleased to welcome Judith Collins back to Cabinet. Judith has been a competent Minister, and will quickly be able to pick up the Police and Corrections portfolios that she has successfully held before," he said.
Seymour refuses ministerial roles
Key said he also offered ACT Leader and Epsom MP David Seymour the ministerial positions of Minister for Regulatory Reform and Associate Minister of Education, but Seymour had declined the offer so he could pursue his member's bill on End of Life Choice through Parliament, which he could not do as a minister.
Groser is replacing former Labour Prime Minister Mike Moore, who is retiring after a stroke.
(Updated with reshuffle details)