IMF sees a disappointing 2016; US house prices up +6%; Portugal trips up the NZSF; uranium sales rising; UST 10yr yield 2.31%; gold and oil down; NZ$1 = 68.3 USc, TWI = 73.5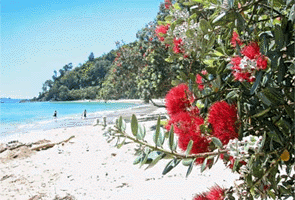 Here's my summary of the key news overnight to keep you up-to-date over these holidays.
Stocks are weaker on Wall Street today. Commodities are lower.
According to the IMF, global economic growth will be disappointing next year and the outlook for the medium-term has also deteriorated. The IMF's Christine Lagarde said in a guest article in a German newspaper that the prospect of rising interest rates in the US and the slowdown in China were adding uncertainty and a higher risk of vulnerability worldwide. She said growth in global trade has slowed considerably and a decline in commodity prices are posing problems for economies based on these, she said. She also sees weakness in the financial sector in many countries and financial risks are rising in emerging markets.
In the US, home sales volumes fell 'modestly' in November from October but they were still +2.7% higher than the same month a year ago. The median price is US$220,700, a +6% rise year-on-year.
China has suspended at least two foreign banks from conducting some cross-border yuan business until late March, limiting their scope to profit from a widening gap between the currency's exchange rates inside and outside the country.

Portuguese authorities have been shifting assets around to 'fix' one of their banks. This has involved Novo Banco SA, the bank that is at the heart of the NZ Super Fund's legal stoush with Oak Finance and the Portuguese Central Bank. Things just got worse and more complicated for the NZSF in this matter, it seems.
Coal and iron ore might be the poster-ores of a retreating commodities market - one that affects Australia significantly - but there is one mining product that is in hot demand: yellowcake uranium. Asia's fast-growing nuclear energy industry is fueling demand for the radioactive metal. Despite reactor closures in Europe and the US, the global outlook for uranium is bright, with significant demand coming from China, India, Korea and Russia.
There is still no price difference between the US WTI benchmark and the Brent benchmark but both have given up more than US$1 today to trade at US$36.50/bbl. A surprise buildup in stocks of petroleum products in the US is behind the fall.
Gold is lower in New York, now at US$1,060/oz and having shed all yesterday's gains and more. This is near its low for the year (US$1,046) and -18% below its high for the year of US$1,296/oz which it reached on January 22, 2015. It's basically been downhill since then.
UST benchmark 10yr bond yields is rising in New York today and are now at 2.31%. This is a rise of +4 bps since yesterday and +7 bps in the past two days. Bond prices are falling. At the start of the year the rate for this key benchmark was 2.17% and during the year it fell as low as 1.68% and rose as high as 2.50%.
The NZ dollar starts is ending the year -7.5% lower than where it started. Today it opens at 68.3 USc -13% lower than the 78.3 USc it was on New Year's eve in 2014. It is at 93.8 AUc,-2% lower than a year ago, 62.2 euro cents which is -3% lower. Against the British pound were are 46.1p and -8% lower. (We are -9% lower against the Chinese Yuan.) The TWI is at 73.5 and while this near a six-month high, it is -7.5% lower than on New Year's eve in 2014.
The easiest place to stay up with event risk over the holiday period is by following our Economic Calendar here »