China gives up stock market fall limits; World Bank raises growth forecasts; Brazil in trouble too; Aussie trade dives; UST 10yr yield 2.19%; gold up again; oil down again; NZ$1 = 66.4 USc, TWI-5 = 72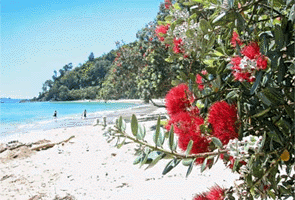 Here's my final summary of the key news overnight to keep you up-to-date over these holidays. It's back to the regular 90@9 Reports on Monday.
For the second time this year, trading on the Shanghai and Shenzhen stock markets was called off yesterday after the CSI 300 Index tumbled -7%, triggering the second stage of their 'circuit breaker'. They traded for less than 15 minutes for the day before the forced closure. These markets are now at their lowest point in more than five years.
Overnight however, authorities have had second thoughts and have announced they will not apply the 'circuit breaker' today. Brace yourself. Shanghai will open at 2:15pm NZ time. This situation is casting a pall over every other market in the world; Wall Street is down -2% in early afternoon trading.
Yesterday's surprisingly good jobs data in the US was followed up by today's data that showed initial claims fell last week for unemployment benefits, and job layoffs were the lowest in 15 years. All eyes early tomorrow morning will be on the US non-farm payrolls report which is expected to show a seasonally adjusted +200,000 jobs gain for December. Any variance will likely be magnified in market signals, given the jitteriness of early 2016 markets.
The tables are turning between the developed and developing world. It was only a short time ago that all the talk was about the renaissance in emerging markets. But today's release by the World Bank of its latest outlook report paints the reverse picture. Global economic activity should still pick up modestly to a +2.9% pace, from +2.4% growth in 2015, as advanced economies gain speed, they say. Spillovers from major emerging markets will hold back growth in developing countries and pose a threat to hard-won gains in raising people out of poverty, they warn.

Among the BRICS, it is not only China that is staggering, Brazil is on the ropes as well. Their industry contracted in November by even more than economists' dire predictions had indicated, as the country's worst recession in decades deepened. Industrial production declined -2.4% from October in seasonally adjusted terms capping a whopping -12.4% from November 2014. Brazil is in trouble.
And in Australia, data out late yesterday revealed a worrying trend in their construction industry.Building consents were down more than -12% in November from October, and are down -8% year-on-year. Analysts were expecting only a minor pullback. Of special concern is the pullback in housing renovation work; that is down a whopping -23% from October, -14% year-on-year.
Australia might still be shipping ever-larger amounts of minerals, but slumping prices for the country's key commodities mean it is on track for a record trade deficit. The January-to-November shortfall has already surpassed the previous annual record set in 2007 of AU$26 bln. The RBAs commodity price index fell -17% in 2015 while iron ore prices dropped more than -30%.
Those with a good memory will recall that the State of California had trouble with persistent budget deficits. But things have changed on that front, rather dramatically. Lawmakers there instituted a tax on the wealthy and their deficits have turned to strong surpluses. Tight spending control helped too. Today, the Governor has launched a record US$171 budget plan (+6%) that envisions a $5 bln surplus. What is interesting about the assumptions is that it forecasts a US recession in 2017/18.
The oil price is lower again today. Now, both the US and Brent prices are just under US$34/bbl.
Gold is up sharply, now at US$1,106/oz.
The UST benchmark 10yr bond yield is still slipping, now down to 2.19%. You have to say, though, the bond market is being quite restrained given the China situation.
The NZ dollar starts today at 66.4 USc, the Aussie has been especially hit by the China situation and is now at 94.6 AUc, and 61.1 euro cent. The TWI-5 is at 72. The Yuan has seen its largest fall in five months.
The easiest place to stay up with event risk over the holiday period is by following our Economic Calendar here »