Governor says will interpret 1-3% inflation target flexibly in defiant speech; says won't be 'mechanistic' about cutting rates just because CPI inflation below 1-3% target; Auckland still a financial stability risk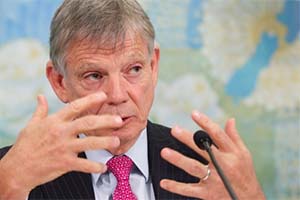 By Bernard Hickey
Reserve Bank Governor Graeme Wheeler has confronted critics who argue he should cut the Official Cash Rate more aggressively to ensure headline inflation rises back into the bank's 1-3% target range.
Wheeler used his first speech of the year to criticize those calling for immediate OCR cuts, saying he planned to use the flexibility built into his Policy Targets Agreement (PTA) with Finance Minister Bill English and would not "mechanistically" make cuts to increase the inflation rate. He used half of his annual speech to the Canterbury Chamber of Commerce to defend his actions within the PTA.
He said he was surprised by the wide range of interpretations of his current 2012 agreement and pointed to some commentators who advocated immediate interest rate cuts.
"A mechanistic approach can lead to an inappropriate fixation on headline inflation," Wheeler said.
"It would cut across the flexibility deliberately built into the PTA framework, and risk creating serious distortions in the financial system, housing market, and broader economy," he said.
Annual CPI inflation was 0.1% in the December quarter and it has been below the 1% bottom of the range for more than a year. It has been below the 2% mid-point of the target for four years. ASB, Westpac, HSBC and First NZ have all called on the Reserve Bank to cut the OCR by as much as a further 50 basis points to 2.0% this year.
Wheeler's speech underlined the sections of the PTA that referred to the target being for 1-3% "on average over the medium term" and with a focus on keeping "future average inflation near the 2% target mid point." He also underlined the PTA's requirement the bank "monitor asset prices, have regard to the efficiency and soundness of the financial system and seek to avoid unnecessary instability in output, interest rates and the exchange rate." He said a flexible approach was needed to take account of the various factors in the PTA.
"All of these factors have bands of uncertainty attached to them. There are also uncertainties as to which transmission channels monetary policy will operate through and the lags involved in achieving desired outcomes," he said. Wheeler said the very low CPI inflation rate was due to deflation in the tradables sector and a slump in the oil price.
"Low oil prices are recognised in the PTA as a factor that can legitimately cause inflation to be outside the target band. It would be inappropriate to attempt to offset the low oil price effect through the OCR, which tends to influence inflation outcomes over an 18 month to 2 year horizon," Wheeler said. The bank's goal was to anchor inflation expectations close to the mid-point of the price stability target range.
"Looking ahead, monetary policy will continue to be accommodative. With the ongoing weakness in commodity prices, and particularly oil, it will take longer for headline inflation to reach the target range," he said. Wheeler said annual core inflation at 1.6% was well within the target range and the bank's combined measure of annual inflation expectations was at 2%. This was "more encouraging in terms of consistency with the PTA."
"However, we would not wish to see inflation expectations become unstable and decline significantly," he said.
Easing bias retained
Wheeler's specific comments about the outlook for the OCR were little changed from the bank's January 29 statement.
"If concerns deepen around the prospects for the global economy and its impact on New Zealand, some further policy easing may be needed over the coming year to ensure future average inflation settles near the middle of the target range," he said.
"We will continue to monitor closely the emerging economic and financial data."
Economists said the speech reinforced Wheeler's stance as a 'reluctant cutter'. The New Zealand dollar rose around half a cent to 65.2 USc after the speech and jobs figures showing a big surprise drop in unemployment, slightly stronger than expected jobs growth and weaker than expected wage inflation.
Auckland still a risk
Wheeler said the bank believed that imbalances in Auckland's property market posed a financial stability risk.
"Record low interest rates, along with record net migration inflows, strong bank lending, heightened investor activity, and insufficient housing supply have led to strong house price inflation in Auckland and an average house price to income ratio over 9.5 that is 70 percent higher than in the rest of the country," he said.
"In addition, house price inflation has been accelerating in Waikato/Bay of Plenty, Northland and in Central Otago," he said.
"Recent indicators suggest that housing activity in Auckland may be beginning to slow as a result of the Government's measures introduced on 1 October 2015 and the macro-prudential policy measures applying to investor-related lending. We will have a better feel for this when we see the February and March 2016 housing data."
Economist reaction
ASB Chief Economist Nick Tuffley, who has called for rate cuts in June and August, said he was somewhat bemused by a comment put into the news release that some commentators had immediately advocated rate cuts.
"This may be a message to someone! Certainly, we are among a handful of banks calling for further rate cuts," Tuffley said.
"But we would point out this is because we have much weaker inflation forecasts than the RBNZ and have had so for some time," he said.
"The RBNZ is relying on a number of assumptions for inflation to return close to the mid-point of the target band and we simply don't believe these assumptions will transpire in an environment of spare global capacity and sluggish per-capita domestic growth."
Tuffley queried Wheeler's use of the highest and least variable of a range of measures of core inflation and ASB was wary that the Reserve Bank may be under-estimating the risks of continuing to undershoot its inflation targets.
"Looking back over the past few years, inflation has time and time again surprised all and sundry with how weak it has been – even putting aside the impact of falling oil prices," Tuffley said.
"Given how persistently low inflation has been in recent years, we see increasingly less scope for the RBNZ to accommodate any future negative surprises," he said.
ANZ Senior Economist Philip Borkin described the speech as a shot across the bow of those calling for rate cuts in a note titled: "Take that!"
Borkin said an easing bias had been maintained, but Wheeler had clearly indicated he was not ready to easy policy yet. ANZ remained in the no change camp for the rest of 2016.
BNZ Head of Research Stephen Toplis, who is also in the no change camp, said Wheeler had fired a shot across the bows of those wanting rate cuts.
"There is a very clear insinuation in all this that Governor Wheeler does not want to lower rates again unless he is dragged kicking and screaming to do so," Toplis said, noting the dairy slump was pulling the bank in one direction while better jobs figures were pulling it in the other direction.
"Notwithstanding his lack of desire to move, Wheeler did re-emphasise the downside risks to activity and inflation and was quite open in stating that if global growth slumps or inflation expectations collapse he will have no option but to move," he said.
Former Reserve Bank economist Michael Reddell, who comments on his own blog, said Wheeler had not seriously engaged with the arguments of those calling for rate cuts.
"Instead, he basically makes up an inflation story that simply isn't supported by the numbers, and attacks straw men. The defensiveness is disheartening," Reddell wrote.
Reddell criticised Wheeler for ignoring tradable inflation when the target is expressed in terms of CPI inflation and tradables inflation makes up around half of CPI inflation. He also criticised Wheeler's citing of lower oil prices and lower government charges for the inflation undershoot when CPI inflation ex petrol was 0.5% last year and the measure of CPI inflation excluding Government charges and alcohol and tobacco
"The Governor also invokes the cut in ACC motor vehicles levies in his defence –  which would be fine, except that he completely ignores the offsetting government decisions to increase tobacco excise tax yet again," Reddell wrote.
"Administered government taxes and charges do  not explain low headline inflation, and neither (to a great extent) does low petrol prices.  To argue otherwise  –  without much more supporting analysis –  just isn't supported by the data," he said.
Political reaction
Labour Finance Spokesman Grant Robertson said the Reserve Bank was stretching the credibility of its Policy Targets Agreement, which needed a revamp.
"Clearly Graeme has been feeling the pressure that people are putting on in terms of the PTA and (saying) what's the point of it," Labour Finance Spokesman Grant Robertson said.
"I find it a little difficult to believe that the medium term is now such a flexible criteria that it doesn't cover a couple of years or even longer, looking at his speech today," he said.
"I find that's stretching the credibility of this. It does indicate that we need to relook at the Policy Targets Agreement. I think it stretches the credibiity to redefine the medium term out to that level."
(Adds reaction from economists and politicians)