Revenue Minister says OECD reviewing rules around overseas trusts and IRD contributing to review if new framework for disclosure; NZ brought forward information exchange by a year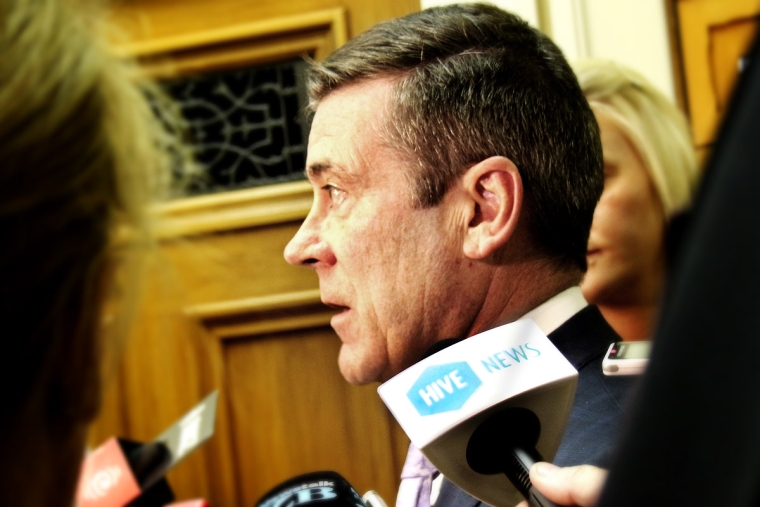 By Bernard Hickey
The Government has opened the door to toughen the disclosure rules for New Zealand's controversial overseas trust sector, saying IRD was now involved in a review of the disclosure framework for these trusts after the leaking of 11.5 million documents from a Panamanian law firm.
Revenue Minister Michael Woodhouse and Prime Minister John Key initially defended New Zealand's overseas trust sector, which earns around NZ$24 million from 11,645 trusts registered with the IRD. They denied New Zealand was a tax haven or that the disclosure of the widespread use of New Zealand overseas trusts by Panama's Mossack Fonseca would damage New Zealand's reputation. However, Key admitted that IRD had advised the Government about the reputatational risks of the sector in late 2013, but the Government had chosen to do other things.
Under repeated questioning and calls for tougher disclosure rules, Woodhouse said the IRD was working with the OECD on a review of the framework for disclosure around trusts and Key said New Zealand would change its rules if required.
Currently New Zealand's overseas trusts only have to disclose the name of the trust and the names of the trustees, including that of at least one resident trustee. The IRD is then obliged to share that information with overseas jurisdictions if requested, but the trusts do not have to disclose the details of the trust's beneficiaries, its assets or the source of those assets. This secrecy has made the trusts popular with those wanting to put assets in a jurisdiction that has not been blacklisted as a tax haven.
'As good as Mauritius and Seychelles'
See more on that in Gareth Vaughan's piece highlighting how New Zealand is promoted as a tax haven, including this from a Delaware company formation expert: "If you are looking for a financial services or Forex licensed entity, we usually suggest New Zealand, Mauritius or Seychelles. If properly structured, a New Zealand resident company can operate as a tax free offshore company."
Overseas trusts with overseas beneficiaries and overseas income are not obliged to pay tax in New Zealand. When combined with other vehicles in other lower tax jurisdictions, the New Zealand trusts can be used to minimise tax and obscure the origin and ownership of the assets. Mossack Fonseca promoted New Zealand's overseas trusts to a Mexican tycoon as an alternative to ones in the British Virgin Islands and St Kitts and Nevis, which were last year put on a European Union blacklist for being tax havens. Mauritius and Seychelles were also put on the black list, as reported here.
This document titled 'stated reason for creating 3 trusts in NZ' showed how Mossack Fonseca proposed creating three New Zealand trusts to protect more than US$100 million worth of assets owned by Mexican tycoon Juan Armando Hinojosa Cantu, who is closely connected to Mexico's President Enrique Pena Nieto and has been accused of getting and giving sweetheart deals to Mexican politicians and their families. See more detail in this McClatchey DC report.
The creation of the trusts was proposed in the immediate aftermath of publicity around the tycoon's building of an opulent mansion for the President's wife. The document addressed to Mossack Fonseca's Miami agent and titled 'stated reason for creating three trusts in New Zealand', cites a plan to move assets from six trusts in the tax havens of British Virgin Islands and Nevis to the three New Zealand trusts, which would be the beneficiaries of a Dutch foundation and receive funds from accounts with around US$100 million at JP Morgan, UBS, Deutsche Bank and Morgan Stanley.
New Zealand's foreign trust sector has had a high profile in recent weeks in a political controversy involving Malta's Government, and also involving Mossack Fonseca. As reported in this Australian Financial Review piece describing New Zealand as a 'quiet tax haven achiever', New Zealand was the vehicle to set up the Rotorua and Haast Trust for two Maltese politicians through Orion Trust (New Zealand) Ltd, which has Giselle Fonseca as one of the directors, along with Auckland man Roger Thompson, a director at Bentleys Chartered Accountants Ltd and a former manager at Equiticorp. Mossack Fonseca has denied any wrongdoing and Thompson has declined comment because of client confidentiality.
NZ mentioned 60,000 times in leak
Woodhouse and Key were challenged again on their comments late yesterday that New Zealand's regime required full disclosure and that New Zealand was not a tax haven.
Overseas trusts are not pro-actively required to disclose assets or beneficiaries and New Zealand's overseas trusts were referred to 60,000 times in the 11.5 million documents leaked from Mossack Fonseca. The IRD recommended the Government review the disclosure regime in late 2013, saying it posed a danger to New Zealand's reputation and may not be sustainable.
Woodhouse told reporters before the National Party's caucus meeting the IRD was contributing to an OECD review of the disclosure regime, and that the events of the last day would be a factor in that review.
But he again defended the current regime, denying New Zealand was a tax haven.
"There are two features of a tax haven. One is a very low or no tax base and the other is tax secrecy. We have neither of those things. We have a requirement for all people in New Zealand who pay tax and we share information with other jurisdictions," he said.
Asked why full disclosure was not required of these trusts, he said: "These are foreign trusts. They have overseas settlors and beneficiaries. Overseas assets and income, and the IRD has no particular interest in their obligations to pay tax overseas. Obviously they'll try to provide that when it's required. When the system was set up in the late 1980s it was to ensure that New Zealanders paid the right amount of tax by highlighting and focusing on the trustee. Not the settlor."
"Our concern is that IRD is providing information when it's required and (for it) to contribute to a discussion around a more pro-active framework with the OECD, and they're doing both of those things," Woodhouse said.
Asked again about the issue of fuller disclosure, he said: "There's a lot of thinking going on about that in the OECD, both in the context of Base Erosion and Profit Shifting and information sharing more generally, and I'm confident New Zealand is contributing to that discussion."
"They're quite satisfied that the information is being disclosed when it's required. It's under agreements we have with other countries. But the proactive sharing of information with those jurisdictions depends on a number of other factors that the OECD are considering right now."
Reputational risk?
Asked whether New Zealand's reputation was at risk, he said: "There are a very large number of countries implicated in the information that's been disclosed from Panama, and to the degree that we are concerned that everybody pays the right amount of tax, this is a global issue and I think the best way to deal with those information sharing requirements  is through the OECD."
Asked if the IRD should be more proactive in asking for information from the trusts beyond just the names of trusts and trustees (but not the assets or beneficiaries), he said: "They are doing it when they're asked for it. They're doing it proactively with Australia and the United States and they're talking to the OECD about what a new framework might look like. I think that's a pretty sound response."
Woodhouse said he had not been briefed on the OECD's most recent work on the framework for overseas trusts.
"This story broke in the last 24 hours. That's a question better asked of the IRD about what's actually going on in the OECD and I'll certainly be asking that. That process is already under way and we've got to wait for the outcome of this is before we leap to any conclusion," he said.
Key rejects tax haven tag
Key told reporters that New Zealand was complying with OECD rules and doubted it was a major issue.
"New Zealand is known as a safe location, but to put a bit of perspective on it,  I haven't followed the thing inside out, but aren't there 11.5 million documents or whatever? NZ has had a couple of trusts registered here but it's not like we are the only country," he said.
New Zealand has been mentioned 60,000 times in the Panama Papers leaks, according to AFR reporter Neil Chenoweth, who wrote that New Zealand was the 'quiet achiever' of the tax haven world and had fought to retain its overseas trust industry.
Pressed again on the scale of the issue, Key said New Zealand remained open to reform.
"We had a clean bill of health in 2013 and we are continuing to work on the work the OECD is doing and if, as a result of either these findings or as a result of any recommendations, they make there are recommended changes that don't undermine our tax base the government is not opposed to changing those things," Key said. He was referring to this OECD report, which concluded New Zealand was complying with information exchange regimes, but also warned that improvements were needed around trusts with non-resident directors and assets.
"The government is quite happy if there are recommendations that say there are areas that could be tightened up, to tighten up," he said.
"We have quite clear disclosure regimes and we are quite happy to follow up on any information requests we get. We are signatories to 40 double tax agreements and 11 tax information sharing agreements. It's not like we are trying to operate in some black hole. There are many jurisdictions around the world that are vastly different to NZ that don't cooperate with that sort of level of disclosure, but I am just reluctant on a whim, say, to say all of a sudden, everything goes."
What about IRD warnings?
Key was then asked about the IRD's advice to the Government in August 2013 that some others saw the overseas trusts as a tax haven and that New Zealand's reputation was a risk. It recommended a review of the disclosure requirements.
"My understanding at the time the Minister was a new minister (Todd McClay), met with a variety of different parties. The advice I think they got was that it would require a lot of work from IRD officials, because this stuff is so complicated, the argument was -- was it worth it in terms of all the other items that were on IRD's work programme," Key said.
 "But if the situation changes and people think it is warranted, they should go and deal with it. We are not holding a candle for this stuff, we are simply saying it has been there a long time."
Little comments
Labour Leader Andrew Little said New Zealand was clearly now viewed as a tax haven and the Government needed to require full disclosure of assets and beneficiaries. He said the Australian Government had become so frustrated with New Zealand's approach that it had required Australian residency to be specified on the disclosure form for these trusts.
"It was the Australian government that got so annoyed about it, that they demanded a change at least in relation to the foreign trusts originating out of Australia, and so there is an automatic supply of information from IRD here to the Australian Tax Office. But that's the only disclosure and it's a small number of the total number of 12,000 or so foreign trusts," Little said.
Little rejected arguments that the overseas trust industry was effectively created by rules legislated by the Labour Government in 1988.
"Here's the reality: this is a problem today. It's a problem now - it's a problem confronting John Key. He's the Prime minister, he's in charge of the government, it's his job to act. Stop blaming everybody else. Get on and do something," he said.
"It's wrong for NZ to be a player in an international scheme that is about depriving countries, whether ours or others, of tax income. It's not good for our reputation and it's classic John Key, lining up with the 1% and not lining up with folks who work hard and pay tax on every dollar they earn and trying to get ahead, because he is doing nothing for them."
(Updated with comments from Andrew Little)